No Comments
Avery Brewing | Hog Heaven, Tequilana and Beer Camp
One thing for which no one can accuse Avery Brewing is resting on its laurels or being behind the times. From altering its own portfolio and removing some fan favorites to changing the name of its own beer (read on), Avery refuses to stand still and risk the craft-beer world passing it by. Avery is reintroducing its red ale to the world in a new way, and in new cans; it's throwing some beer in tequila barrels; and Avery is going to have a little fun at Beer Camp, too.
Hog Heaven: New Name, Style Definition & Packaging
Times have changed in the craft beer world. Gone are the days of Avery's dry-hopped barleywine-style ale in 22 oz bombers. Instead, we have Hog Heaven imperial red IPA packaged in 4-pack, 12 oz cans starting in March. But, here's the thing – it's the same beer! Hog Heaven was originally classified as a dry-Hopped barleywine-style ale because, in 1998, there was no other way to classify this mighty, flavorful 9% (ABV) beer. Not only will the cans be new, but the artwork on the cans got a facelift, too. The liquid itself will continue to satisfy those who crave a big malty and hoppy beer, though, and isn't that all that matters? A rose by any other name… well, you know.
Vanessa Cory, Avery marketing communication manager, wrote in a press release, "Hog Heaven is the beer that changed everything at Avery Brewing. Adam Avery has always been passionate about big beers – not necessarily just in terms of ABV, but also in terms of flavor – so in 1998, he decided to brew a massively hoppy beer that reflected his passion."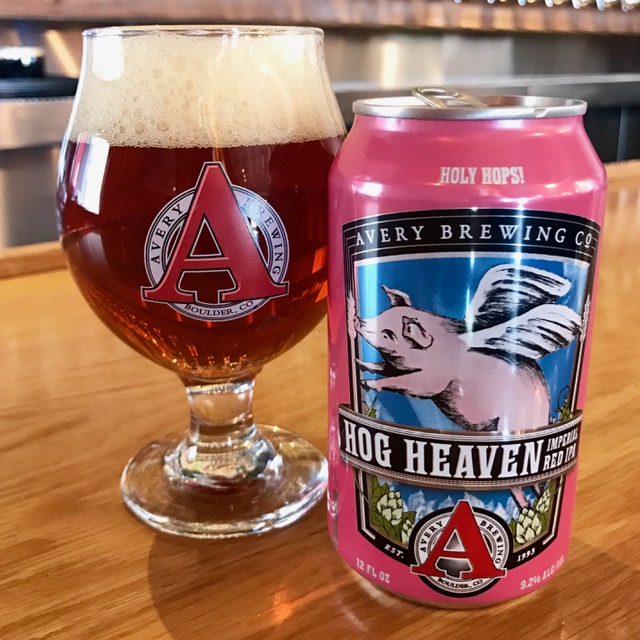 It might have been a barleywine then, with its combination of 9.2% ABV and a 102 IBUs, but what really matters is the taste. Vanessa added, "It attracted a lot of attention and won 2 Silver Medal wins at the Great American Beer Festival in 2004 and 2007." The brewing of Hog Heaven led to many other bold beers from Avery such as The Maharaja in 2005, Rumpkin in 2011 and Tweak in 2014, "After all this time, it is still a beloved beer by Avery Brewing employees and is frequently consumed during celebratory times at the brewery."
The new cans make Hog Heaven easier to drink, in a sense. Rather than committing to a 22 oz bottle, one only needs to open a 12 oz can. The updated name and the updated packaging reflect the many changes that have occurred in the craft beer world, and Avery continues to adapt.
Sierra Nevada / Avery Beer Camp Collaboration
Hog Heaven was originally inspired by Sierra Nevada's Bigfoot barleywine-style ale. Thus, as an homage to that inspiration, Avery Brewing will be collaborating with Sierra Nevada this year to create a blend of Hog Heaven and Bigfoot for Sierra Nevada's 2017 Beer Camp, which will be available in June.
https://www.instagram.com/p/BNf2CyEgtuk/?taken-by=sierranevada&hl=en
Tequilana: Tequila-Aged Sour
A red beer and a tequila beer… one can only surmise that the Red Rocker Sammy Hagar would enjoy this beer news! As Sammy explains in Mas Tequila, "I'm goin' way down south where the big blue agave grow." And when you do that, you get good beer, too.
A Press Release from Avery Brewing states:
Tequilana is a tequila barrel-aged sour. It will be available on draft at the Boulder-based brewery on March 13th and will start to hit shelves across the nation throughout March. This beer is number 43 of Avery's "Barrel-Aged Series," which is made up of small-batch, highly experimental beers that are brewed only once.
Tequilana is a light and lingering sour beer with a blast of tequila flavor. Travis Rupp, Avery's Research and Development Manager and Beer Archaeologist, was thrilled with the amount of tequila that this beer imparts on the nose. "Tequilana," said Rupp, "has a very pure and huge tequila character. Since this beer was aged in reposado and añejo tequila barrels for seven months, it's really exciting to smell and taste oak character in the beer such as butterscotch, vanilla, and agave notes since they come simply from the barrels themselves."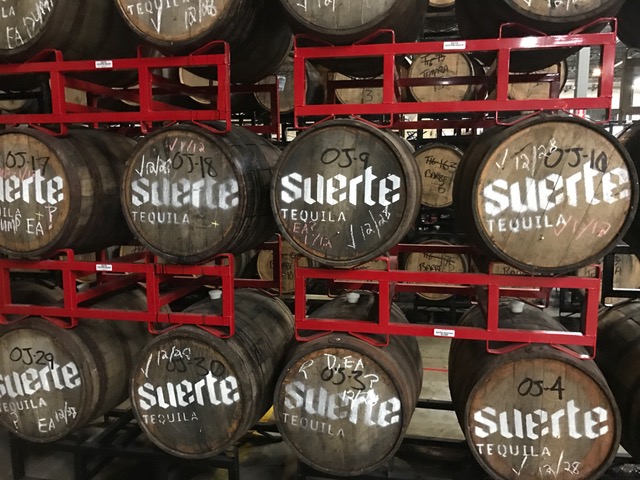 Tequila barrels can be difficult to source, but Avery established a great relationship in 2013 with Suerte Tequila, whose headquarters are also in Boulder, CO.
What began as an experiment has grown over the years, and Avery now has around 200 Suerte Tequila barrels on-site. To ensure that the barrels do not dry out during their long journey from Atotonilco El Alto, Mexico, Suerte adds some tequila back into the barrels before shipping to Avery. "We have gotten amazingly pronounced tequila character from Suerte's barrels," said Rupp, "that's why we like working with them."
True to the Barrel-Aged Series, Tequilana is inspired by the Latin scientific classification of the Blue Agave plant used in tequila production. Tequilana will be available nationally in 12-ounce bottles, but once it sells out, it's gone forever. 
---