No Comments
Ultimate 6er | Great Beers to Guzzle While Watching the Boys of Summer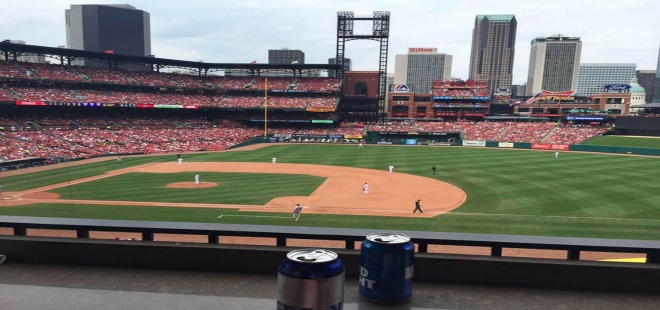 Few things go better together than baseball and beer. In my hometown of St. Louis, having your first beer at a Cardinals game is a right of passage enjoyed by generations of St. Louisans. There is nothing better than sipping a cold one on a hot summer day while cheering on your team, or jeering your team's opponent. But only in recent years has craft beer started taking off at ballparks around the league, offering new and better options for baseball-loving beer fans other than those from the largest breweries in the land.
But when combining hot weather and baseball, not every beer style is destined to be a baseball beer.  No matter if you're at the ballpark or watching or listening from your backyard patio, the key to the perfect baseball beer is one that is sessionable, or more simply put – a beer you can drink several of in one sitting.
For this first Ultimate 6er, we are offering you 6 real beers you might want to actually drink while watching your team. We looked for summer session-ables that provided enough taste to keep you going, but a low enough ABV (5.5% and below) that you're not asleep by the 6th inning. This time we focus on breweries only in 6 National League cities – be on the lookout for our American League Ultimate 6er soon.
ABV 5. 5 %  | IBU 18
In St. Louis, we love beer, the Cardinals and the color red. This beer, from local brewery O'Fallon Brewing Co., is quickly becoming THE baseball fan's craft beer.
This is the first year this Red Ale is available in bottles. While not an official "Cardinals" beer, it is designed to be the type of beer you would want to have while watching the game. You'll find a nice balance of sweet roasted nut flavors from the barley malt with the soft spicy and floral notes from the combination of Magnum, Cascade, Centennial hops.
ABV: 5.3% | IBU: 25
Chicago is home to the World Champion Chicago Cubs, whom I despise, but I cannot deny the great beer coming out of the Windy City. This seasonal from Revolution is released only in April and May, so this will be one to stock up on for the hotter months of June and July.
Described as a crushable ale to celebrate the end of winter and rejoice the coming of warm weather! This American wheat ale is brewed with Apollo and Amarillo hops, with a dry-hop blend of Crystal, Amarillo, and Mosaic, resulting in a mellow bitterness and pronounced flowery aroma. Flaked Oats with a malt blend of 2-row, Red Wheat, and Carapils, create a light golden color and a smooth silky mouthfeel in this brew.
ABV: 4.5% | IBU: 15  
The Rockies are a team I keep waiting to erupt, but so far that hasn't happened. So, I can only imagine how important drinking must be to Colorado baseball fans. After much consideration of all the great beer in this state, I'm going with Breckenridge's Summerbright Ale.
The beer combines white wheat, two row pale and Munich malt with the Pacific northwest's most intriguing hops to create a bright, clean ale ideal for picnicking evenings on the screen porch and enjoying play from the boys of summer.
ABV: 5.3% | IBU: 35

I'm a child of the 1980's; so to me, the Mets will always be pond scum, (If you don't know what that means please Google – Mookie Wilson, Pondscum, David Letterman.) But New York makes some good beer and Schmaltz is one of my favorites.
They call it "the perfect session beer," and I can see why. This beer drinks very light, but with a good flavor off the draw, which completely disappears on the swallow. A hint of rye and wheat in the malt bill and a blast of Pacific northwest hops in the nose balances creativity with drinkability. The beer appears just a tad darker than the lagers I'm used to. The nose is pretty fruity, as well and not overpowering. It's a pretty clean beer, simple and will do well on a hot summer day.
ABV: 4.0% | IBU: 23
Poor Padres. I've been a closet fan of them since Steve Garvey went south from Los Angeles in the 80s. I've waited for years for them to break through, but life is short, so I'll focus on the beer that is made around the park.
Green Flash's Sea to Sea is an unfiltered Zwickel lager layered with German Pilsner malts, Hallertau Mittelfrüh and Czech Saaz hops, 2-row barley, and traditional Pilsner yeast. This sessionable brew has a light body with subtle sweet malt and fruity hop flavors, notable lager yeast, and a crisp, clean finish. Sweet graininess on the nose turns to soft water in the flavor and a crisp, effervescent finish that lingers with a touch of yeast.
Philadelphia Phillies


Summer Love | Victory Brewing

ABV: 5.2% | IBU: 25

The Phillies were a huge rival of the Cardinals in the 70's and 80's, and I did enjoy their resurgence the last 10 years, but their drop-off in the last few seasons has been rough to watch. So, to watch the Phillies, I think you need to remain focused for as long as possible.
That is why we're going with one of the more popular summer beers. This golden ale was once voted the best summer beer by Paste Magazine during a blind taste test in 2013. Few beers represent summer better than Summer Love Ale. It delivers an earthy familiarity of noble European hops backed by fresh, clean German malts, and a surprising burst of lemony refreshment from fistfuls of American whole flower hops at its finish. Summer Ale offers that rare combination of a beer being light, malty and lemony but not as much as a Radler. A true summer beer that will be perfect for baseball, backyards, barbecues and fireworks.
---