No Comments
Waking and Baking News | Declaration Brewing 420 Pack of Beer Is Actually a Thing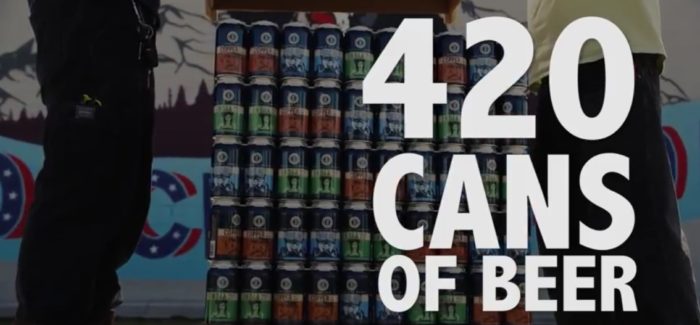 Declaration Brewing Co. (Denver, CO) announced the sizable unveiling of its "420 Freedom Pack." Requiring 4 people to be carried out of the liquor store, the 420 Freedom Pack boasts 17 ½ cases of beer. The 420 pack consists of Declaration's signature beer series including 1,872 fluid ounces of Impure Penelope Armstrong American IPA and Hardtack Copper Ale, and 1,296 fluid ounces of Purloined Pearl Pale Ale. The unfathomably purchase-able gimmick is available at Winter Park Wine & Spirits and the Preamble Taphouse (inside Declaration Brewing).
We're not sure how much it costs (probably $420 bucks, amirite?!) but who is buying this anyway?! Is this a joke?! Nay, 'tis naught a laugh. It is legit. But, because it is legit, does it make it good?! We'll let you decide if this is just smoke on the water or not . . .
"Our package is so big, all the other brewers will be jealous!" hyped Declaration's Chief Instigating Officer and 420 Freedom Pack mastermind, Mike Blandford. Releasing the 420 Pack on 4/20 to tie in our beer on one of Colorado's most celebrated days was a no-brainer. Go big or go home!"
"It's freakishly huge!" exclaimed one Preamble Taphouse customer. Like the motto on the pack, grab some heroes and drink until there's zero!
We're not even sure what is going on with this news release, we are just reporting on this one folks.
Get a hold of us if your group plans on taking this thing down, we would love to watch someone try! Meanwhile remember to drink responsibly, because while it goes without saying that one could die from attempting to consume this much beer, the fact that a 420 pack actually exists means we should probably spell it out for you.
#makeastatement
---