2 Comments
What to Drink at a Cincinnati Reds Game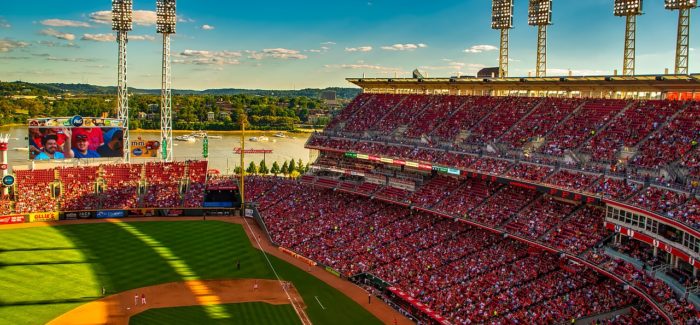 Featured image courtesy of Pixabay
Cincinnati is known for its rich history with baseball and beer. In fact, Cincinnati was the first city to have a professional baseball team in 1869. And with a large German population, the city also had over 30 breweries during those early baseball years. This prompted the then Red Stockings to serve beer at baseball games, which was quite controversial at the time. So it's easy to see that beer and Red's baseball have been a critical part of Cincinnati's history from the very beginning.
It is no different today; the Queen City is still in love with its baseball team and the city's love for beer is evident by the nearly 40 breweries that now call Cincinnati home. That love for craft beer and baseball is displayed at Great American Ball Park (GABP) where there is an impressive beer list. For me, I immediately look toward the local craft beer on the list and two stand out: Rhinegeist's Hustle and MadTree Brewing's Rounding Third. Not only are these tasty brews but they are also baseball themed.
ABV: 4.8% | IBU: 17
Off at the crack of the bat, spikes dug in, exploding with speed — Hustle breaks the game wide open. This red lager digs it out with crisp malt tones and a hop balance finessed like a delicate bunt down the baseline.
Controversy surrounds this seasonal beer from Rhinegeist. In the past, this was a rye IPA but this year it was changed to a red lager. While I loved the rye IPA version, there is a lot to love about the new brew. Lagers have been enjoyed during baseball games for decades and there is no doubt that thousands will drink Hustle while cheering on the Reds this year. It has a low ABV so you can enjoy a few over the course of the game. And let's be blunt, we need more craft lager options for those that prefer something without the bold hops of an IPA.
https://www.instagram.com/p/BR6DPwCBygU/?taken-by=rhinegeist
ABV: 6.5% | IBU: 51
Brewed to celebrate the start of our favorite pastime, Rounding Third has a slight caramel semi-sweet malt backbone balanced by a strong hop profile. Dry hopped with Falconers Flight and Simcoe, this brew will have your palate rounding third and heading for home.
There is nothing more exciting than seeing a player rounding third and heading for home. It is in that moment that the crowd erupts and cheers the loudest. MadTree really captures that feeling in this red IPA. It has a punch of excitement from the hops but isn't overly bitter. It is this balance that makes it a refreshing craft beer perfectly suited for the ball park.
https://www.instagram.com/p/BSbS-nOAier/?taken-by=madtreebrewing
If these beers don't get you excited about Red's baseball, don't worry. GABP has 42 beers on tap and 16 of those are local with many other craft beer options from other parts of the country. And they also feature a wide variety of local food including our famous Skyline "Cincinnati-style" chili. You won't be going hungry or thirsty.
What could be better than heading to a Red's game on a warm summer day? Finding local craft beer on tap.

Beer and baseball go hand in hand in Cincinnati so if you are in the area, head to Great American Ball Park to watch America's favorite pastime paired with some of the best craft beer that Cincinnati has to offer.
---