No Comments
Brewery Showcase | On Tour Brewing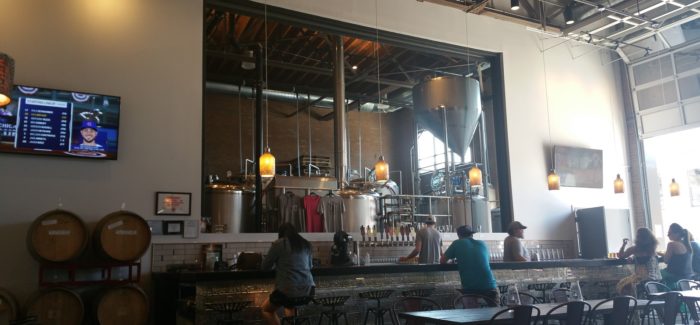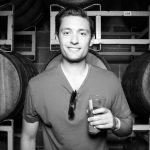 Known for its expanse of warehouses and industrial vibe, the West Town neighborhood in Chicago has become a hotbed for craft beer, including the recently opened On Tour Brewing. Positioned within walking distance of Forbidden Root, All Rise Brewery and Goose Island, On Tour Brewery is the perfect midway point for any West Town brewery crawl due to its relaxed vibe and its exceptionally well-rounded beer list.
Last weekend, as I took in the first Chicago day over 70, I got a chance to check out everything On Tour had to offer – safe to say I came away impressed.
The History
On Tour's history is not a long one. The West Town brew spot opened their large garage doors back in January and have seen a steady stream of fervent craft beer lovers ever since. For founder and brewer Mark Legenza, his dream of opening up a brewery in his hometown has finally come to fruition and the response he's heard from patrons so far has been great: "The feedback we've received about our space and beer since we've opened has been very positive. We love meeting On Tour fans and it's great to see the tasting room filled with craft beer lovers and also those who might be getting into the craft beer space for the first time."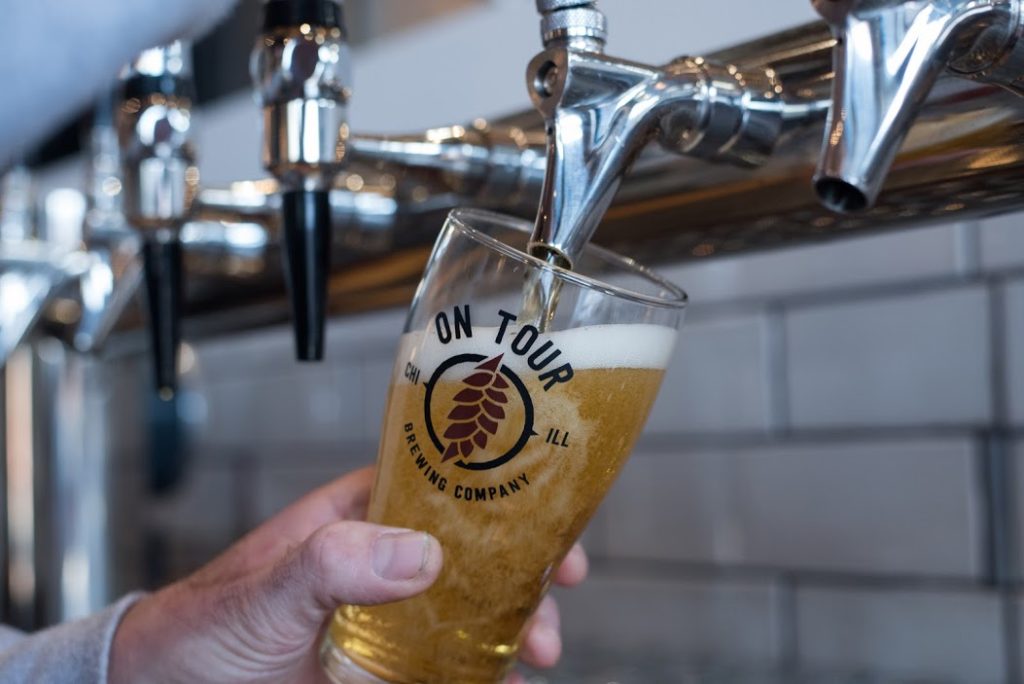 The Beer
When I visited On Tour, I was with my parents, who were the people who got me into the craft beer culture. My mom is a huge fan of IPAs, in fact, she won't drink anything else at this point, so when she came away smiling after indulging in their Ruthless Villain Red Rye IPA, I knew I was in for a treat.
My first beer was their It Takes Two West Coast IPA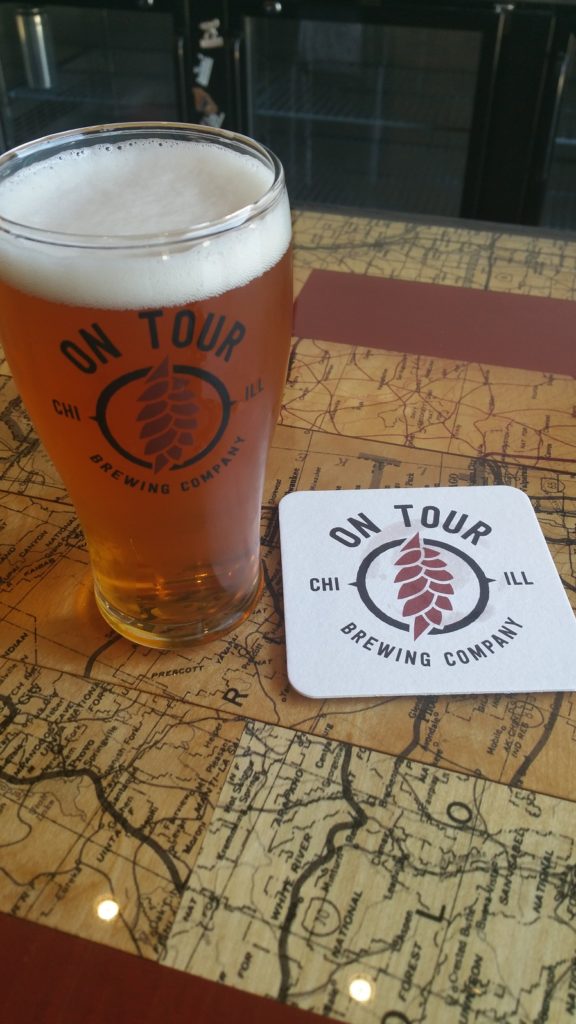 (right), which is curiously aged in gin barrels. To be frank, I had never considered the abject bitterness of gin to pair well with succulent fruit notes but the resulting flavor combo the On Tour brewmasters were able to create in this IPA were fantastic. In a market inundated with fruit-filled IPAs, It Takes Two broke through the clutter for me due to the fantastic bitter notes delivered by the gin barrels after each sip. That bite of tartness amplified the initial fruit notes and led to a really great taste that kept me on my toes.
Along with a bevy of well-curated IPAs, which includes a DIPA and a nitro-version of Ruthless Villain, On Tour also delivers unique flavors throughout their lighter beers. Having been brought up with the iconic Spotted Cow, I was very impressed with On Tour's take on a cream ale, called Thunder, which delivered a rich, creamy mouth feel and light finish. It was very easy to drink and made for a great beer to take down on a hot Spring (!) day. And if you're looking to take some beer home, On Tour offers their beer in crowler form, but no growlers.
The Vibe
As I sat on a comfortable red leather couch with sunlight streaming through the open garage door, I actually thought about taking a nap. That's how relaxed the feel is at On Tour. That kind of care-free attitude is exactly what Mark envisioned when he started the brewery, and it comes through in every element of the room. It's a fantastic day drinking spot, especially as the days get hot, and would pair well with a stop at the other West Town breweries stationed conveniently nearby.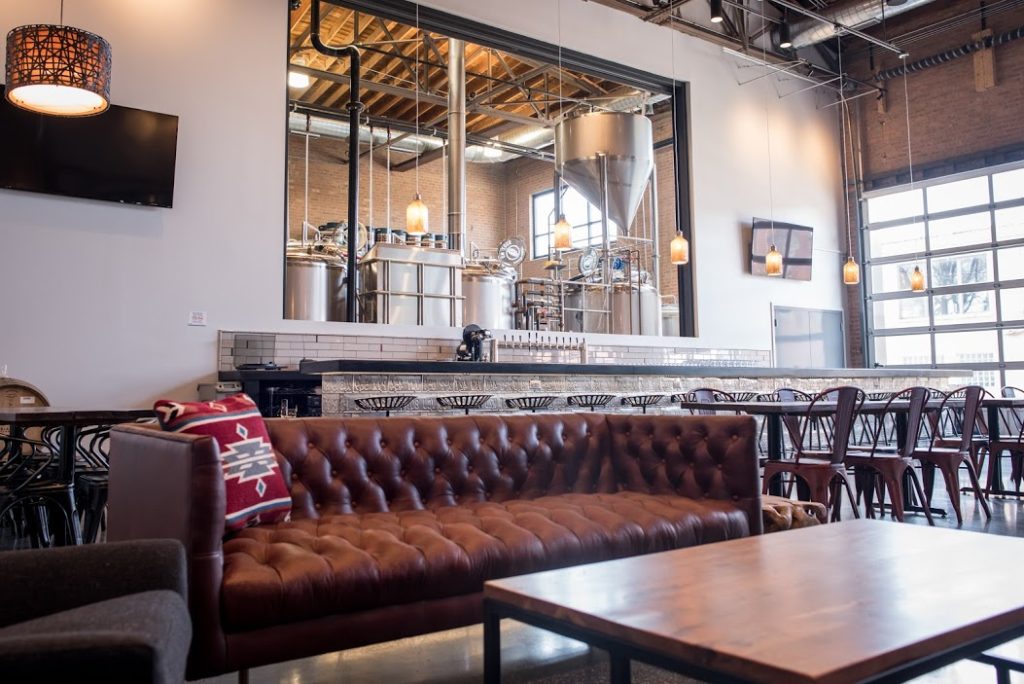 The waitstaff is fast and friendly and the seating options are numerous. From adjustable bar stools to table tops and the aforementioned leather couch, there is not a lack of good options for a group or even a casual date. They also have two HD TVs stationed above each side of the bar that make for optimal viewing, especially if the Cubs are playing.
As far as the food goes, like many startup breweries and their tap rooms, On Tour is BYOF and allows for customers to order-in whatever their heart desires. Mark also noted that they will have food trucks consistently stationed outside, including the likes of Smokin' BBQ Kitchen, Chicago Pizza Boss and Hot Dog Fiend, as well as the pop-up taco shop Arigato.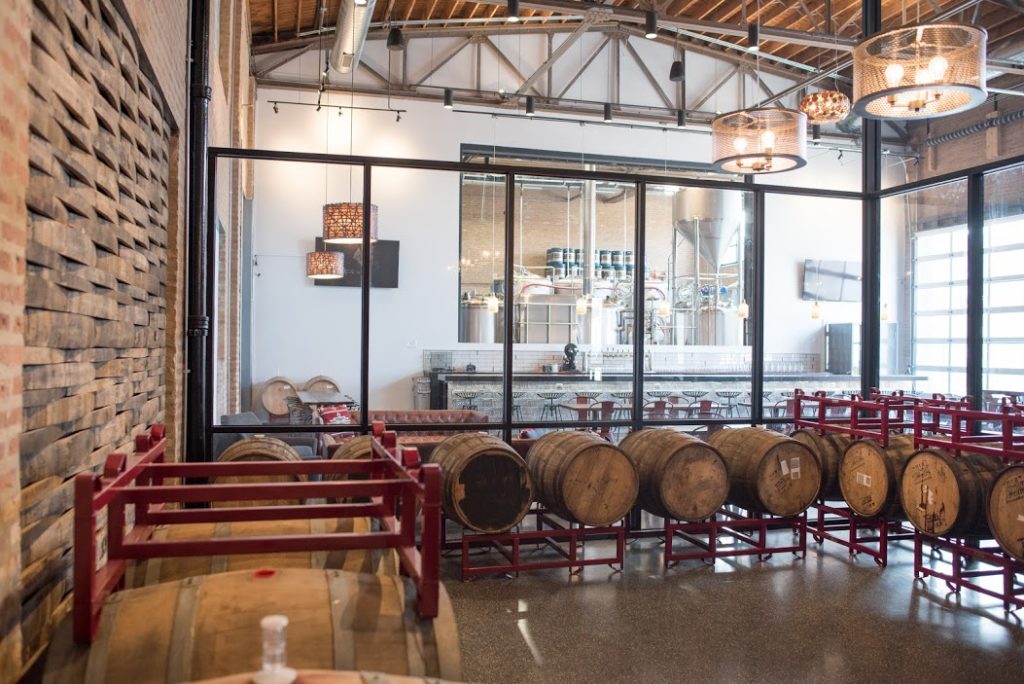 Activities
Besides from drinking delicious beer, patrons can take the highly-coveted brewery tour, led by Mark Lengenza himself. The tour takes place on the 1st and 3rd Saturday of every month at 1:00 PM. For a $10 ticket, you receive three complimentary pours and a souvenir glass, along with some great beer tidbits to pass along to your bar buddies.
If you want to stretch things out after a long night, On Tour also offers a yoga class on Sunday at 10 AM. Tickets run $19 for a 60 minute session and include a 16oz beer. And if you're not into either of those options, other upcoming activities include a BrewTube comedy night and a Grateful Dead cover band appearance happening April 25th.
In the area or new to the city and looking for things to do? I can't recommend On Tour Brewing enough. They have a fantastic tap room space and great beer to boot – I'm already planning my next trip back. Cheers!
On Tour Brewing Company
1725 W. Hubbard St.
Chicago, IL 60622
Tasting Room Hours
Monday – Closed
Tuesday – Closed
Wednesday – 3-9pm
Thursday – 3-9pm
Friday – 3-10pm
Saturday – 11am-10pm
Sunday – 11am-8pm
---