No Comments
Event Preview | The Phoenixville Beer & Wine Festival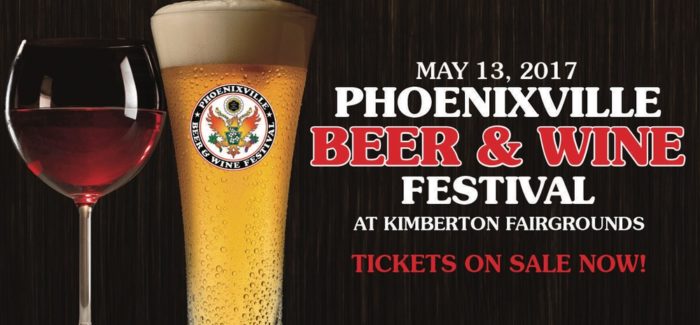 Featured image courtesy of phoenixvillebeerwinefestival.com.
An exciting event is coming to Phoenixville, PA this May. The first Phoenixville Beer & Wine Festival is happening this Saturday, May 13 at the Kimberton Fairgrounds. From 12-4:30 p.m., guests will be able to sample beverages from a myriad of local and national breweries, wineries, as well as mead, cider and spirits.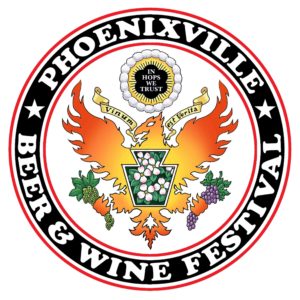 This event marks a first for the town of Phoenixville, which is seeing a new resurgence in its local community and commerce. "We are happy and honored to have so many Phoenixville Area businesses that have become sponsors and vendors-another way of supporting the community and downtown businesses," said Christine Tarlecki, Phoenixville's Beer & Wine Festival's PR and Digital Marketing Director.
This festival will benefit the Phoenixville Public Library, a registered 501c3 Pennsylvania non-profit organization.  The library serves a diverse region through access to information, technology, social networking and educational programming. "The Phoenixville community is very important to us, and our events reflect that," explained Tarlecki. In conjunction with Molly Maguire's Irish Restaurant and Pub and Lagunitas Brewing Company, Phoenixville Beer & Wine Festival hosted a beer pairing dinner on April 30th to raise additional funds for the Phoenixville Public Library. For $75, each attendee enjoyed a delicious four-course meal paired with four of Lagunita's brews. Dinner included:
First Course: House salad with cranberries or Colcannon soup, paired with Lagunitas' Pils
Second Course: A Scotch egg or Colcannon potato balls, paired with Lagunitas' IPA
Third Course: Shepherd's pie or Madras chicken curry, paired with Lagunitas' Undercover Investigation Shutdown Ale
Fourth Course: Bread Pudding with a Saucy Blonde Martini
Festival Details: This event is rain or shine! Buses will be running from Phoenixville High School and ample parking is also available. For those that choose to use Uber, a code is available on the festival website to save on your ride! No one under 21 years of age will be allowed into the event and pets are not allowed (official service dogs only).
Participating in the event are an array of breweries including: Armstrong Alehouse, Avery Brewing Company, Ballast Point, Bell's Brewery, Conshohocken Brewing Company, Draai Laag Brewing Company, Fegley's Brew Works, Funk Brewing Company, Great Lakes Brewing Company, Hardywood Park Brewing Company, Hewitt Brothers Handcrafted Ales, Hidden River Brewing Company, Iron Hill Brewery, Levante Brewing Company, Locust Lane Craft Brewery, Manayunk Brewing Company, Meduseld Meadery, Mellow Mink Brewing, Root Down Brewing Company, Sly Fox Brewing Company, Smuttynose Brewing Company, Stable 12 Brewing Company, Starr Hill Brewery, Troegs Independent Brewing Company, Tuned Up Brewing Company, Vault Brewing Company and Weyerbacher Brewing Company. Participating cideries include: Bold Rock Cider, Cider Boys, Frecon Cidery and Moon Dancer Cider House.
For the wine and spirit fans, there will be no shortage of tasty options, including: A'Dello Vineyard and Winery, Blue Mountain Vineyards, Moon Dancer Vineyards & Winery, Paradocx Winery, Sand Castle Winery, Stone Barn Cellars Winery, Stone & Key Cellars, The Vineyard at Hershey, Va La Vineyards (VIP Only) and Bluebird Distilling.
Local food trucks and restaurants including Dia Doce, Dump-N-Roll, Ka-Chi Truck, Surf and Turf Truck,The Cow & The Curd and Your Mom's Place will provide delicious snacks for the event, so bring your appetite, too!
Standard admission and designated driver tickets are still available in limited quantities! For more information about this event, go to http://phoenixvillebeerwinefestival.com.
---