No Comments
The Weekly Buzz | June 16 – 22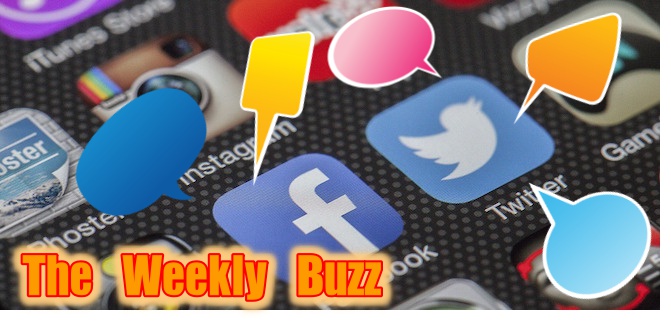 Another week has gone by and, as usual, the Twitter-verse has been awash with craft beer news and shenanigans. To be honest, it was mostly shenanigans. OK… it's almost always shenanigans. Don't worry, though. There are also a few event announcements, job listings and some sad legislation to balance things out. Ladies and Gentlemen, this is The Weekly Buzz.

It's a sign.
Our co-founder @shaunosullivan letting fate take the wheel. We think it's a good omen. pic.twitter.com/TYzfeZDLe7

— 21st Amendment (@21stAmendment) June 20, 2017
---
Speaking of good omens…
In this case…the gold is underneath the rainbow! pic.twitter.com/AGksR7NOts

— TheUnknownBrewingCo. (@UnknownBrewing) June 19, 2017
---
It seems like this could really hurt craft beer in the Lone Star State.
The Texas Craft Brewers Guild is disappointed to announce that HB 3287 has been filed into law. Full statement below. pic.twitter.com/4qK4mlp91D

— TX Craft Brewers (@TXCraftBrewers) June 15, 2017
---
Ready for some music, art and beer in the sun?
@KarlStraussBeer Arts & Amps returns to Pacific Beach NEXT weekend. https://t.co/krSAjc77Nz #SanDiego #SDbeer pic.twitter.com/bFRHwaCSBq

— PACIFIC (@PacificSD) June 16, 2017
---
Is it illegal to sexually harass a beer?
#creeper pic.twitter.com/Ifi9nOc0T5

— St. Benjamin Brewing (@stbenjaminbrew) June 16, 2017
---
Get your checkerboard slip-ons out of storage, and buy your tickets today!
https://t.co/EIK1lIFqSS pic.twitter.com/Y6zNPmrpor

— Ska Brewing (@skabrewing) June 19, 2017
---
…because knowing is half the battle.
Now that Dad finished his growler, you can clean it together. #TheMoreYouKnow brought to you by https://t.co/5A8ugctlCj pic.twitter.com/6F0yI2C22P

— Flying Dog Brewery (@FlyingDog) June 19, 2017
---
Come for the wings. Stay for an awesome beer festival!
Don't forget to buy your tickets for the Buffalo Brewers Fest at the Outer Harbor on 6/24, 4-7pm! Get yours now at https://t.co/B7f0UrRMol pic.twitter.com/5STWfk3T0k

— Southern Tier Beer (@stbcbeer) June 18, 2017
---
Happy Father's Day to all the weird dads out there!
Happy Father's Day and cheers to all the dads out there! 🍻 pic.twitter.com/SrH35dGuZu

— Dogfish Head Brewery (@dogfishbeer) June 18, 2017
Happy Father's Day to all the dads out there! Enjoy your day. Cheers! #brewedright #sunnyspot #grapefruitshandy pic.twitter.com/Qv4IQyFFtr

— Susquehanna Brewing (@SBCbeer) June 18, 2017
Cheers to all the warrior dads out there! Happy #FathersDay, you for sure deserve some beers! #Samurai #TheReturnOfSamurai #dadsday pic.twitter.com/oVFnrdOKvv

— Great Divide Brewing (@greatdividebrew) June 18, 2017
This ones to you, dad. Drink up. Happy Father's Day to all the dads out there! Thanks for always being there for us! #fathersday #uintabeer pic.twitter.com/fhAd7Kseir

— Uinta Brewing (@UintaBrewing) June 18, 2017
---
You can never have enough glassware.
Need some glassware? Empire Burgers + Brew in Chi-town is doing a glassware giveaway this Sat. 6/24 from 7-10. pic.twitter.com/jVHTKjqVdv

— Allagash Brewing Co (@AllagashBrewing) June 19, 2017
---
The easiest way to pack for vacation.
---
But does he REALLY?
"Bourdain HATES craft beer!" https://t.co/bGioRZNWcK

— East End Brewing (@EastEndBrewing) June 15, 2017
---
Polish up those resumes!
Lookin' for a job you'll love? Check out our open positions and join #TeamVictory! https://t.co/HKiqX3FAYB pic.twitter.com/p5rRBlJA6B

— Victory Brewing Co. (@VictoryBeer) June 19, 2017
---
Enter today!
Want to win a trip to the brewery? We've shared some of our stories of no regret – now share yours. Enter here: https://t.co/soV6C6SYD1 pic.twitter.com/HALIVp4N9D

— Founders Brewing Co. (@foundersbrewing) June 20, 2017
---
I LOVE dual purpose brewery swag!
Yes, that's a #YardsBrawler baby onesie. Does it double as a dog shirt? #obviously #Yards #BrewUntoOthers pic.twitter.com/pROqja6NHI

— Yards Brewing Co. (@yardsbrew) June 20, 2017
---
No RSVP required!
Who's joining us for @peeknpeak Bonfires & Brews this weekend?! We're bringing the good stuff, now we need you… https://t.co/hlvqxooO8D pic.twitter.com/z3962TPynK

— Southern Tier Beer (@stbcbeer) June 20, 2017
---
Look out, NM! There's great beer on the way!
Proud to welcome 2 new distributor partners to the Bell's extended family. NEW MEXICO – We'll see you in September! https://t.co/MdfMY19QeT pic.twitter.com/YcYatYKXjL

— Bell's Brewery (@BellsBrewery) June 19, 2017
---
WHAT'S IN THE BOX?!
---
I'm the map. I'm the map. I'm the map. I'm the map. I'M THE MAP!
Tons of stuff happening this weekend during @AthFest, so we made this handy map so u can easily find venues that are serving our beer! pic.twitter.com/GFkTQD1LHW

— Creature Comforts (@creaturebeer) June 22, 2017
---
It's about damn time!
Brewed more than 2 years ago, releasing next month… @eviltwinbrewing pic.twitter.com/cSmIBonnym

— Side Project Brewing (@SideProjectBrew) June 22, 2017
---