No Comments
Off Color Brewing | Sparkles Finds (Some) Trouble Hibiscus Gose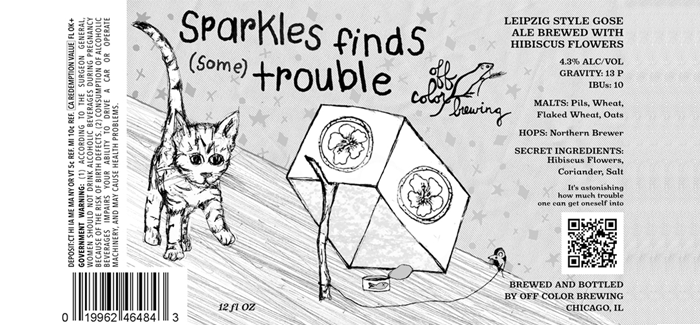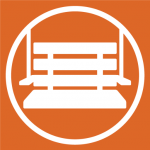 Off Color Brewing offers some of the best craft beer in the country across their portfolio, in my humble opinion. And how could you pass up a beer named Sparkles Finds (some) Trouble? This poor kitten got himself into a little, but not too much trouble. Check out the basically amazing description of the beer from the brewery itself (I feel like there's no way they're paying their marketing person enough!):
"Curious kittens sometimes get themselves into trouble. What they find out is some things are best left alone. Likewise, curious brewers sometimes add flowers and junk to their beer to see what'll happen. What they find out is those flowers will add a sweet note and stunning pink color to an otherwise tart and salty beer."
I was more than pleasantly surprised when I tried this beer (I'm always slightly wary of beer that's not a normal color—looking at you St. Patrick's Day beer), and this beer pours a pinkish color with a very pale pink head. It's a perfect summer drink, perfect for the pool, with just a hint of tartness. I think even those who aren't on the sour train would enjoy this one. On the nose I definitely got the hibiscus and a slightly tart note, and then the taste is slightly sweet, yet with a little bit of saltiness. Excellent! Very clean finish and refreshing.
Lastly, can we talk about this bottle art? I love this sketch that features the mischievous mouse (and brewery mascot) baiting poor Sparkles with what I'm going to assume is tuna. That's like baiting me with a beer…you know I'm going to get into it. Props to Off Color's artist on all their bottle art.
https://www.instagram.com/p/BTabUEmAzdr/?taken-by=offcolorbrewing
If you share a curious note with the cute kitten here, I highly suggest you find yourself some trouble by opening a few of these brews. As always, please drink responsibly and have a rideshare handy if you find yourself in TOO much trouble.
ABV: 4.3% | IBU: 10
---