No Comments
Brewery Showcase | Reuben's Brews (Seattle, WA)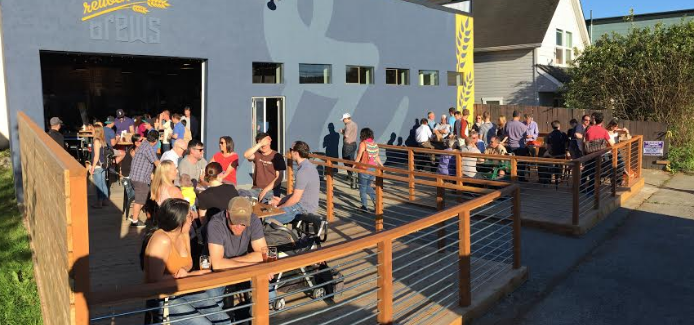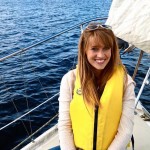 It's hard to imagine now, but just a few years ago the Leary Way strip in Seattle was primarily industrial spaces. Drive-by territory. It's a history that seems distant – and perhaps even unimaginable, now. These days Leary Way is home to Seattle's best and, arguably, most frequented breweries. Patrons, food trucks, and pedal pubs now weave in and out of the area fluidly, like clockwork. So when did it start? What was it that flipped the switch? Well, one might argue that it all started with Adam Robbings, and his fateful venture: Reuben's Brews.
If you know anything about the Seattle beer scene, this shouldn't be a total shock. Since opening its doors in August of 2012, Reuben's Brews has snatched the title for the most awarded brewery in the state of Washington – winning medals at the Great American Beer Festival, the World Beer Cup and the US Open, to name a few.
That being said, don't expect to find a lick of pretentiousness in the air at Reuben's. Complete with picnic tables, rotating food trucks, and a big screen ideal for big games, the bustling brewery is now one of the city's most alluring watering holes – a spot that guarantees two of craft's best qualities: Incredible brews and unwavering hospitality. Look no further than its founder, Adam Robbings, to encapsulate both.
Earlier this spring I was lucky enough to sit down for a chat about Reuben's with Robbings, who plays two roles at Reuben's: co-founder and brewmaster. In the midst of my (very lengthy) list of questions the happy hour crowd appeared as if out of thin air – Reuben's suddenly to the brim with patrons eager for a brew. The bartender behind the bar had taken an ill-timed break, and the line out the door was growing steadily.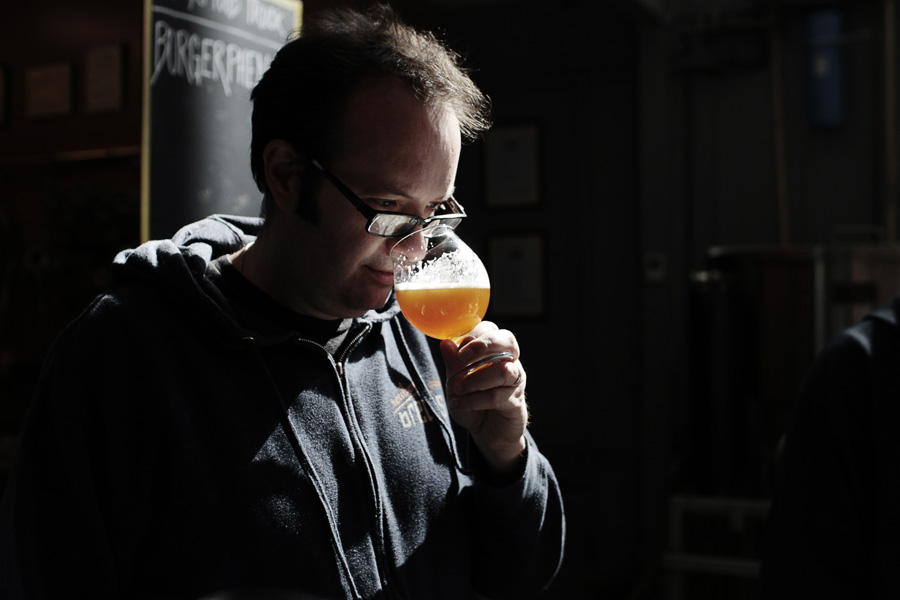 "So sorry, will you excuse me?" Robbings asked politely. Within a moment he was behind the bar, filling pints, answering questions and giving suggestions, without skipping a beat. It's this energy, humility and enthusiasm that makes Reuben's what it is today.
It's fitting that Reuben's story starts as so many do: As a homebrewer's dream realized. Robbings, who is from London, fell in love with craft when he moved to the Northwest for work – which was, at the time, a nine-to-five at a telecommunications company.
"The United Kingdom was one of the founding parents of beer in some respects, but it was to some extent a long way behind where [the Northwest] was at that time, in 2004," Robbings recalls.  "Everything was homogenized [in the United Kingdom], and I came from that. I was led to believe that was good stuff. So I started training my palate [in Seattle]. I could start identifying different hop profiles, malt profiles – started getting ideas about recipes even before I was brewing."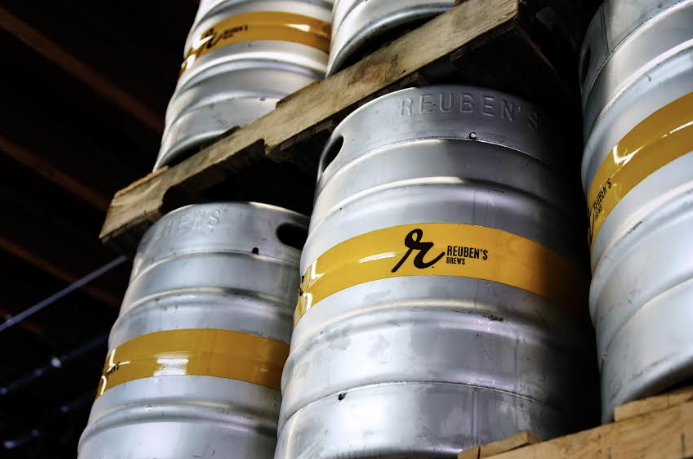 It got to the point where Robbings had trained his palate so acutely that he could recognize what could have made a beer better – that a brewery should have added a certain hop, malt, or technique to enhance the flavor. It led to Robbings being gifted something that would prove fateful: His first brewing kit, given to him by his wife Grace (whom he had met in Seattle) and his son, Reuben.
Within six months of Robbings having that kit, the homebrewing pastime had morphed into a passion – a 25 gallon passion that took up an entire garage, if we're being specific.
"For me, homebrewing is the fundamental driver of this movement," says Robbings. "It's this wonderful thing – you can try anything and not have to worry about it. It's the roots of the whole culture."
And within a year, Robbings had started to enter his beers for local festivals.
"Phinney Ridge has a beer festival twice a year, in the summer and winter. In the summer of the year that I started brewing, we went around and they had some homebrewers there, and we applied to pour at the winter one. We took four beers and the beer committee liked beers," Robbings says. "So anyway, we passed the test. We poured the at the festival, and we won people's choice, which was out of 800 people."
Not only did they win the people's choice, they also created their identity.
"The day before they were going to print the menu, they emailed us saying, 'You have to have a name, and you have to have a name by tomorrow,' so Grace and I had one night to come up with a name. We thought, well, we started brewing when Reuben was born and he got me this kit for my birthday, so let's call it Reuben's Brews."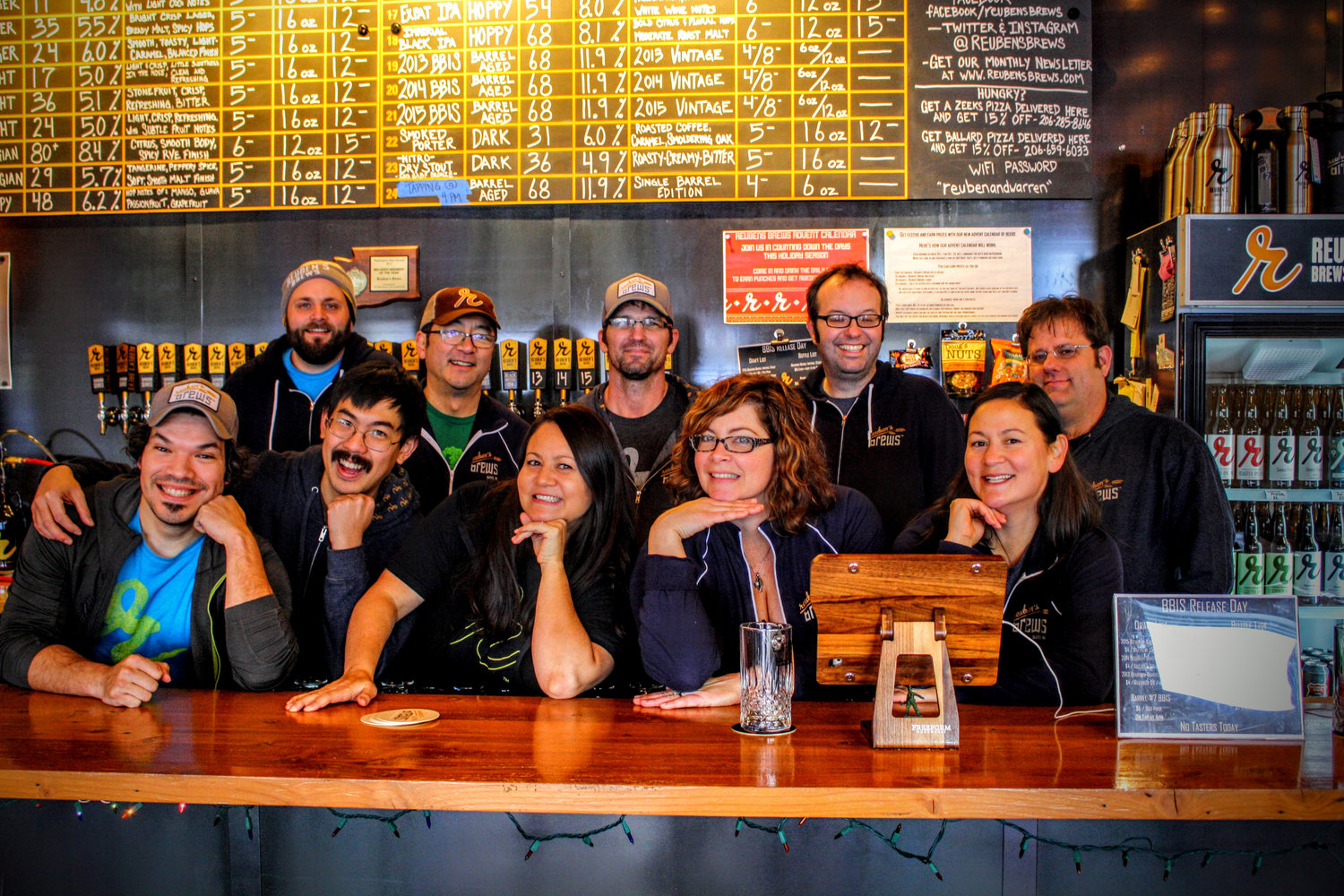 From that moment on, Robbings and Reuben's Brews had a following. After less than a year of homebrewing, he started receiving emails asking for the beer – from local bars and festival goers. To continue to test his abilities, he began entering his beer into competitions.
"My thoughts at the time was if your friends say it's good, it's your friends – and they are biased. They get it free," Robbings recounts.
Of course, the report came back with sparkling grades. One of those high marks coming from Grace's brother, Mike.  
"[Mike's] gateway beer was my pumpkin rye ale," Robbings recalls. At the time a loyal Bud Light drinker, Mike had seen the light.  "He had this pumpkin beer, and then he was hoarding it that night – wouldn't let anyone else have it. He jumped straight in."
So straight in, in fact, that Mike, who was living in Chicago at the time, offered to help open a brewery. This, paired with a shift in Robbings' career, pushed the couple to think big.
"We should give this a go. We like doing it, it's fun, and people like the beer! I had a really good job, so what we did is we found a small warehouse. We started with a 5 barrel system in a small warehouse," reflects Robbings.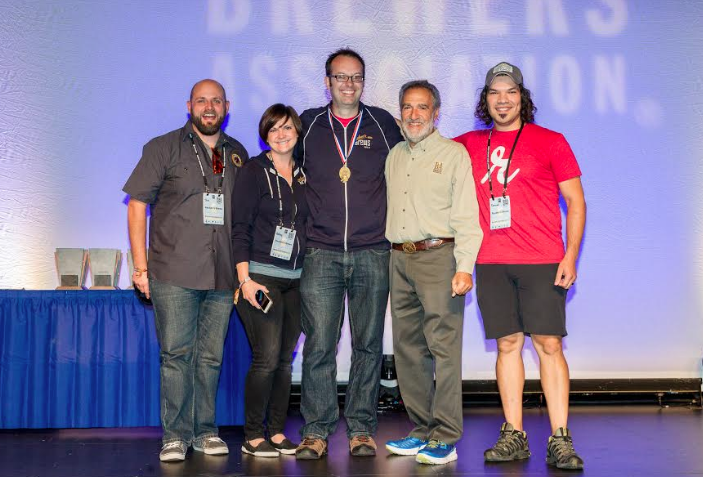 Robbings, who was an accountant by trade, made sure that if it all went south, rent could still be paid, and ends meat could be made. The first lease was signed in 2011.
"We would brew in the week, and during the weekend we would open the taproom. But it was in the same space. We opened in August 2012. By April 2013 we were at capacity," Robbings says. "I then quite my day job and was looking for another space."
The space that they found is where we find ourselves today – in Reuben's taproom on 14th. It's one of three spaces that Reuben's Brews now occupies in Ballard between their production facilities and their bar.

So three spaces and countless awards later… now what?
"The goal isn't to take over the world. We want to be a Northwest brewery," says Robbings. "I like doing lots and lots of different things, and if you start getting too big, you're going to get into this slippery slope of homogenization. Not only from a production standpoint, but you have to get to a point that's competitive. We'd rather concentrate on making something good."
And for Robbings, that's about answering to the public and his family, rather than any shareholders. "We can keep our head down and do the best we can – make the best beer we can. I don't have to worry about a return to investors because it's me and my wife. If we want to make this beer better and it's going to cost more, we'll do it."
And that's what they're doing. Whatever you can find on tap or in cans from Reuben's – whether it be in the local grocery store or in the taproom – it's worth picking up. Here's a quick guide to some of our favorites:
---
Pilsner
ABV: 5.4% | IBU: 35
This brew, which is available in cans starting this summer, has always been a fan favorite. And a judge's favorite as well, taking home the Gold Medal at the Washington Beer Awards, the Bronze Medal at the North American Brewers Awards, and the Best of the Pacific Northwest, at the US Beer Tasting Championships. Robbings recalls it's debut: "The Pils is the one that people went crazy about. We blew the keg out, and people really loved it. It's got one hop and one malt and we did it right."
And there's really no denying that. This Pilsner is light, crisp and fresh – with satisfactory malty notes mixed with just a bit of classic, fragrant hops. And at a mild 5.4% ABV, it's perfect for a hot summer day.
---
Gose
ABV: 4.3% | IBU: 6
This brew, available in cans year-round, is another favorite in the taproom, but also a favorite of Robbings'. "[A gose] is a unique process, so I had to do it a few times at home," he recalls. "The first time I brewed it [at our facilities], that batch one gold at GABF. We weren't even going to enter it – but then I looked at the guidelines and it was word for word."
And this beer, which has also taken home the Gold at the Best of Craft Beer Awards, the Silver at the World Beer Championships, really is everything you would want out of the style. With just a bit of salt, this light and refreshing sour ale is delightfully thirst quenching. It's almost too easy to sip, thanks to its citrus notes and mouth-puckering bite. It's one to have in the fridge all year, and at just 4.3% ABV, you can help yourself to a few.
---
Roasted Rye IPA
ABV: 7.0% | IBU: 80
This seasonal is one to look out for, in Reuben's line-up. Don't expect your typical Northwest IPA with this one. Reuben's Roasted Rye is packed with complication and flavor. Expect light, citrus-filled aromas that are kicked back by deep notes of caramel and cocoa. It's a beer that will make you warmer once Seattle's grey skies are back on the weather forecast. Also note that this one is what started it all, back when Robbings was homebrewing in 2010. Brace yourself for a hearty 7.0% ABV.
---
It's difficult, if not impossible, to imagine things going south for Reuben's, with it's stellar line-up, renowned reputation and strong sense of identity. But there is one thing that might be an upcoming bump in the road: Reuben isn't the only child anymore. So what does that second-born get? Another brewery? An award-winning beer? A pony?
Robbings laughs, as he tells a quick story of his second son. "Warren at two, yesterday, it was the first day he did this. He can spot a pitcher of beer. He says 'beer!'."
So there's time. And at the very least, it's safe to say that the entire family is learning the ropes.
---