No Comments
Beery New Year's Around the World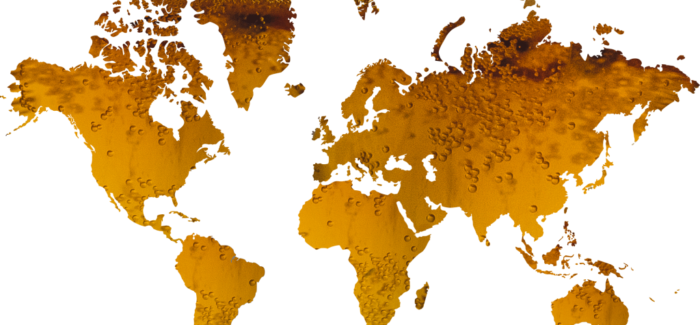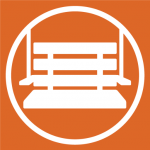 Confession: New Year's is my favorite holiday of all the holidays. I have long been drawn to the celebration of turning the page, leaving the previous year behind and the anticipation of new beginnings. (I would be lying if I denied that my love of the holiday has nothing to do with the excess.)
Several years ago, a good friend of ours in Wisconsin invited us to an epic New Year's Eve party. Starting at 8:00 in the morning, every hour featured a traditional food or drink from a country within that time zone.
We have adopted this tradition of our own, and the annual research of recipes for food and drink has become something of a hobby. This year it finally occurred to me, why not pair beer for each of the featured foods?
Below you have a schedule for just such an event. We live on the West Coast, which is reflected in the itinerary. Feel free to adjust this to your home time zone and make it your own!
A few helpful guidelines…
A cursory look at this schedule might lead you to observe that the order makes little sense. What kind of sequence goes from a porter to a geuze, back to a porter, followed by a brown ale? It just seems to be all over the map, right? Funny you should mention that…
Since this is a constant stream of food and drink, small servings of food (we like to offer bite-sized samples with plenty left over if guests like to help themselves to more) and 3-ounce pours of beer will be more than sufficient. Otherwise you and your guests are likely to feel somewhere between bloated and too incoherent to carry on by mid-afternoon, which sucks all the fun out of the experience. The cocktails in particular should be provided as much smaller pours.
You may also want to have enough glassware on hand so that everyone gets a fresh glass with each new pour. (Our dishwasher tends to work overtime on New Year's Eve.)
8:00 a.m. – Chongqing, China
Black rice congee + Alaskan Smoked Porter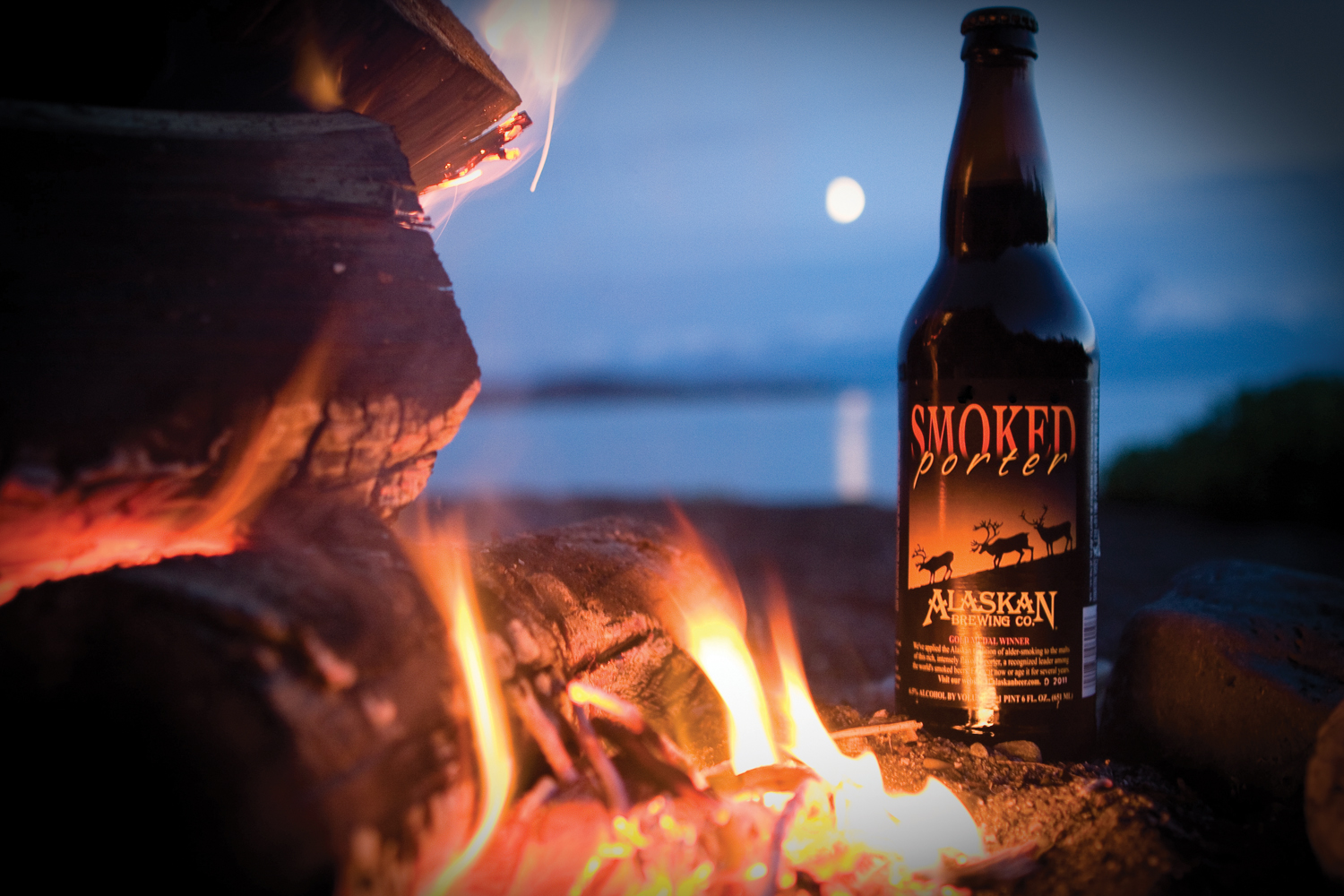 Your day starts with a hop over the North Pacific, a shuffle through Japan and a tread across the East China Sea, where you will find the perfect food & beer pairing to kick off your New Year's Eve. The smokiness of the porter complements the soy sauce in the congee, and neither of these strong flavors will overwhelm the other. Garnish your congee with cabbage, mushrooms and seaweed to give your day a refreshing start.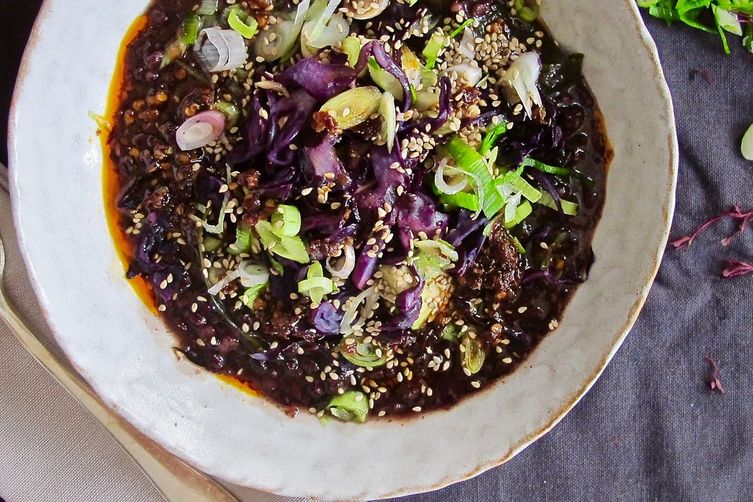 9:00 a.m. – Hanoi, Vietnam
Bánh khúc + Boon Oude Geuze
"Two rice dishes in a row? Really?!" These bánh khúc dumplings bring a little something different to the table as they are considerably more dense than the congee with some added protein to make it seem more like a small meal. An effervescent geuze will scrub the glutinous, chewy, sticky rice from your palate. The lemony acidity of Boon's Oude Geuze will also serve to accentuate the spinach and mung beans in your delicious dumplings.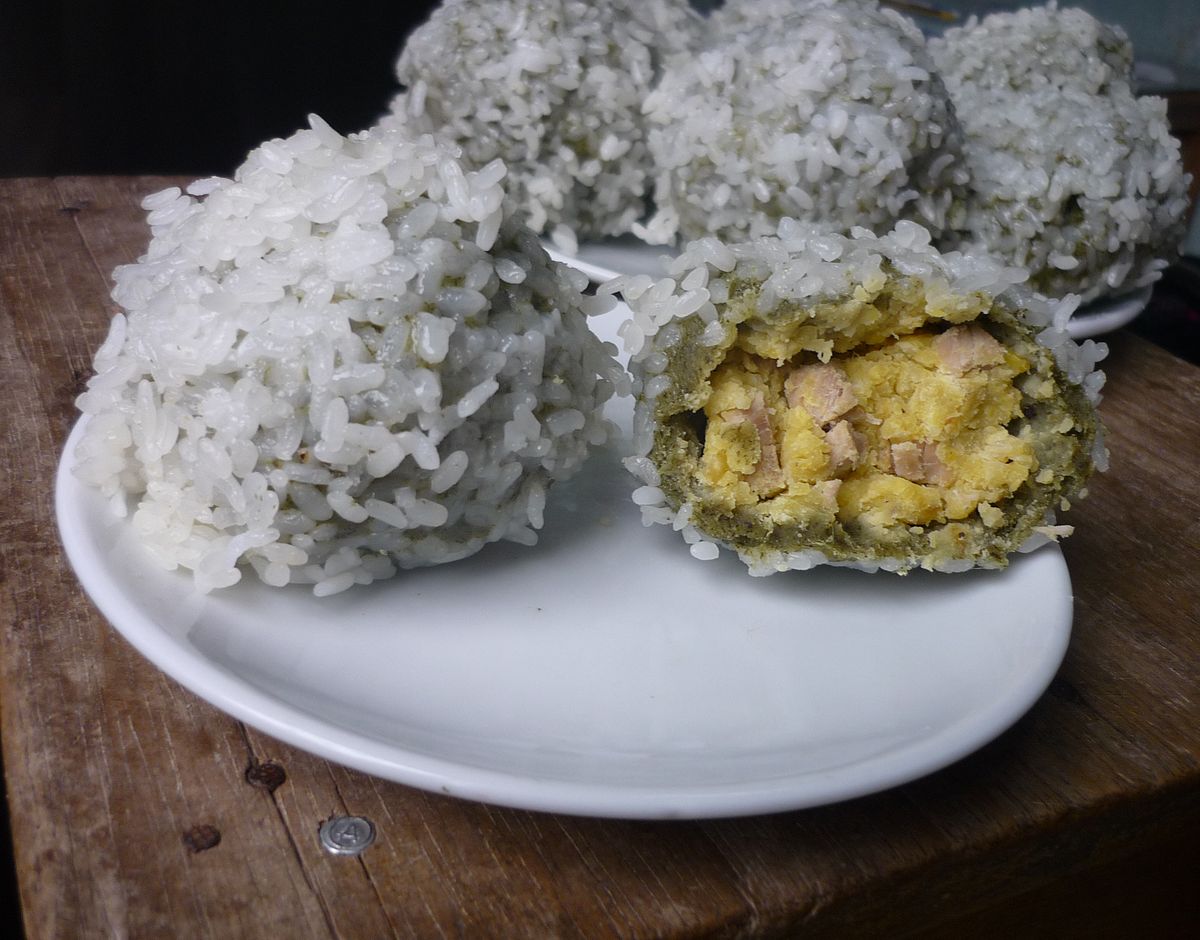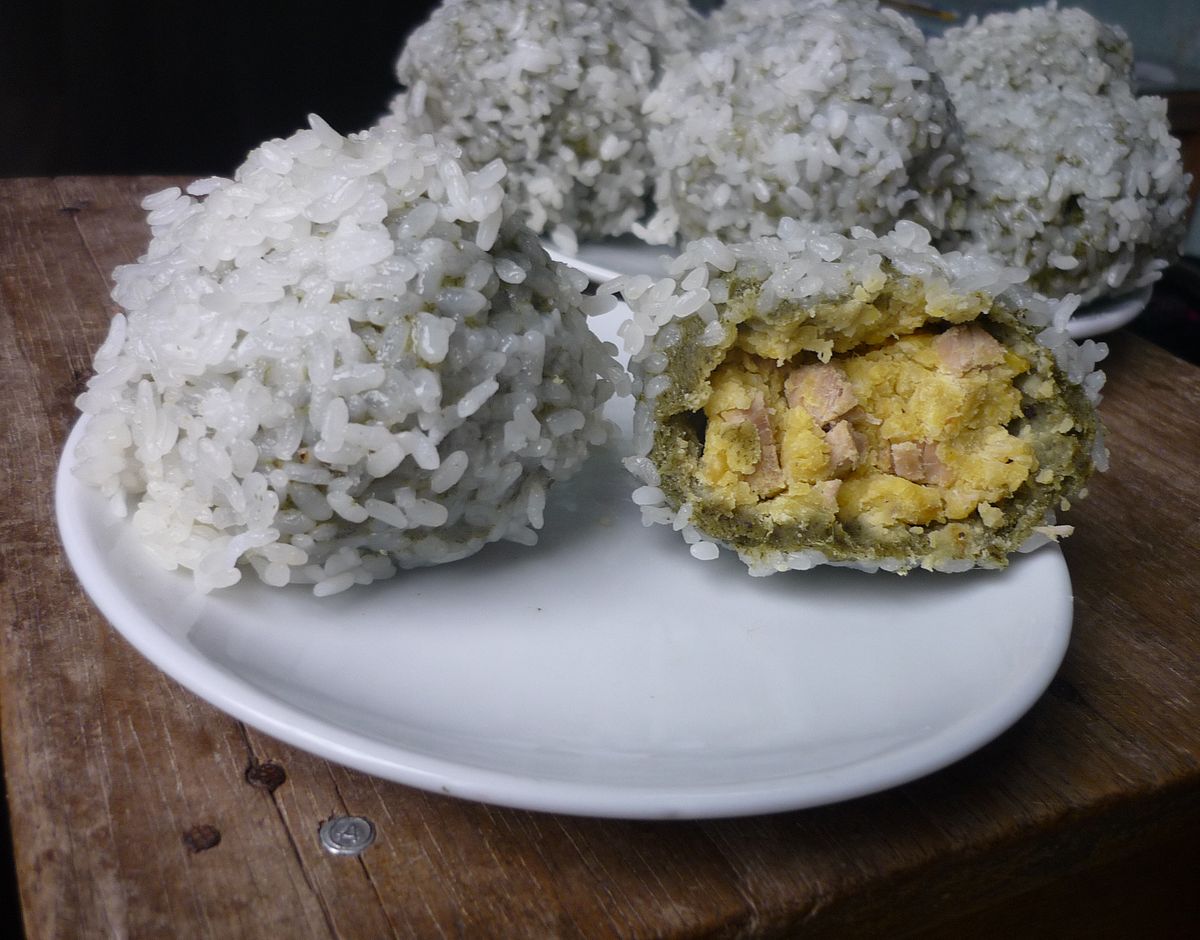 9:30 a.m. – Yangon, Myanmar
Shwegyi sanwei makin (Burmese semolina cake) + Avery Coconut Porter
https://www.instagram.com/p/BTzNUAnD_2E/?tagged=averycoconutporter
The country is known as Myanmar, but it will always be Burma to me.  Ergo, Burmese semolina cake.  Sometimes it is not necessary to complement flavors between food and beer at all; the inherent complexity of the beer will do that for you. Coconut highlights abound in food and drink alike here, but the porter brings its own highlights of vanilla, caramel, and coffee to the table. While the cake and the porter both present a dense sweetness, it is countered by the gentle dark roast of the porter.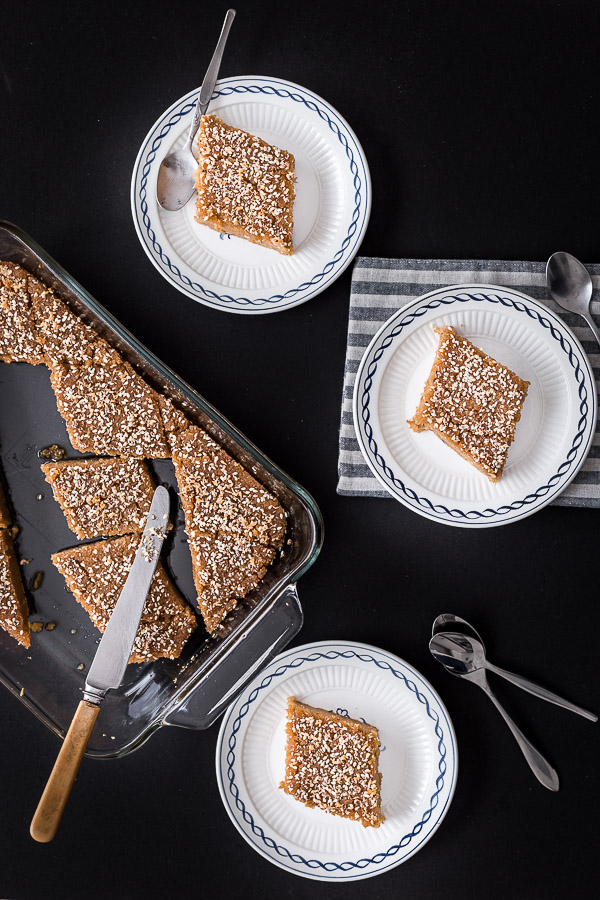 10:00 a.m. – Dhaka, Bangladesh
Ghol
Time to take a momentary break from beer. Serve this yogurt-based non-alcoholic drink and toast the festivities in Bangladesh.
10:15 a.m. – Thimphu, Bhutan
Kewa datshi (potatoes & cheese) + Newcastle Brown Ale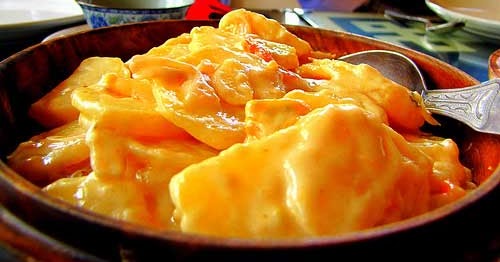 You will not have to search high and low for the ingredients in this recipe (think scalloped potatoes), nor for the brown ale. "Newkie" is a reliably good brown ale that is easy to find in any bottle shop, and the lower ABV helps slow things down just a little. Newkie's simple nuttiness draws out the cheese and spice in this hearty dish. It is a wonder England never attempted to colonize Bhutan for this pairing alone.
10:30 a.m. – Mumbai, India
Masala chai
Time for a midmorning caffeine boost to pick things up. You can serve this sans milk for your lactose-intolerant guests (or not if you are already ready for them to leave).
11:00 a.m. – Tashkent, Uzbekistan
Tea tini
Time for your first cocktail of the day. Do they drink tea tinis in Uzbekistan? No, no they do not – but they do drink tea. Raise your glass in a moment of silence to honor the tea tini deprived Uzbekistanis.
11:30 a.m. – Kabul, Afghanistan
Asabia el aroos (brides fingers) + Westmalle Trappist Tripel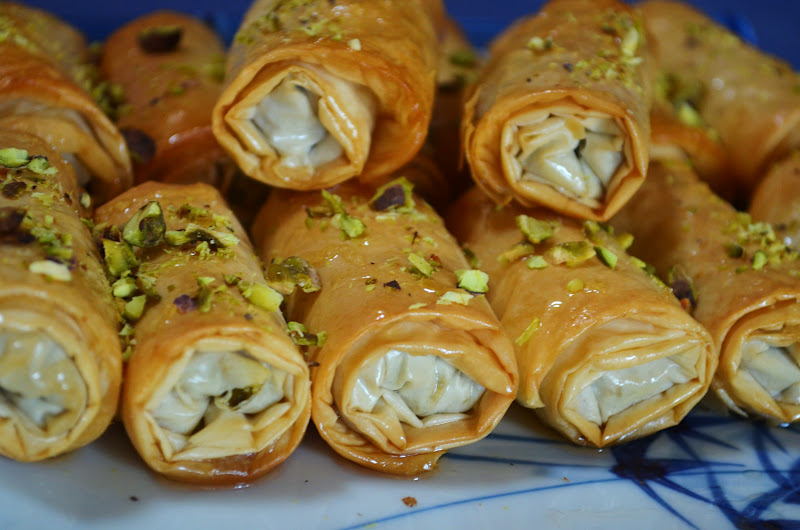 Asabia el aroos is very similar to baklava: a foundation of puff pastry and pistachios drizzled with an orange blossom syrup. We like to pair this Afghani dessert with Westmalle Trappist Tripel, as its bold and complex fruity-ester profile match the light sweetness of the pastry.
12:00 p.m. – Yerevan, Armenia
Ararat Armenian Brandy
Some might argue that it is too soon in the day for brandy, certainly much too soon following a tripel. Pay these complaints no heed, brave host, such guests will be leaving your party by mid-afternoon.
12:30 p.m. – Tehran, Iran
Dolmeh (stuffed grape leaves) + Ommegang Witte Ale
Your guests have not eaten for almost 45 whole minutes by now, so it is high time you served them lunch. These stuffed grape leaves will do just the trick to sate their appetites for a few hours. The spicy phenols featuring cloves and lemon in Ommegang's Witte Ale play off the variety of herbs in the dolmeh beautifully.
1:00 p.m. – Addis Ababa, Ethiopia
Ethiopian coffee ceremony
The essence of Ethiopian hospitality is to welcome guests with the smells of incense and freshly roasted coffee. It is customary to serve popcorn as the coffee steeps.
2:00 p.m. – Kiev, Ukraine (Former Soviet Republics)
White Russian
Take note of the fact that there is nothing whatsoever Ukrainian about this offering. Take a drink. Suck adherent wayward cocktail from unkempt mustache with lower lip. Make a Big Lebowski reference. Repeat.
3:00 p.m. – Brussels, Belgium
Rodenbach Grand Cru Flanders red
It is time to reward your guests for their resiliency with Rodenbach Grand Cru. Sure you could pair this with food, but why bother? This Flanders red stands on its own with a sufficiently complex profile to keep the senses occupied. Toasted oak, sour dark cherries, and balsamic vinegar, with highlights ranging from chocolate to dried fruit mean even a small pour will be savored for the next hour.
4:00 p.m. – London, England
Welsh rarebit + Fuller's London Pride English pale ale
Fun fact! Welsh rarebit did not in fact originate in Wales, but it is reputed to have been so named by English chefs who regarded it as too unusual. (Far be it for English chefs to lay claim to decent cuisine.) For the first time on this journey we are pairing a dish with a beer that matches its country of origin: Fuller's London Pride. London Pride exemplifies balance between sweet, bready, caramel malts and just the right touch of hops bitterness to round out the profile: perfect for matching the toast, cheese, and slight mustard punch of the rarebit.
Weekends are golden. pic.twitter.com/3nyVrxHvNP

— London Pride (@London_Pride) November 11, 2017
5:00 p.m. – Azores Islands (Portugal)
Tawny port
The Azores are an autonomous region of Portugal. They are also just about the only scrap of civilization in this time zone. Ponder this. Enjoy a sip of port. Consider buying a boat.
6:00 p.m. – São Paolo, Brazil
Pão de queijo (Brazilian cheese bread) + Firestone Walker Pivo Pils
Cheese, dough and beer: few developmental psychologists have taken the time to appreciate that the foundation of Maslow's hierarchy of needs starts with these three elements. Perhaps if they had we would be more advanced than most primates. But you understand this, benevolent host, which is why these cheesy, doughy bites of goodness are next on the menu. Pair them with the lightly sweet Pivo Pils and congratulate yourself for advancing closer to self-actualization.

7:00 p.m. – Santiago, Chile
Inca Trail
If Dorothy had followed this citrusy cocktail instead of some lame yellow brick road, she probably would have ended up somewhere more interesting than Kansas.
7:30 p.m. – St. John's, Canada
Pease pudding (on toasted bread) + Ayinger Bräu Weisse hefeweizen
Another North Atlantic municipality, another sauce or pudding paired spread atop toasted bread. All this bread helps to soak up the alcohol, and besides, your New Year's diet does not start until after midnight. Our guests new to this tour are always pleasantly surprised that they enjoy the simplicity of this savory pudding. Wash it down with a spritzy Ayinger Bräu Weisse, whose banana and clove esters will give the pudding a little boost.
8:00 p.m. – San Juan, Puerto Rico
Quesito + Weihenstephaner 1516
The delicate flavors of cream cheese and vanilla wrapped in flaky pastry require a more subtle pairing. This calls for a Kellerbier! Weihenstephaner's 1516 will do the trick. Light cracker and caramel malts are the centerpiece, with just enough hops to provide balance.
8:30 p.m. – Caracas, Venezuela
Ponche crema
This Venezuelan egg nog will be the moment in hindsight that your guests identify as the point when things went awry. (Many recipes call for obscene quantities of rum.) You may want to scale back the rum in the recipe. Or don't. Midnight is only a few hours away.
Our next four time zone pairings are squarely within the United States…
9:00 p.m. – New York, NY & Philadelphia, PA
Pizza + Victory HopDevil IPA
We use a recipe for pizza crust that lends itself to the perfect thin and chewy base, and we usually defer to two recipes: ricotta, fig, and arugula; and straightforward pepperoni with fresh mozzarella. HopDevil provides just the right carbonation to scrub the grease from the palate and big grapefruit and pine hops bitterness to cut the sweet mozzarella and homemade tomato sauce.
Pine and citrus filled nose. Hop juiciness. Malt sweetness…Such a tasty little Devil! Where have you found #HopDevil lately? pic.twitter.com/ME5xjftnuq

— Victory Brewing Co. (@VictoryBeer) April 4, 2017
10:00 p.m. – Madison, Wisconsin
Cheese Curds + New Glarus Belgian Red
Cheese curds are a Wisconsin delicacy. (And it bears stating since I have met too many people who make this assumption: no, they do not have to be deep-fried.) These bite-sized pieces of squeaky salty goodness are easily paired with just about any beer, so why not stick with something local and delicious? The big sweet cherry goodness of New Glarus Belgian Red fits the bill.
11:00 p.m. – Boulder, CO
Dark chocolate cupcakes + Left Hand Milk Stout Nitro
How many dessert items is this for the day? It doesn't matter; you threw sound judgment out the window hours ago. Here the sweetness of the beer should rise to the level of the cupcakes. When enjoyed sans food, Left Hand Milk Stout Nitro is like sipping a chocolate malted milk ball. With chocolate cupcakes it is like heaven. This stout is one you could drink every day for every meal without thought or regret. Just in time for you to belt out a poorly sung off-key rendition of "Auld Lang Syne."
12:00 a.m. – Seattle, WA
Reuben's Berliner Weisse
Well done, seasoned traveler! You have reached the end of your global journey. For your celebratory toast you will be raising a glass of Napoleon's "Champagne of the North." Reuben's offering is classically effervescent, tart, and lemony. Each sip will leave you craving another – and at just 3.2% ABV, after a long day, go for it. You deserve it! You have just circumnavigated the globe in only 16 hours. Jules Verne was a noob.
Ring in 2018 with New Year's at the Needle https://t.co/qOrMe0H07R pic.twitter.com/r7wcVQFH99

— KING 5 News (@KING5Seattle) December 31, 2017
---