No Comments
Burnt City Brewing Introduces Freight Handler Milk Stout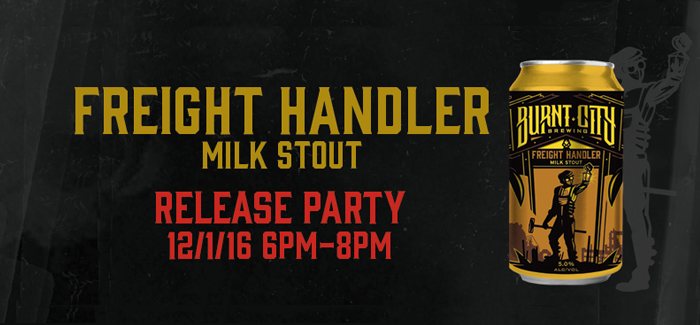 Most of the leaves have vanished, the nights are getting longer, and Jack Frost has been seen wandering around North America. There's no stopping it – winter's coming. You know what that means, right? Cheers to stout season! It may be getting cold outside, but the appropriately named Burnt City Brewing in Chicago is one of many brewers ready to combat each cold front with robust beer — take that, Jack! If you are in Chicagoland or Alabama, get ready to enjoy some Freight Handler Milk Stout. And on New Year's Eve – Burnt City and Arcade Brewery are ready to help Chicagoans ring in 2017.
Canned in Burnt City Brewing's production facility on the South Side of Chicago, this newest offering supplements the brewery's year-round portfolio that includes Dick The Butcher Pale Ale, Face Melter Hibiscus IPA, And Balloon Boy Farmhouse Wheat Ale. Freight Handler Milk Stout (5% ABV) enjoys full body and rich, chocolate notes, complex maltiness, and a touch of subtle lactose sweetness.
Burnt City Upcoming Events: Celebrate the Freight Handler Release
Thursday, December 1: Bitter Pops (3345 N. Lincoln Ave. #102; 773.857.7677) official release party of Freight Handler Milk Stout in cans, with special giveaways throughout the night. Guests can enjoy Freight Handler on draft, as well as in cans for purchase, 6-8 p.m.
Thursday, December 8: Templestowe Pub (3135 W Montrose Ave..; 773.681.0341) Burnt City's very first tap takeover. Drafts include Freight Handler Milk Stout, Face Melter Hibiscus IPA, and Balloon Boy Farmhouse Wheat Ale, with raffles and giveaways throughout the night, 7-11:30 p.m.
New Year's Eve — Saturday, December 31: Burnt City Brewpub (2747 N. Lincoln Ave.; 773.295.1270) Toast to 2017 with Burnt City Brewing and Arcade Brewery as part of delicious collaboration and tap takeover. Currently ruminating in the brite tank is a fantastically chill Helles Lager made with the Relax hop. The rest of these fine festivities include a Premium Bar package that includes all beer & cider drafts, wine, and liquor; appetizers & small bites; and a champagne toast at midnight. Tickets are priced at $65 per person, and are available online.

The Freight Handler Milk Stout will also be available in six-packs in Chicago, Northwest Indiana, and Alabama. It would appear Burnt City's transtion from its former Atlas name — see our story here — is not only going okay, but going very well. So, if you are feeling the chill deep down to your soul, love dark beer, or are ready to book a fun New Year's Eve Party — Burnt City (and Arcade) has you covered!
Some of the text in this article is provided by Ana Espinoza of Wagstaff Worldwide
---