No Comments
The Post Brewing Company Featured on "Diners, Drive-Ins and Dives"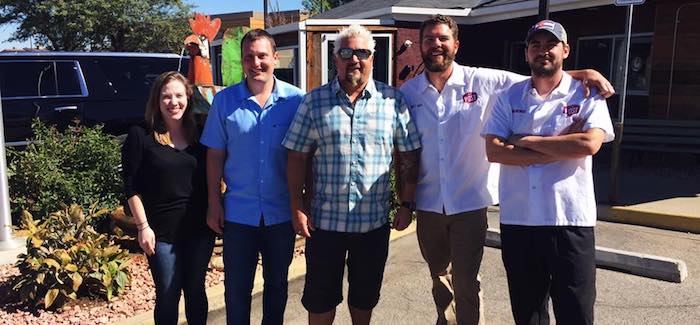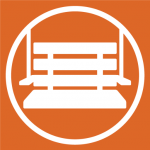 The Post Brewing Company is arguably the region's reigning champion of fried chicken, having received the Guy Fieri treatment this month in a recent episode of The Food Network's Diners, Drive-Ins and Dives. In the appropriately titled episode "Bird and Beef," Fieri visited The Post's original Lafayette, Colorado outpost near Boulder.
Diners and drinkers lined the walls of the Rosedale location, the third addition to the expanded Post enterprise, on the episode's Friday night debut. Armed with a Top Rope Mexican lager in my hands, I joined the restaurant in watching Fieri freak out about Chef Brett Smith's upfront answers and uncomplicated recipes.
The Episode
Admiring the beautiful and natural pairing that is fried chicken and beer, Fieri remarked upon the brewery and restaurant's name. When asked how he thought of such an effortlessly cool name, Smith bluntly blurted, "We serve chicken and beer." The frank response came while Smith showed Fieri how The Post prepares its famous fried chicken, which moves from the four-hour brine through multiple flours – one of which is intentionally gluten free. The juicy final product compelled Fieri to proclaim, "In the library of Flavortown, this is one of the reference pictures of fried chicken."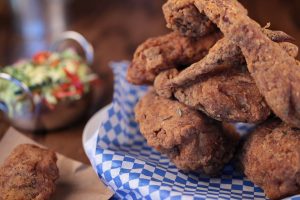 Smith also prepared chicken chicharrones – a first for Triple D – alongside a pinto bean hummus dip. The Food Network shared the recipe for the hummus for the peckish nation to try, as well.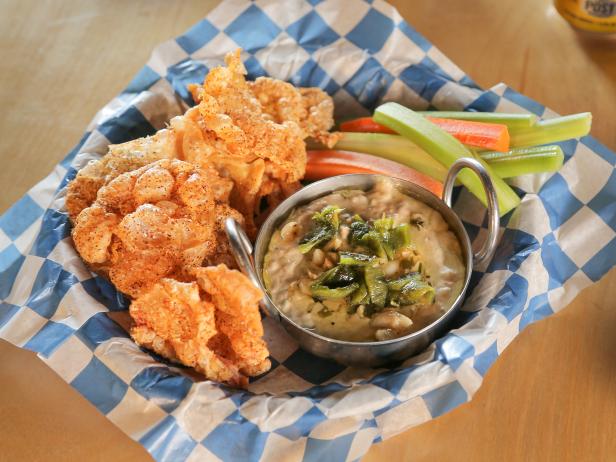 The Beer
Following along with the show, a round of the Howdy Beer, a bright all-American pilsner, was paired with deviled eggs and biscuits before the bird arrived. The episode and meal ended with pours of Elkhorn Lager, a toasty and mahogany-hued American Lager which is aged until it's ultra smooth. The Post has dubbed this beer "the official lager of drinking."
Check Foodnetwork.com for future air dates, and make sure to pick up a pack of your favorite Post brew before you watch!
Featured Image Credit: The Post Brewing Co.
---