No Comments
Starr Hill Brewery | Front Row Golden Ale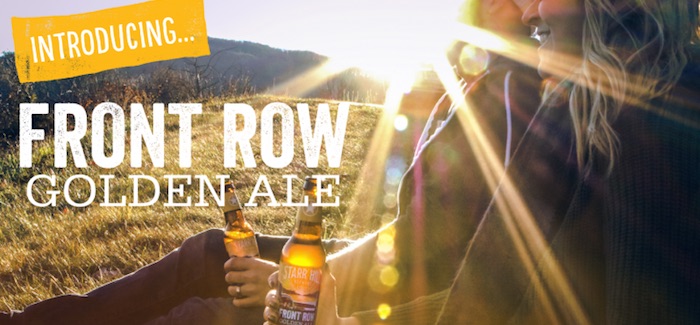 Not every beer needs to be a whale or unicorn. The humble fridge beer holds a very important place in the beer drinker's daily routine. This is a beverage that you can enjoy with a simple home-cooked meal, while mowing the lawn or during a pre-concert tailgate party — to mitigate the need to purchase $12 light beers inside the venue. Starr Hill's Front Row is an easy-drinking golden ale that fulfills all of these needs beautifully.

ABV: 4.9% | IBU: 20
The latest addition to Starr Hil Brewery's year-round lineup, Front Row Golden Ale is brewed with oats, pilsner, caramel and honey malts. The grain bill brings out a slight caramel, malty sweetness. Have no fear, though! I'm very easily turned off by a sickly sweet beer, and this is definitely not that. Cascade hops bring a very slight hop bitterness to Front Row's smooth, clean finish.
https://www.instagram.com/p/BeJVv6FDnjy/
Starr Hill recommends pairing their latest creation with grilled calamari, monterey jack cheese or lemon custard tart, but I feel that this can be enjoyed next to a very wide array of food items. Its clean, simple flavors won't get in the way of your food's flavors and can serve as a refreshing palate cleanser between courses.
All in all, Front Row is a versatile brew that will serve you well in a myriad of situations. Since it's also pretty accessible to the craft beer newbie, it's a great choice to keep in the fridge in case you have unexpected visitors. I'm pretty sure I could even get my dad to drink this, and he's not much of a "beer guy".
Front Row will be dropping very soon across Starr Hill's distribution footprint, so be sure the check shelves near you! There will also be launch events held in both Philadelphia and Newport News,VA, so check the Starr Hill events website for more details!
---