No Comments
Trillium Brewing/J. Wakefield Brewing | Tiramisu Imperial Stout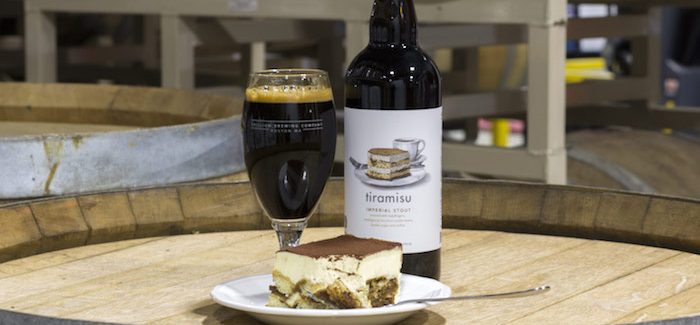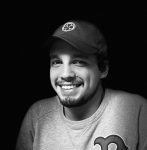 Using local ingredients whenever possible and trying to elevate the concept of a New England farmhouse brewery, Trillium has come up with some mind-blowing beers. As stated on their site, Trillium Brewing Company attempts to create interesting and engaging beers across their entire catalog of styles, and their latest collaboration stout with J. Wakefield Brewing – Tiramisu Imperial Stout – was no different.

Trillium: Humble Beginnings
When discussing the masters of beer on the East Coast, certain names pop up right away. Trillium Brewing often tops this list for many people. Originating in the Fort Point district of Boston, MA in 2013, these guys are still really young. In the five short years since their opening, they have already contributed so much to the craft beer community. Not to mention, co-founder/co-owner JC Tetreault is one of a kind.
JC and his wife Esther decided to try their hand at opening a small brewery in Boston, looking to be only the third production brewery in the city of Boston (with Harpoon and Samuel Adams being the only two left standing after Tremont Brewing closed its doors). JC, being the botany nerd and beer geek that he was, strove to create an atmosphere and products that achieved four major things: beauty, strength, simplicity and balance.
I was visiting family in Boston when Tiramisu was released and missed the bottle release due to inclement weather. I did, however, get to try this beauty on draft at the tasting room in Canton. The timing was meant to be.
Drinking Tiramisu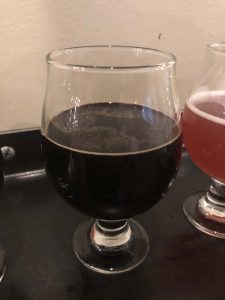 When poured, this powerful stout is a viscous black color. While it initially boasts a nice frothy head of tan foam, it quickly bubbles away, leaving its memory in the form of some nice, sticky lace retention around the glass.
The nose on this told me right away that this stout was going to be something special. Roasty coffee hit first, immediately followed up by a sweet combination of caramel, toffee and vanilla. All these swirled together in perfect harmony and gave the aromas a perfect balance. Slight bitterness from the roast, sweet nuttiness from the toffee and richness of the caramel are tamed just enough by that vanilla.
The flavors are literally Tiramisu in liquid form. You get those same mirrored qualities that you got initially on the nose… coffee, caramel and vanilla. The more prominent presence of malt and cocoa in the flavors created yet another level of complexity, and it finishes with a touch of bitterness that is served up by the added hint of molasses.
Look, lots of beers are good. But when the mouthfeel is as superb as what you get in every Trillium Stout, the beer becomes something special. Tiramisu's medium-full body is incredibly creamy and smooth. It seemingly coated the tongue in soft, sweet, sticky stout goodness — with just enough froth so that it doesn't become unpleasant. I've had many a good stout, but never had I tasted so many stouts from the same brewery that have such consistently incredible mouthfeel. In my opinion, it is the backbone of a really good stout.
In Conclusion
Overall, I've been recommending this to everyone since I've had it. If you can trade for this bottle, or have connections with those who have a bottle, get in on it. Stouts have such a broad spectrum and are brewed with so many different things. It can be difficult for some breweries to have their stand out from the crowd. I promise you, this one won't disappoint. In fact, it may even have you speaking Italian. Saluti!
---