No Comments
Bonn Place Brewing Company | Intergalacto Cooler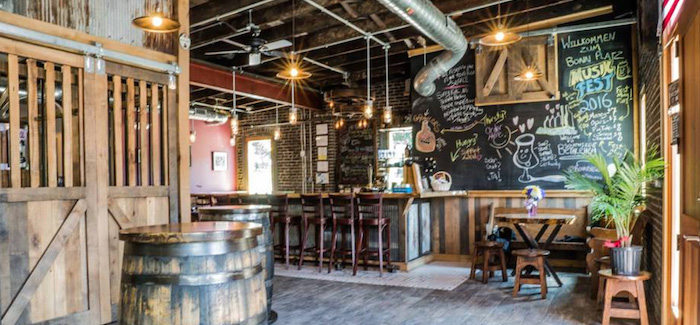 I'm not going to lie to you. When it comes to Bonn Place Brewing Company, I'm about as biased as it gets. The beer is beautifully crafted, the taproom is cozy and the owners, Sam and Gina Masotto, are some of the warmest, friendliest people you'll ever want to meet. If I lived a little closer, they would never get me to leave! When I heard that Bonn Place tapped Intergalacto Cooler this week, I headed to Bethlehem, PA for a visit.

I learned about Intergalacto Cooler from a video on the brewery's Instagram feed. In their usual quirky way, Bonn Place described their latest brew as a Hoppy Sour Ale with lactose, sea salt and tangerine. They had me at "Hoppy Sour Ale."
Because my date for this trip was two years old, I only enjoyed two small beers on-premise and had the Intergalacto Cooler tapped into growlers to enjoy at home. As much as I love hanging around at Bonn Place, safety always has to come first!
ABV: 6.5%
https://www.instagram.com/p/Bg4PPAulR7n/?taken-by=bonnbrewing
After putting my daughter to bed that evening, I opened my cold growler. The ceramic lid popped open with explosive energy, and I poured myself a hazy, orange glass. Visually, this beer resembles a New England-style IPA with its brightly colored opacity. When you stick your nose into the glass, you will detect citrus and tropical fruit aromas, which are coming from the tangerines and Galaxy hops respectively.
Because of kettle-souring, your first sip of Intergalacto Cooler will hit you with some moderate sourness. As the flavor develops on your tongue, sweet citrus and tropical fruit flavors start to emerge. The finish is tied together with some very subtle hop bitterness, followed by some mild salinity from the sea salt, which leaves your palate dry and thirsty for more.
Intergalacto Cooler was the perfect beer to throw into the mix on an otherwise uneventful holiday weekend. The sun was shining, the weather was warm and this beer got me pretty excited that spring was seemingly here to stay! We just won't mention the fact that it snowed two days later. This weather hates me, and I hate it.
---