No Comments
A Local's Guide to Nashville's Craft Beer Scene for CBC Attendees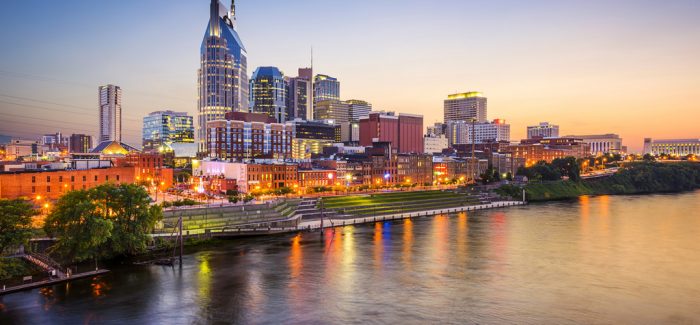 Next week over 14,000 of the craft beer industry's finest will descend upon the Music City, for a week of education, networking and, of course, a little drinking and sightseeing. To help you navigate the sights and sounds of Nashville, PorchDrinking's resident Nashville expert, Liz Riggs, brings you a guide to breweries, restaurants, attractions and local haunts, along with some not-for-tourist spots to check out in-between those hospitality suite stops. Explore Nashville's craft beer scene through the lens of a local.
Exploring The East Side
You might as well start your week on the East Side, specifically with brunch over at Cafe Roze. The restaurant is run by Julia Jaksic of Employees Only and Jack's wife Freida, two NYC staples. Do what you will, but I'm always torn between the savory oatmeal and the country ham toast with a soft scramble and more parmesan cheese than you'll be able to fit in your mouth.
If you've already got beers on your mind, walk across the street kick off your week of Tennessee breweries with Southern Grist a cozy spot focused on more experimental contemporary styles. While still one of the newer breweries on the Nashville scene, they've already expanded their brewing facilities and taproom to the west side of town to keep up with demand. They're known for a constantly rotating group of innovative beers that utilize non-traditional ingredients, but I stand hard by their hazy Mixed Greens IPA, which features an ever-evolving hop bill that imparts fruit forward flavor profiles. Other noteworthy must-tries include their BroCoNut IPA, a coconut IPA with tropical fruit and prominent coconut flavors and Nashville Mule, a sour ale with lime zest, lime juice, and ginger, inspired by classic Moscow Mules.
If you're in need of another beer or you want to pick up a record, jog across the street to Vinyl Tap, a bar/record store with a solid draft list and a small, but impressive record selection.
After that, you'll probably need some coffee, so it'd be worth it to swing into Crema, which consistently serves some of the best coffee in town in a minimalist but welcoming space and a patio with a downtown view.
Also worth checking out in East Nashville is Smith and Lentz, which has a large, bustling taproom on the East Side and draws in large groups and families day and night, often showing Nashville Predators games on a projector and boasting a huge back patio. Smith and Lentz has found success with their single hopped series as well and smaller batch experimental beers. Afterward, hop across the street to Butcher and Bee for higher-end sandwiches, brunch items, and coffee. And, of course, there's always Nashville's beloved Mas Tacos—housed in a tiny building on the east side that now boasts a small cantina (local trick: you can order tacos at the cantina bar and skip the line. I recommend all of them.)
Not too far away from Nissan Stadium is Little Harpeth, which specializes in German-style beers, paying homage to pre-prohibition style beers found in Tennessee.
Other East Nashville Recommendations
Near The Gulch / The Music City Center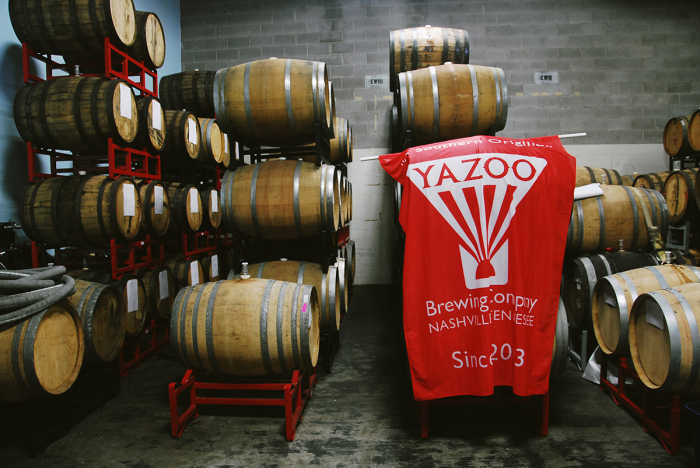 Since most of the Craft Brewers Conference takes place around The Gulch, near the Music City Center (Convention Center), it's most likely you'll want to explore nearby breweries that are all within walking distance. I'd recommend starting with Yazoo, one of Nashville's oldest craft breweries, who Sunday will host the 6th annual Yazoo Funk Fest in celebration of their growing barrel-aging sour and wild program. Yazoo will also be releasing six collaboration brews throughout the week including three projects with The Rare Barrel, and ones with Blackberry Farms, Hopsteiner and the German Hop Growers Guild. Other Yazoo staples include flagships in Dos Perros and Sue, which remain ever popular, but I've always loved the simple reliability of their well balanced Pale Ale.
After a week of beer events, you're going to need a stiff cocktail to mix things up a bit and there's no better stop in Midtown than The Patterson House. Known for their inventive cocktails this is the go-to for some of the best spirits in town.
Next, we'd recommend checking out nearby Jackalope Brewing which this weekend celebrates their 7th anniversary with the release of Dog Beers Session IPA. Jackalope is female owned and operated, and focuses a bit more on traditional styles with hits like their Bearwalker Brown, Thunder Ann Pale Ale and their seasonal release, Lovebird Raspberry and Strawberry Hefeweizen. Also nearby is Tennessee Brew Works, which just
Jump from downtown into Wedgewood Houston — a small but mighty arts neighborhood that's home to art studios, co-working spaces, and a brand new coffee/booze partnership: The Falcon and The Flamingo. Hop in the newly opened Falcon side for a Cubano and an empanada (the walk up window will be open soon, as will the cocktail-lounge –The Flamingo) or grab a coffee and pop into Dozen Bakery down the street for the best chocolate croissant in town. No beer-centric trip would be complete without a stop into a top notch bottle shop to load up on local gems. For this, stop into Craft Brewed which has one of the best bottle selections in the city.
Also, be sure to grab a sandwich at Duke's and a Patriot (shot of Four Roses and a Coors), or a hot dog and a Bukowski (shot of Four Roses and a Miller pony) at No. 308, one of the OG cocktail bars. Looking more of a casual "going-out" activity-based experience? Pinewood Social has killer cocktails, a bowling alley, serves brunch, coffee, and you can also take a dip in one of their wading pools.
Other Recommendations Near The Music City Center
For BBQ
Southern Cooking / Nashville Hot Chicken
Hattie B's – The more popularized movement that helped put Nashville Hot Chicken on the map.
Puckett's – Classic southern fare
Adele's – Contemproary take on southern cuisine with a must-try Sunday lunch buffet.
Arnold's – Classic meat & three sides southern cookin'
Husk – Part of the Sean Brock empire (you may recognize him from appearances on Mind of a Chef and various David Chang / Anthony Bourdain shows), this is southern fine-dining at it's best. Anything with Carolina Gold Rice is a must.
Music Attractions
Ryman Auditorium – Considered the birthplace of country/folk music
Country Music Hall of Fame
Johnny Cash Museum
Third Man Records – Legendary recording studio started by Jack White

Robert's Western World – The only honky-tonkk that locals and tourists frequent.
Germantown
In nearby Germantown, Bearded Iris Brewing, named after Tennessee's state flower has quickly become one of Nashville's hottest new brewery attractions in the past two years. Known for their hop-forward portfolio, they've gained acclaim for their proficiency in hazy NE-style IPAs.
If you're in the area for brunch, Monell's is a crowd favorite with skillet fried chicken, and classic southern breakfast items like grits, biscuits and gravy, corn pudding, and country ham.
For dinner, you've got a million options, but make sure you make a reservation at Rolf and Daughters, which—despite a burgeoning food scene—still shines as one of the most well-executed menus—both for cocktails and food. If you can't get in, grab a wood-fired pizza at nearby City House, or check out the German and Southern-influenced finer dining experience at Kuchina + Keller.
Berry Hill
Black Abbey Brewing, as the name indicates specializes in Belgian-style beers. Paying homage to Belgium's rich history of monastic brewing the stained glass nods and pew seating gives beer drinkers a sense of place in the middle of Tennessee —give The Rose or POTUS 44 a try.
MetroCenter
Honky Tonk Brewing makes a great IPA (my husband swears by it) and their small taproom is hiding in an office park in MetroCenter, but don't let their location fool you; they're making some really quality beers, solid food, and as the name indicates, they host a rotating mix of talented musicians who perform in the taproom.
West Nashville
TailGate Beer, as the name indicates, seeks to recreate that sense of southern hospitality experienced by gathering with friends for a pre-game ritual around great beer, food, and games. With a little something for everyone, an ever-rotating lineup of experimental beers and some of the best pizza in town, TailGate has already expanded to a second location in Music Row.
As with the theme of several aforementioned breweries, Turtle Anarchy Brewing has quickly outgrown their original location in nearby Franklin, TN and moved their operations to a larger space in West Nashville. This increased production has allowed them to grow their footprint throughout the city to serve the demand for easy drinking favorites like their Catfish Kolsch, Saison, and Portly Stout.
Other Tourist-y Attractions
Cheekwood Estate

Arrington Vineyards

Percy Priest Lake

Prince's Hot Chicken – Located in North Nashville this is considered one of the OGs of the Nashville Hot Chicken scene.
Grand Ole Opry
RCA Studio B
Hatch Show Print
Belmont Mansion
Adventure Science Center
The Parthenon
Other Local Favorites
Otaku Ramen

Five Points Pizza

Old Glory (This is a badass bar)
---