No Comments
The Weekly Buzz | April 20 – 26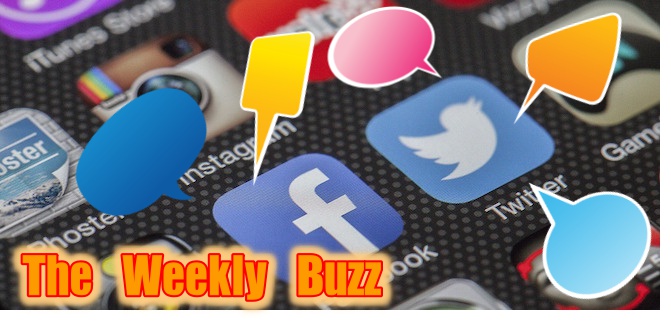 I want to drink beer, but I don't want to be fat. After daily two-hour workouts, I'm so tired that one beer makes me fall asleep. This wasn't the effect I was going for. I just wanted to have a moderately repectable dad-bod. Becoming an old man who falls asleep halfway through an episode of Home Improvement was not the plan. Anyway… Here's a bunch of stuff I found on the Internet. This is The Weekly Buzz.

Is 4/20 still a thing?
https://instagram.com/p/Bhy8MljBCK4/
https://instagram.com/p/BhzL0B5F-mD/
---
Coming soon!
https://instagram.com/p/BhzaDZsgZio/
---
Time to lose that scruff on your face.
https://instagram.com/p/BhztYOmny6D/
---
What did you do for Earth Day?
https://instagram.com/p/Bh1n5_1F5QI/
Our commitment to sustainability goes beyond #earthday, but now's as good a time as any to share! You might have noticed our solar farm from our rooftop patio. It's just one way we're committed. Thanks for supporting us as we strive to make a difference. 🍻🌎 #earthday2018 pic.twitter.com/RbFDOcW3j7

— newrealmbrewing (@newrealmbrewing) April 22, 2018
We've teamed up with @conservationall to offer this limited-edition recycled beer ingredient tee in celebration of Earth Month! For every shirt purchased in April, we will donate $5 to the Conservation Alliance's #wekeepitwild campaign. Snag yours today: https://t.co/ZO12v03OOr pic.twitter.com/ma3owH93Xv

— Founders Brewing Co. (@foundersbrewing) April 26, 2018
As partners with our friends at @leavenotrace, we're celebrating Earth Week by challenging Upslopers to #LeaveNoTrash. Our aluminum cans are 100% and endlessly recyclable – don't forget to pack it in, pack it out this Earth Week & pick up your trash! pic.twitter.com/hr2eeY2B5o

— Upslope (@upslope) April 20, 2018
---
Where did he even get that weird hammer?
https://instagram.com/p/Bh2LNVHn8p1/
---
Just because these guys are ridiculous…
https://instagram.com/p/Bh9my3aFMV8/
---
Call me when it's time to empty the barrels!
We call this one: 'Cobi Fills Some Barrels' #itsallgoodinthewood #craftbeer #wildbeer pic.twitter.com/YJmXvCMplb

— Springdale Beer (@springdalebeer) April 25, 2018
---
He's got the eyes of a champion!
Bring the kids (two-legged and four-legged) to our Sly Fox Tastin' Room in Pottstown on Sunday, May 6 to watch the races, get their face painted, take some fun pictures with the mascot, and meet new friends! #BockFest2018 pic.twitter.com/aGRoDx8y9J

— Sly Fox Brewing Co (@SlyFoxBeer) April 24, 2018
---
Which coast makes your preferred style of IPA?
Heads up about a new release Fri@4pm:
"Gold Strike" West Coast IPA feat. Eureka hops along with Citra and Mosaic. 7.2%ABV/89 IBU

"Shake Senora" Milkshake IPA feat Amarillo & Centennial hops + fruited w/ Blackberry and Mango. 7.6% ABV/58IBU

Who's side are you on??#cincybeer pic.twitter.com/4YYFFfrX8b

— BrinkBrewing (@BrinkBrewing) April 26, 2018
---
Which alliterative hashtag do you prefer?
Happy #WatermelonWednesday! pic.twitter.com/etJb8GRIYo

— 21st Amendment (@21stAmendment) April 25, 2018
---
It's #WallpaperWednesday — add some #Oberon flair to your phone! pic.twitter.com/pUUv8KqrYD

— Bell's Brewery (@BellsBrewery) April 25, 2018
---
Check your calendars and buy your tickets today!
Are you coming to Burning Can this year? The Burning Can Fest is returning for another year of beer drinking, outdoor games and live music with @TheSheepdogs and @sonvoltmusic. Get your tickets, mark your calendars and get out here! pic.twitter.com/JFGxecIbce

— Oskar Blues Brewery (@oskarblues) April 25, 2018
---
We are a mere 2 weeks until Spring Sours, Saisons & Street Food @TaxmanFV!

Join us! –> https://t.co/WgxRKlYIOy pic.twitter.com/CekhkaexbD

— Indy GirlsPintOut (@IndyGPO) April 24, 2018
---
Get your tickets to Field Day Beer Fest in advance and save $15! Cheer on your favorite brewery as they compete in the Cellarmans Games! 25+ Midwest craft breweries, games, food, & music. Proceeds benefit @IllinoisBeer
Snag your tickets here: https://t.co/2SJhVLgrdY pic.twitter.com/ovlpBcAsPm

— DESTIHL Brewery (@DESTIHLbrewery) April 26, 2018
---
Our party-throwing skills will be tested internationally! Join us on June 1 and 2 for the Madrid Beer & Music Fest – advance purchase tickets on sale now!

More at https://t.co/vQRyuttkbg. pic.twitter.com/DkYqL10XNZ

— Founders Brewing Co. (@foundersbrewing) April 26, 2018
---
Are you going to Nashville for CBC?
Heading to @BrewersAssoc's Craft Brewers Conference? Rev will be making our way down to #Nashville to participate in a series of events, bringing specialty beers with us including Deth's Tar, DDH Galaxy-Hero, & V.S.O.G. Event details here: https://t.co/T01PU2Ll0q #CraftBrewersCon pic.twitter.com/rgEPmi4Bt9

— Revolution Brewing (@RevBrewChicago) April 26, 2018
---
Did you celebrate beer's best friend today?
It's National Pretzel Day folks. What's not to love about a warm, chewy pretzel dipped in cheese sauce? pic.twitter.com/gzrIuZNqRg

— Avery Brewing Co (@AveryBrewingCo) April 26, 2018
---
We'd celebrate Beer Hall pretzels every day if we could, but we'll just take this day.

Join us at either brewery for #NationalPretzelDay pretzel dogs with ale mustard, dessert pretzels, & a surprise from us. #HarpoonBrewery #LoveBeerLoveLife pic.twitter.com/DHISOBojI7

— Harpoon Brewery (@harpoonbrewery) April 26, 2018
---
Happy National Pretzel Day! 📸: @charlotteagenda pic.twitter.com/B0WVFxNXs3

— Olde Mecklenburg (@oldemeckbrew) April 26, 2018
---