No Comments
National Wine Day | Your Guide to Some of the Best Wine Barrel-Aged Beers Around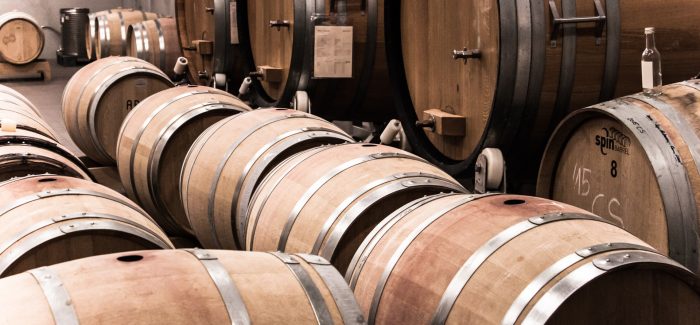 Happy National Wine Day! With May 25 denoting a day dedicated to wine, it was time for the PorchDrinking to think about how it could be flipped to involve beer. What better way to shift the focus than to incorporate both? Wine barrel-aged beers have become increasingly popular in recent years as craft beer drinkers are seeking for something different and something to expand their horizons. Below we'll discuss some of the most notable wine barrel-aged beers that I've had the chance to try to date, and how the aging process has impacted the quality and characteristics of these beers.

Russian River Brewing Co.
When this article idea was first pitched, Russian River Brewing was the first brewery that came to mind. Appropriately, this brewery was born as a result of an experiment by none other than Korbel Champagne Cellars in Guerneville, CA. In 1997, brewer Vinnie Cilurzo was hired as the brewmaster, and just two years later, Korbel quit the brewing business and sold the brewery to Cilurzo and his wife. Now considered one of the most innovative microbreweries in the countries, Cilurzo consistently releases incredibly complex and flavorful beers, specializing in wine barrel-aged beers that all contain brettanomyces yeast, with many also utilizing lactobacillus and pediococcus strains. Here are a few of these masterpieces that I've been lucky enough to try.
Supplication ('13, '16, '17)
This brown ale was aged for 12 months in Pinot Noir barrels from local Sonoma County wineries with sour cherries, Brettanomyces, Lactobacillus and Pediococcus added to each barrel. Flavors of tart cherries, white grape, peach and oak round out the slight funk from the brett.
The woodiness is an amazing afterthought that is so crucial to the balance of aromas. The yeast even gives it a slight hint of mold and grain. This medium bodied beer is extremely tart with a subtle acidity that finishes with strong oak barrel influence and subtle smokiness.
Consecration (2014)
Tart and funky, this Belgian-style dark ale was aged in American oak Cabernet Sauvignon barrels with currants. The 2014 version offers a more subtle aroma than the 2013 Supplication, but there are a lot of red wine qualities with the currants and cranberry becoming more prominent and pairing well with aromas of oak. Expect a hint of red wine and tobacco in the finish.
While Supplication is hard to beat, this 2014 batch of Consecration might take the cake.
Sanctification (2014)
A 100% Brettanomyces-fermented golden ale, the brett gives Sanctification some sour notes but not as much had this beer been aged with lacto and pedio. Expect lemony citrus aromas, hints of vinegar, and a yeast funk to round the flavor profile of this beer.
Temptation (2015)
Temptation is a blonde ale fermented with a special strain of yeast and then aged in French oak chardonnay barrels. Flavors of wine and oak absorb into the brew throughout 12 months of aging. During this aging process, a secondary fermentation occurs using a yeast strain disliked by most brewers and winemakers called Brettanomyces.
This beer has slight hints of lemon to square out the funky yeast aroma that punch through. It's very tart, full of white grape must and apple notes. Expect a nice mineral quality with this beer, and if it weren't for the funk and sharp tartness, it has a lot of qualities of a Chardonnay.
---
Smog City Brewing
Smog City brewing began in 2011 at the Tustin Brewing Co. brewpub, and grew quickly ever since. 2012 saw the purchase of full-scale brewing equipment and plans for their Torrance, CA brewery. Five years later, with an established brewery in Torrance, an outdoor beer garden in Long Beach, and construction for more fermentation tanks, brite tanks and a new bottling line, Smog City is moving in all the right directions. Here are some of the notable Wine barrel-aged beers that I've had from this great SoCal brewery.
Benny & the Bretts (Vol. 1)
A blended wine cask-aged American Sour Red ale, this beer is the first edition to come from Smog City's 555 gallon Italian Sangiovese barrel they "fondly" call Benny. This beer is full of dark, dried fruit. It's tart and funky, but not too acidic.
Spittin' & Cussin'
This a limited release American wild ale aged in red wine barrels with sour cherries added. With this beer you'll find similar characteristics to Russian River's Supplication. Tart cherries are very prevalent in Spittin' & Cussin' with a nice balance of oak and a hint of booziness.
Type Oh Negative

This wine barrel-aged sour blonde has black currant, rosemary and juniper. Similar to Spittin' & Cussin', the tart cherries hit you first followed by a fermented funk to complement the sour profile. Round of applause all around with this beer.

Wine barrels can do so much for a beer. Some brewers center their entire production around wine barrel-aged beers, while others release much fewer or use the process to add variety to their core beers. The beer below deserves a mention, as it has always pushed the boundaries of what a beer can be, creating a true masterpiece.
---
Samuel Adams Utopias (2015)
Considered my white whale of beers for the longest time, I was finally able to tick Samuel Adams Utopias off of my list. The 2015 version includes past vintages that have aged (some as long as 20 years) in barrels including Cognac, Armagnac, white Carcavelos wine, sweet Madeira, port and bourbon barrels. To complement that lineup is a monstrous 28% ABV.
This beer boasts a huge, potent nose with dark fruit. After a fleeting moment, you get a blacksmith's hammer fist of oak, booze, and tobacco. The hints of peat and charred oak complement a nose hair burn. Utopias is damn smooth. Bourbon and sweet syrup fight for the spotlight, and dark fruit plays it's part where necessary. The interplay of elements make this so much more than an extreme beer that is just looking to push the envelope on ABV.

Well, there are so many beers that can grace this list. There are too many variants and microbreweries to name, but hopefully this list give you a place to start. Not to mention, open up your eyes to the wonders of wine barrel-aged beers!
---