No Comments
Elevation Beer Co. | Pomegranate Acide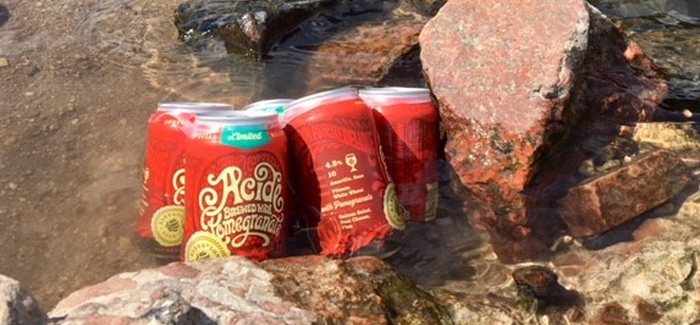 In Elevation Beer Company's parking lot, there are often more mountain bikes than vehicles. Elevation is in Poncha Springs, Colorado, a tiny town just outside the small town of Salida in the heart of Colorado's most mountainous region. From whitewater rafting to bagging 14ers to riding the endless trails at wrecking-ball speed, it's all celebrated here with great craft beer. Naturally.
"We sit in the perfect proximity to all those glorious outdoor amenities," says Andy Astor, Elevation's Keg Orator. "People come in smiling from a great day on the river. Bikers hang out after their ride on the Monarch Crest Trail just up the road."
It's not the kind of crowd that is afraid to try new things. When brewers come up with an experimental beer, there's no hesitation. It's just 'pour it on.'
So the new Kettle-soured Saison Pomegranate Acide, the third variation of Elevation's fruited Acide series is poured. Some say sours typically take three sips to make you say, "I like this!" This one doesn't require that kind of lead time. From the first sip, heads nod happily in the affirmative. It's good. It's really good. Sippers of this sour are not making funny slightly-pained scrunched-up faces. They're just smiling. It tastes like summer.
https://www.instagram.com/p/Bim67G_H86n/?taken-by=elevationbeerco
"We wanted to brew ours to be a good gateway sour. An approachable level of sour. Pleasantly fruity but not too sweet. This one has just enough pucker factor to not scare off those new to sour beers," says Astor.
Scared off? There's no fear in beer! Or is there?
"Some sours can be so extreme they border on a balsamic vinegar-like taste. Unless that's really your thing, they can be off-putting. We didn't want that," Astor explains. "The Pomegranate has gone over very well."
The Pomegranate Acide is billed as a 'Saison Psychedelique," perhaps as a play-on-words from the 'Acide,' trip thing. Actually, the word 'Acide' just means 'sour' in French. So it's part ooh-la-la and part just feeling groovy.
ABV: 4.5 % | IBU: 10
Elevation's series started with the Mother of the Acides – a plainer sour brewed with Two Row and White Wheat Malts and Amarillo and Saaz Hops. This led to three different fruit editions– peach, pineapple, and now pomegranate.  As a family, they're part of the Freestyle Series focused on experimentation. One of the biggest advantages of a small brewery is the freedom to experiment. One of the disadvantages is the inability to take forever to make certain styles.
As trendy as Kettle-soured beers are now, they suffered some early backlash by makers of "true" aged sour brews. Making a classic sour – a Lambic for example – takes a year or more. And it's messy, dealing with the wild yeast and bacteria running amok in the brewhouse.
"To avoid the risk of cross-contamination from the wild yeast into the other beers, we sour the beer in a boil kettle to kill the bacteria," says Astor.
This process is faster and cheaper – all the better to have it in your glass for a reasonable cost – now. The process only requires temperature control and some Lactobacillus bacteria. That's the same probiotic 'lacto' used to make yogurt and helps tone down the pucker-factor into a deliciously tart and super refreshing finish.
The fruit comes from an aseptic puree. They juice the fruit, remove the particulates, and then flash pasteurize it. It is added into the beer later so it doesn't ferment again.
Because it's light, Astor jokes that it's a "breakfast beer. You don't feel guilty if you crack it open for brunch or at noon."
Festival Season
The Pomegranate looks festive in its pink/gold pour. Perfect for festival season in the mountains.
"Festival season is about to go off," says Astor. He's not kidding. Elevation was a Platinum Sponsor of CKS Paddlefest in Buena Vista over Memorial Day Weekend. Next they'll be pouring beers at the Snowmass Rendezvous on June 9 and Vail Craft Beer Classic over Father's Day Weekend.
Locally, they'll be part of the second annual Rapids and Grass Festival in Buena Vista on June 29-July 1 and the Colorado Brewers Rendezvous in Salida on July 14.
"The Rendezvous is always a super fun one for us. We host the after-party for all the participating brewers at our place," says Astor. "There are more than 70 breweries participating, so it's a big party. It's a good, fun tradition."
In August, they'll participate in the Keystone Bluegrass and Beer Festival (Aug. 4-5); Steers and Beers in Colorado Springs (Aug. 18) and Chef & Brew in Denver (Aug. 29).
Pour It On
Elevation's Pomegranate Acide hit the shelves in larger liquor stores in mid-May. It will also make guest appearances on draft at breweries like The BARley in Steamboat Springs. It's best to enjoy it at their taproom. Because it's not just a beer; it's the best excuse ever for a road trip.
---