No Comments
First Look: Odell Brewing Opens Small Batch Brewery & Taproom in Denver RiNo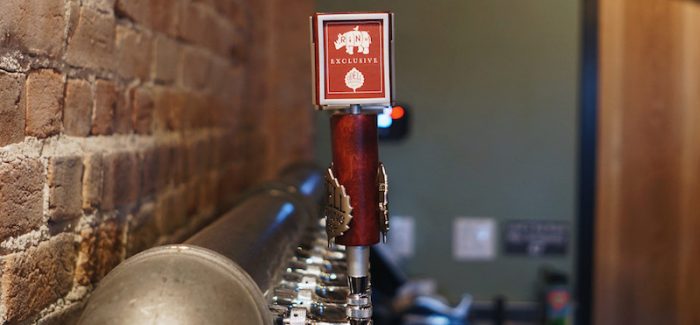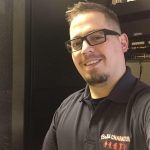 Denver's River North Art District is beginning to look completely different than it did even six months ago. Just along the once rough and tumble, sleepy main drag of Larimer Street alone, the transformation is none more apparent than the recent additions of American Bonded, the next chapter in Sean Kenyon's (founder of Williams and Graham) burgeoning cocktail bar catalog, and Call, a trendy coffee shop, sandwich concept, along with it's upcoming neighboring sister bar Beckon. The landscape has also been forever changed by the recent influx of satellite locations from several already well-established national brands. This recent flood of familiar faces includes one of the country's hottest bar concepts in Death and Co, inside of The Ramble Hotel, the fast food behemoth that is Shake Shack, and chain wine bar concept Barcelona. And beginning Monday, Odell Brewing will extend their reach outside of their Fort Collins roots to Denver's hottest neighborhood, when they open their second outpost in the heart of Denver's River North Art District.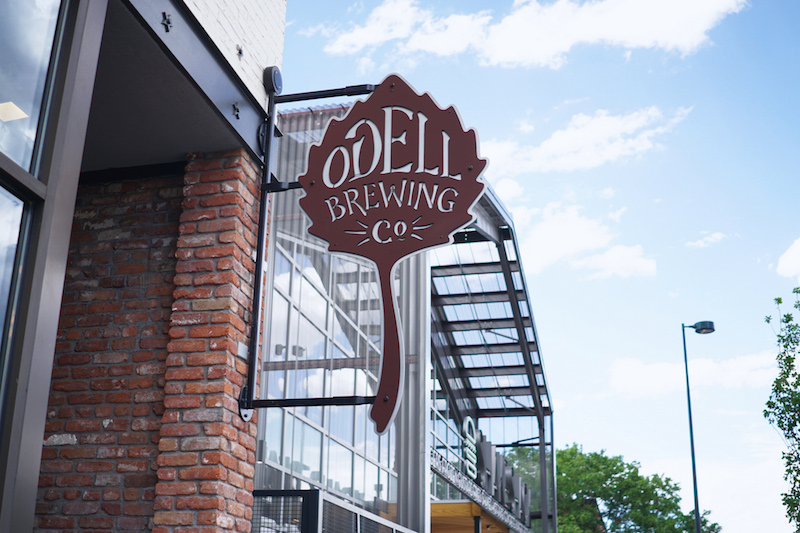 While the historic 101-year-old building itself required a complete gutting, much of what visitors will notice immediately is the abundant use of reclaimed wood. It's everywhere. The floors, the stairs, and the walls; everywhere. That classic urban outdoor aesthetic, coupled with exposed brick, left intact from the original shell of the building fuses both Odell's brand with the historical influences of the building and neighborhood. While there has been structural improvements, drywall, and wood flooring installed for building integrity and aesthetics, the original brick is the star of the show.
In further connections between new and old, Odell RiNo's tap lineup is divided by "RiNo Exclusives" on the left side of a digital menu and "Odell Classics" on the right, so staples like Odell IPA, 90 Shilling, and Mercenary are met by new trendy experimental beers like Milkshake IPA, Guava Gose, Hop Wok IPA and Margarita Crossover Ale. Surprisingly, my first beer was the Lil RiNo, a Session IPA.
Odell RiNo's 10-barrel pilot system is helmed by Brent Cordle, who moves to Denver after overseeing Odell's small batch and barrel programs for over the past 10 years. Cordel's newest brewing playground had to be completely custom built to fit the tight quarters and restraints brought on by the narrow historic building. However, the new brewhouse made from 100% American steel also inspired the creativity of developing specially outfitted hop backs (essentially a French press for infusing greater hop flavors), and a hop wok, which was hand welded out of a metal restaurant wok to enable dry hopping due to the limited overhead space above the fermenters. While the system is small, the use of a bucket elevator for grains, a hydrating vessel for mixing before mashing, a dedicated hot liquor tank, and a fully removable mashing rake in a separate dedicated mashtun, allows the brewery to take advantage of advanced brewing methods, including trendy hop forward NEIPAs, decoction lagers, kettle soured beers, thick mashed stouts, and experimental ales.
-Lil RiNo exhibits strong hop aroma, a lasting hop present backbone, that sustains unlike the typical Session IPAs that have flooded the market. Add in lower actual bitterness levels and natural citrus notes and Lil RiNo comes an instant go-to in Odell's new small batch lineup.
With more beers in hand, we headed upstairs to an identical bar wall layout, leading to open high table seating and lounge chairs in the corners next to short tables for a more casual setting. While everything about Odell RiNo is a bit more constricted by space limitations compared to their sprawling open Fort Collins hub, their use of outdoor space, both with the upstairs patio, and downstairs side patio provide cozy gathering spaces. Upstairs, visitors can enjoy stunning views of the city, and downstairs groups can huddle around the intimate fire pits.
-Milkshake IPA is Odell's first experimental foray into the trend of lactose IPAs. It falls a bit more bitter than what the style is famous for, but there are not many breweries in Colorado making the style the way that Tired Hands does. That being said, it was fruity, hoppy, and enjoyable. 
While many national brands including New Belgium, Oskar Blues, Deschutes, Sierra Nevada, and Green Flash have approached growth, by looking outside of their state to extend the reach of their brand, Odell, much like Founders did in Michigan, saw a chance to further plant its roots just down the road in familiar territory. "We are proudly a Colorado brewery," said Corkie Odell, co-founder of Odell Brewing. "This move allows us to really choose our own destiny so that we're not beholden to overblown growth requirements."
The River North neighborhood is no stranger to out-of-towners chasing the popularity of the neighborhood, most notably with Anheuser-Busch-owned 10 Barrel Brewing, who opened in RiNo in October 2016. However, unlike 10 Barrel, Odell Brewing remains an independently owned in-state brewery, and sought to preserve the history and tradition of the neighborhood, by preserving the building, versus a complete demo and rebuild.
Odell's search for a second location was an extensive process, however, upon finding the 2945 Larimer Street location, they were able to pull the trigger quickly. "Finding a historic building in this neighborhood, that we could keep intact meant a lot to us," said Odell marketing manager, Alex Kayne.
While there was a lot of work that needed to be done to gut and reinforce the structure, the team saw something in the building that they felt fit the neighborhood and their concept for the new brewery. The Odell team was able to rebuild the interior, reinforced the structure, strip away all of the paint and drywall to maintain the original flesh and bone of the structure, so much so, that the original nails of the building were cemented and preserved in the outdoor bar tops.
On the outside of the building, the brewery added an artistic nod to the River North Art District by tapping San Francisco artist Mona Caron to paint a mural of hops growing up the brick. As an urban muralist, her work is often depictive of weeds, flowers, and plants growing through the cement and against the industrialization in city landscapes. Mona also happens to be the creative force behind all of Odell's packaged art, like bottles and cans. Odell Brewing Company is her exclusive client outside of mural projects.
Odell built this location in hopes that people visiting the RiNo taproom walk away with a familiar relationship with Odell, one that focuses specifically on the creative and artistic pieces of the community that they are now a part of. The brewery will not be distributing any of the small batch beers produced at the RiNo location, it is all exclusively for the taproom, with the exception of crowlers and a small fridge of to-go beers, but no keg accounts. That said, Corkie Odell did mention the possibility of future Colorado locations, but noted that nothing further had been set in stone.
Last beer was the Chocolate Coffee Stout. Very chocolatey, but not overly sweet. Tons of coffee aroma and flavor, but the chocolate is definitely the focus.  
Odell Brewing's River North Art District location will open to the public on Monday, June 4.
---