No Comments
Sly Fox Brewing | Alex's Lemon Wheat Ale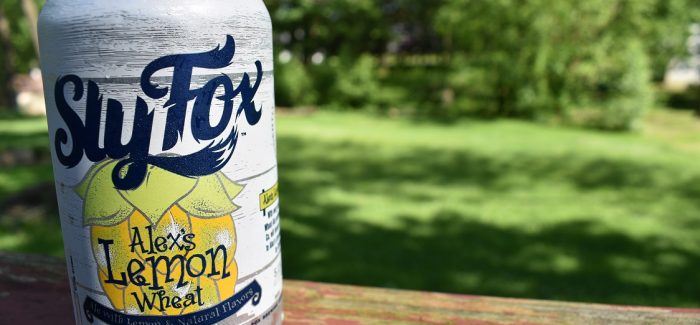 Let us start at the very beginning — with a lemonade stand.
The story starts with a little girl named Alexandra "Alex" Scott. Just before her first birthday, Alex's parents were given the diagnosis that Alex had neuroblastoma, a type of childhood cancer.
In 2000, after her fourth birthday, Alex decided to open a lemonade stand, with the hopes of raising money so that her doctors could do more to help other kids just like herself. Amazingly, Alex and her older brother managed to raise $2,000 that year and the tradition began. Year after year, Alex and her family would hold an annual lemonade stand right in their front yard, amidst Alex battling cancer herself.
On August 1, 2004, Alex passed away at the age of eight. She left behind what would become a legacy synonymous with hope, having raised more than $1 million by 2004. Alex's battle and determination for helping other sick children led to a worldwide movement, with others hosting their own lemonade stands and donating the proceeds to Alex's cause.
Alex's family continues the legacy that began in their front yard in Wynnewood, PA. Jay Scott, Alex's father, is the co-executive director of Alex's Lemonade Stand Foundation. Scott, along with Mark Weinmann — sales director at Sly Fox Brewery — devised an idea in 2017 to create a brew that would aid in the fight against pediatric cancer.
An award-winning Pennsylvania brewery, Sly Fox Brewery has made giving to charitable causes second nature. Rewind to 2015, where in partnership with the Schuylkill River Greenways, Sly Fox Brewery created the SRT Ale. The SRT Ale is a low-alcohol session beer; with every case sold, a portion of the proceeds goes to the Schuylkill River Greenways — an organization whose sole purpose is to help keep the Schuylkill River watershed thriving.
It is through this charitable spirit, that pulses through the core of the brewery, that Alex's Lemon Wheat Ale was born.
ABV: 5.1%
Alex's Lemon Wheat Ale was created via inspiration and brewed only with quality ingredients. Lemon oil and lemon zest were used to build a refreshingly citrus profile for the unfiltered ale. This drinkable summer beer pours a light, hazy yellow with a slight bit of head, leaving virtually no lacing along the sides of the glass. With the focus being on refreshment, the flavor of the wheat ale is not overly complex, remaining strong with the zest and juices of the lemons up front. The mouthfeel remains light-bodied, with the citric zest creating bitterness rather than the hops. The malt flavors are there, yet do not interfere with the pronounced lemon flavor. The finish is one that is semi-dry, with a zing of sharp zest and a splash of lemon juice taking over.
Following suit with their SRT Ale concept, Sly Fox will donate a portion of the proceeds from every case of Alex's Lemon Wheat Ale sold to Alex's Lemonade Stand Foundation to help honor Alex's legacy and continue the unstoppable mission to find cures for all forms of childhood cancer.
For more on the great strides Alex's Lemonade Stand Foundation is making for childhood cancer, please visit their website and learn how you can get involved.
Alex's Lemon Wheat Ale is available in 12-ounce cans as six and twelve-packs, and on draft at Sly Fox's two Pennsylvania locations.
https://www.instagram.com/p/BgtmjX7n-il/?taken-by=slyfoxbeer
---