One Comment
Six Observations From Illinois Craft Beer Week (ICBW)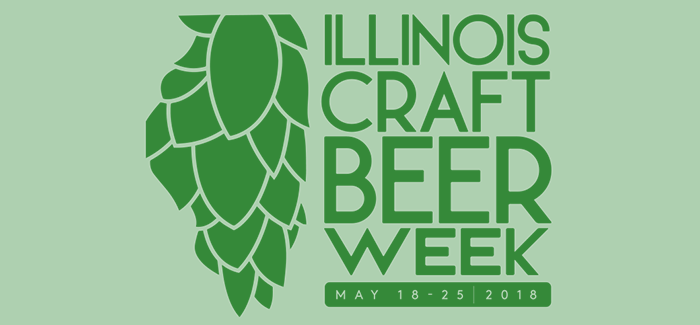 The inaugural Illinois Craft Beer Week (ICBW) replaced the former, annual Chicago Craft Beer Week (CCBW), but both the kick-off and closing festivals took place on Chicago's north side, and most of the intra-week events occurred within the nation's third-biggest market, which also happens to be where the vast majority of Illinois breweries operate. So, as they say, "A rose by any other name." Nevertheless, the 2018 version is in the books and once again demonstrated that the enthusiasm for craft beer remains high. There are nuances to the industry and week-long festivities worthy of mentioning, so let's take the time to note a few observations made during ICBW.
Taprooms Matter
I realize this is nothing new, but I lost count at home many times I overheard festival goers ask the pourer, "Where are you located?"
Unlike those tied to the industry, most beer fans don't possess a working knowledge of every brewery. Hence, when a festival attendee approaches, it's possible that it is also that fan's introduction to the brewery's entire brand. The ability to discuss the beer and the physical location for which one can enjoy the beer is a plus, and often inspired further conversation. To wit; having a tasting room is a major selling point for breweries at festivals.
I almost wonder why breweries with taproom space don't have pictures of its taprooms on the podiums and booth decor — it's a valuable opportunity to showcase the entire brand, so why not?
https://www.instagram.com/p/BeJrlRnBosX/?taken-by=lorezbrewing
Good Libations (Festival) Exceeded Expectations
There once was a fest named Wells that ended craft beer weeks of the past, and then it moved to summer, and then it vanished. But from the ashes of a festival that had lost its mojo arose Good Libations.
Imagine sitting at McDonald's, closing your eyes, and then waking up at Band of Bohemia. That was what it felt like to leave Wells last year and enter Good Libations this year. The view of the lake, the room filled with people decked out in tropical attire and spectacular beer that rivaled the selections offered at B.U.G. proved impossible to dislike. Indeed, Good Libations oozed with fun.
Maybe next year there's a new theme, or it can be tropical again. Either way, the Guild is onto something here.
https://www.instagram.com/p/BjOFlPZAiiU/?tagged=icbw
A City-Suburb Schism Remains
Right out of the gate, at my first event, a beer drinker noted that the only beer he tries at fests and the only taprooms he visits exist within the city limits of Chicago because "those are obviously the  best." I asked him why and he simply argued that, much like chefs working within Chicago's lauded restaurant scene, a good brewer would never dare open a place in the burbs.
Of course, if that were true that the suburbs were also sub-par, someone is going to have to tell Two Brothers, Pollyanna, Nevin's, Werk Force, Hailstorm and numerous other breweries to give back their FoBAB, World Cup and GABF medals.
Not everyone shares his opinion, but it's not an unpopular one, either.
As one whose roots are in the city, who grew up and worked in the city, and who now lives in the burbs, I think I can speak intelligently on this matter. The argument abounds in ignorance. Judge a brewery by its beer, business practices and, if it matters to you, its commitment to the community. Stop worrying about the politically-bounded region from whence a brewery came.
(In full disclosure, I should point out that we at Porchdrinking.com and Beermiscuous — a bottle shop & tasting room located in the city — attempted to remove that stigma with a suburban-brewing tasting showcase during ICBW.)
https://www.instagram.com/p/BjGtDFlAoYG/?tagged=icbw
Milkshake IPAs, New Englands & Beer That Resembles Kool-Aid, Oh My
Milkshake IPAs. NE IPA fruit bombs. Beer consisting of extracts. Fruit added, post-fermentation, to beer. It's enough to rankle the soul of purists, but consumers flock to beers that look like orange juice and cocktails, and sometimes have a mouthfeel that reminds one of a smoothie.
One brewer, who chose to remain anonymous commented, "When did we start appealing to the Lime-A-Rita crowd?" Other brewers more than embraced the style. Indeed, they defended it mightily.
Given the trend, I felt it prudent to try as many as possible during the week to get a better idea of how it can be done, and done well. Not surprisingly, a collaboration between two accomplished breweries, Forbidden Root & Corridor Brewing, demonstrated to many (including this writer) the reason for which the style has grown so popular.
Love it or hate it, IPAs that are creamy, juicy and fruity are a craft-beer force through which to be reckoned.
Most Beer Drinkers Partake in Craft Week by Accident, and They Mostly "Drink Local." But, it Works. 
Chicago Craft Beer Week used to include a passport program that asked beer fans to seek and drink at as many taprooms as possible during craft week. Now those passports arrive at the end of the fest (as they did last year) allowing beer geeks to perform the same task, but over the entire summer.
Therefore, ICBW largely focuses on events, and, since most of it occurs during the work week, few make the trek far away from their home. For that matter, breweries that release special beers also draw a predominately local crowd.
Indeed, while attending events and beer tastings, I inquired among customers as to their reasons for being there. Almost always, their explanation pertained to the nature of the event, not its association with ICBW. (Although there were also a few that noted their passion for craft week and attended numerous fests, I should point out).
So, while throngs of beer fans participated in craft week, I am not sure most of them did it intentionally. But, that's also not the point.
ICBW consists of multitudes of events and beer releases, and few of them can be described as run-of-the-mill festivals.  For that matter, some bars simply made sure to have beer specials each day – appealing to their local clientele, but under the umbrella of the ICBW theme.
Thus, the fruits of all that labor equated to a week of beer excitement and, certainly through social media, brought attention to the entire craft-beer community.
https://www.instagram.com/p/BjF6lVNg09C/?tagged=icbw
A Writer Can Dream of a Fest Downstate One Day
As always, this falls under the category of "easy for me to say."
I know the reality of how things work. There are three Illinois Craft Beer Guild fests this year, two on the north side of Chicago and one at the University of Illinois-Chicago (UIC). I love each and every fest (how can you not love FoBAB?). They are convenient for me. They are fun for me. They are even fulfilling for me as a writer.
But, I can only imagine the craft-beer party buses that would emerge as breweries take its fans down to Peoria or Springfield for a beer fest.  I long to witness Illinois politicians attending an event in Washington Park, not far from many of our state capital's historic landmarks. I continue to hope and dream that either the Quad Cities or Peoria can showcase its gorgeous river view venues as fans enjoy the beer.
I've talked to Chicago-area brewers ad nauseam about this idea, and beer fans, too, and the overwhelming majority of them love the idea of having a fest downstate. I hope that one day we as a beer community can truly put the Illinois in the Illinois Guild and Illinois Craft Beer Week.
I know, I know. That's easy for me to say. But, a man can dream, right?
In the meantime, the Illinois Craft Brewers Guild can focus on its next task… the greatest festival of them all: Festival of Barrel Aged Beers (FoBAB). See you there in November.
https://www.instagram.com/p/BbYPRzcHq02/?tagged=fobab
---