No Comments
Around the Bend Beer Company | Pretty Lights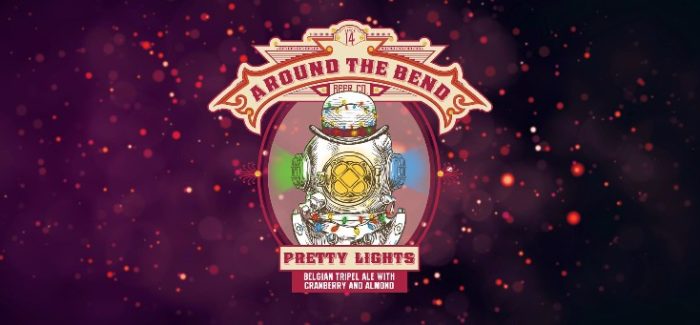 Just when you think you know what to expect from a Christmas Ale, Around the Bend Beer Company comes along and provides a unique holiday surprise — the Pretty Lights Belgian Tripel with Cranberry and Almond. Although this beer is exceedingly capable of standing on its own, it would be tough to find a beer more suited for pairing with a holiday feast.

Atypical of most winter-holiday beers comprised of such notes as warming spices, pine and dried fruits, Pretty Lights Belgian Tripel wakes up the palate with an especially refreshing cranberry tartness, along with a touch of almond. It's not a fruity beer, per se, nor does it resemble an ultra-sour beer pulled from a Belgian Foeder. Like a well-composed holiday meal with its many components that make for a great meal, the mildly-spiced Belgian Tripel and its accompaniments provide the beer drinker with an exquisite experience. Although, it should be noted, the almond flavor is a bit hidden. Nonetheless, the beer hits on notes of tart, sweet and gentle spices. It's pleasantly fruity up front, full of malt in the middle, and enjoys a nice dry finish.
ABV: 8% | IBU: 20
https://www.instagram.com/p/BbanZRvjMOw/?taken-by=powers_mathew
As sophisticated as the beer may seem, its slick label art adorning the can speaks to the beers approachability. Yes, that term is used these days ad nauseum, but sometimes it's appropriate. Speaking of cliche descriptors, it's also the embodiment of "quaffable." In other words, you could formally raise a glass of this at the family dinner table and toast to joy and peace. In fact, don't be afraid to pour this in a champagne flute because it works. On the other hand, you could shotgun a can of Pretty Lights with your friends at 1 a.m and feel zero shame in doing so.
In short, its gorgeous appearance and sophisticated flavors make it perfect for complimenting any holiday bounty, but Around the Bend refrained from turning this beer into something that resembled anything other than a great winter beer.
---