No Comments
Ultimate 6er | The Last Dance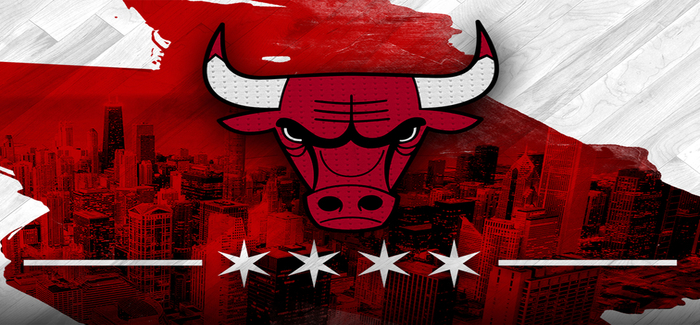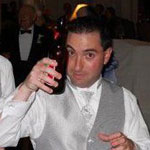 Growing up in the suburbs of Chicago in the 90s spoiled me as a basketball fan. When I was five years old, I remember my mom giving me a wooden spoon and pot to go out into our driveway to make noise right after the Chicago Bulls won the first NBA Championship in 1991. I probably didn't quite understand what was going on.
After they won for three years straight, I just expected the Bulls to always win the championship. When they didn't win for two years, I was very confused. But even after five championships, the 1997-98 season was something special.
As basketball lovers all over the country and Chicagoans have tuned into The Last Dance these last two Sundays, I thought about what beers would pair well with each of the players.
For this Ultimate 6er, I took the Bulls' most common starting line-up from that season (which actually didn't include Scottie Pippen because of his injury but it felt appropriate to add him to round out the 6er). With a decided Chicagoland beer focus, here is a stab at the 1997-98 Chicago Bulls Ultimate 6er.
Ron Harper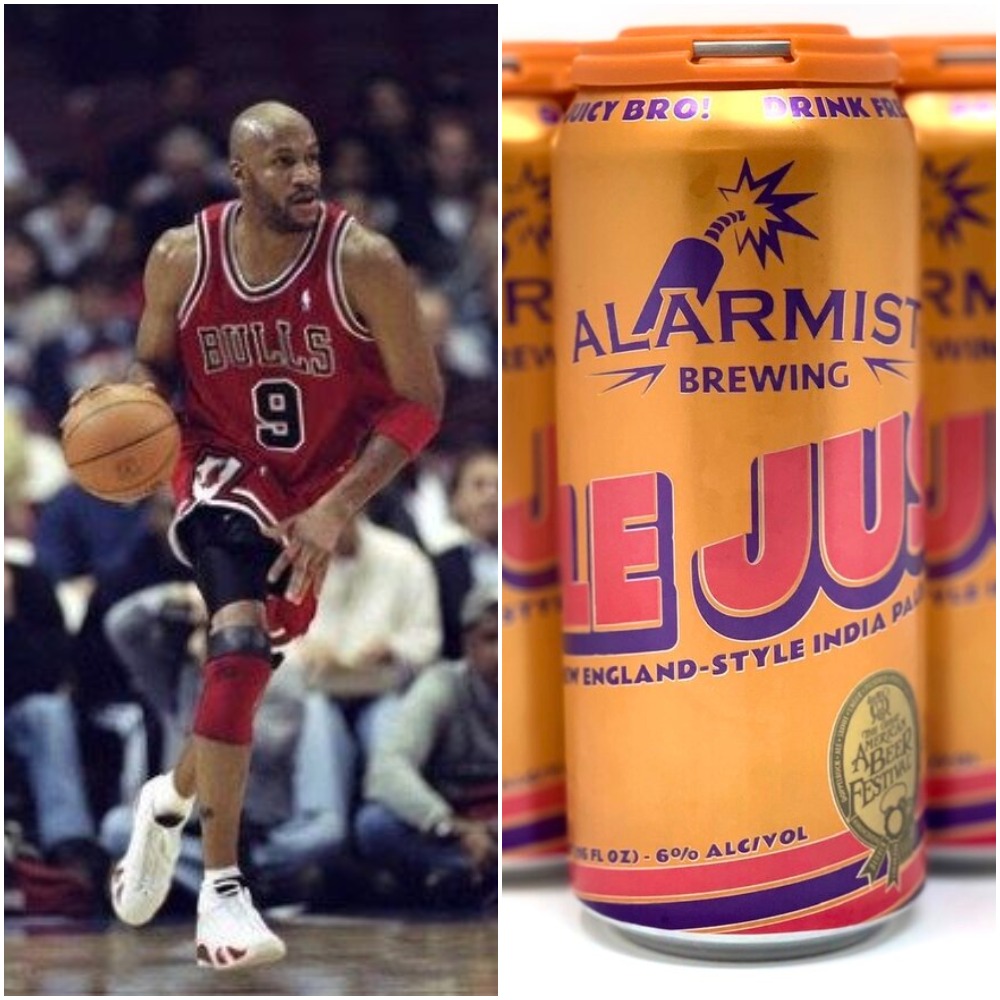 I first heard of Miami of Ohio when Ron Harper would be introduced into the starting lineup. I laughed because Miami wasn't in Ohio and it was really funny for me to hear Miami and Ohio used as a location. Well, I actually went to Miami University, we don't call it Miami of Ohio, it's just Miami to us, and I loved it. There have actually been a few notable NBA players from Miami including Minnesota's Wally Szczerbiak, but no one has more NBA Championships than Ron Harper.
So why a hazy IPA for Ron Harper? Well, it was strange to hear Miami and Ohio together, and when it comes to hazy IPAs, I didn't think they should be hazy when they first hit the market. IPAs are supposed to be clear and hoppy. I'm not saying hazy IPAs aren't delicious – they are. I'm just not convinced we should be calling them Hazy IPAs, and instead should opt for just Hazy Beer, but that's a conversation for another day.
---
Toni Kukoc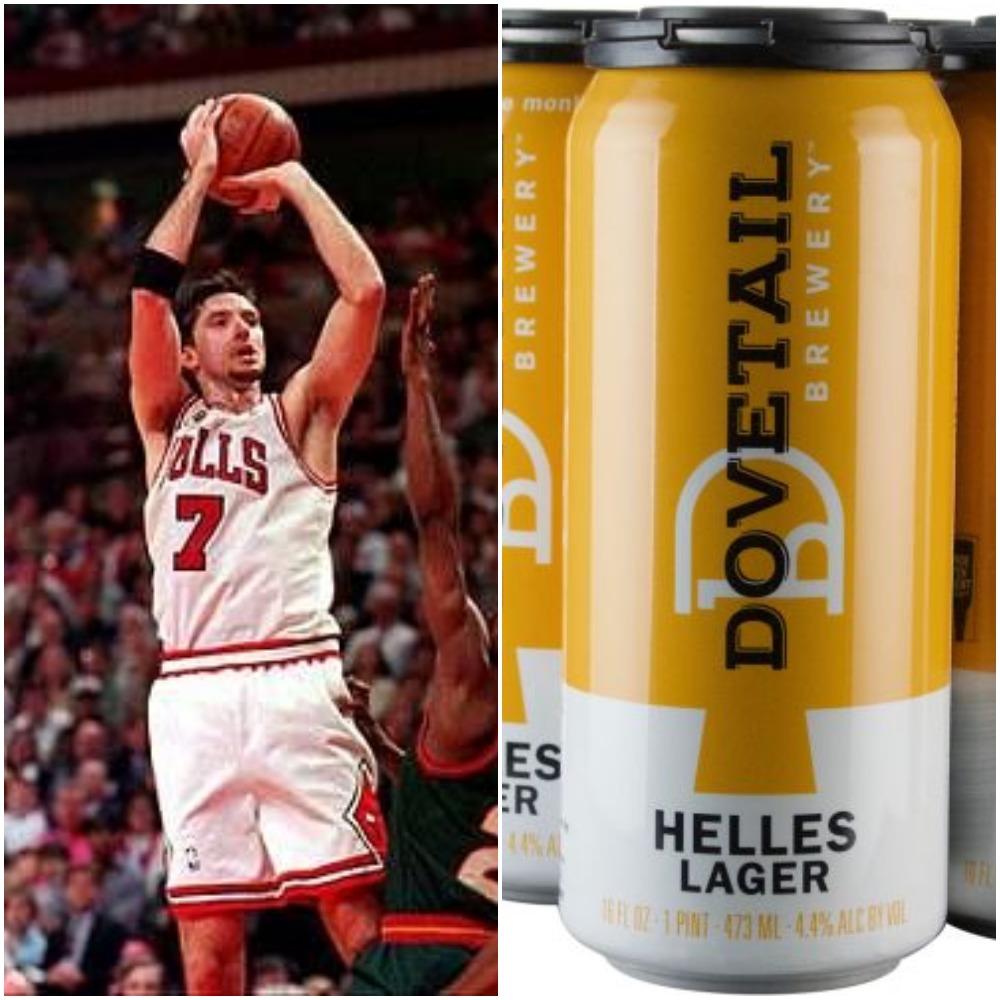 No, I didn't choose a Dovetail beer because Kukoc is from Croatia and Dovetail focuses on traditional European styles of beer. Think about lager for a moment: It's a classic way of brewing that doesn't command attention, garner hype, or create lines out the door. The styles under the lager umbrella should be a staple in any beer fridge, despite them not being something you might highlight next to the latest hazy or barrel-aged stout.
Kukoc was the Bulls' lager. He came into work every day and was a solid player. Kukoc didn't get a lot of fanfare, but he was an integral part of the Bulls' championship run. Jordan, Pippen and Rodman were the faces, but in the background there was Kukoc. Let's also not forget that Kukoc hit a massive game-winning shot in the 1994 playoffs against the New York Knicks.
---
Luc Longley
Barrel-Aged Krampus | Old Irving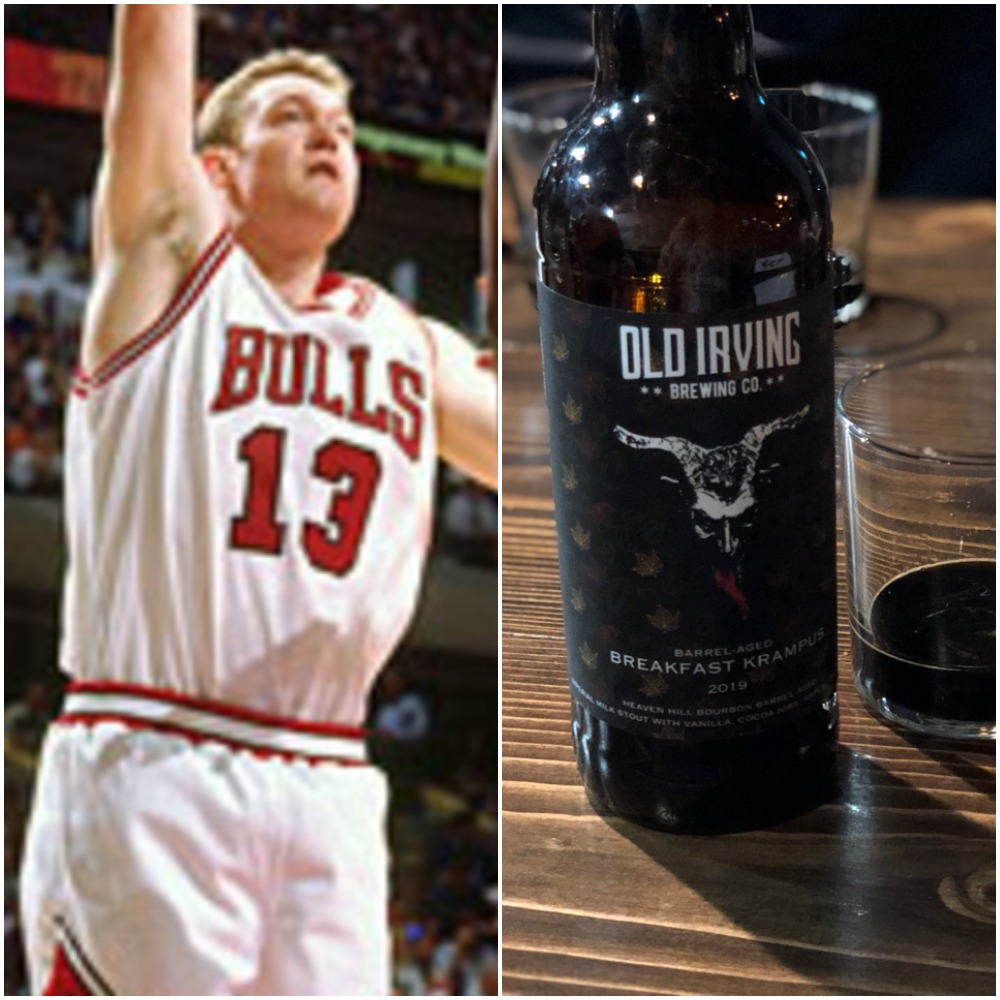 The man in the middle was beloved by everyone. At first, I would ask my dad why they were booing Luc Longley until I learned that the loud and long Luuuuuuccccc fans would cheer was actually a term of endearment.
At 7-2, Longley was no one to mess with in the lane. Big and powerful, he was that power center you don't see as often in today's NBA.
For his beer, I knew I needed a big barrel-aged Stout, but I also wanted it to be in a 750ml bottle for the height. There aren't many Chicagoland stouts in this format anymore, but luckily Old Irving's Barrel-Aged Krampus series still delivers in the big bottles.
At 12% ABV and in the big bottle format, this Stout is a perfect homage to the Australian center that was a key part of the 1997-98 season.
---
Dennis Rodman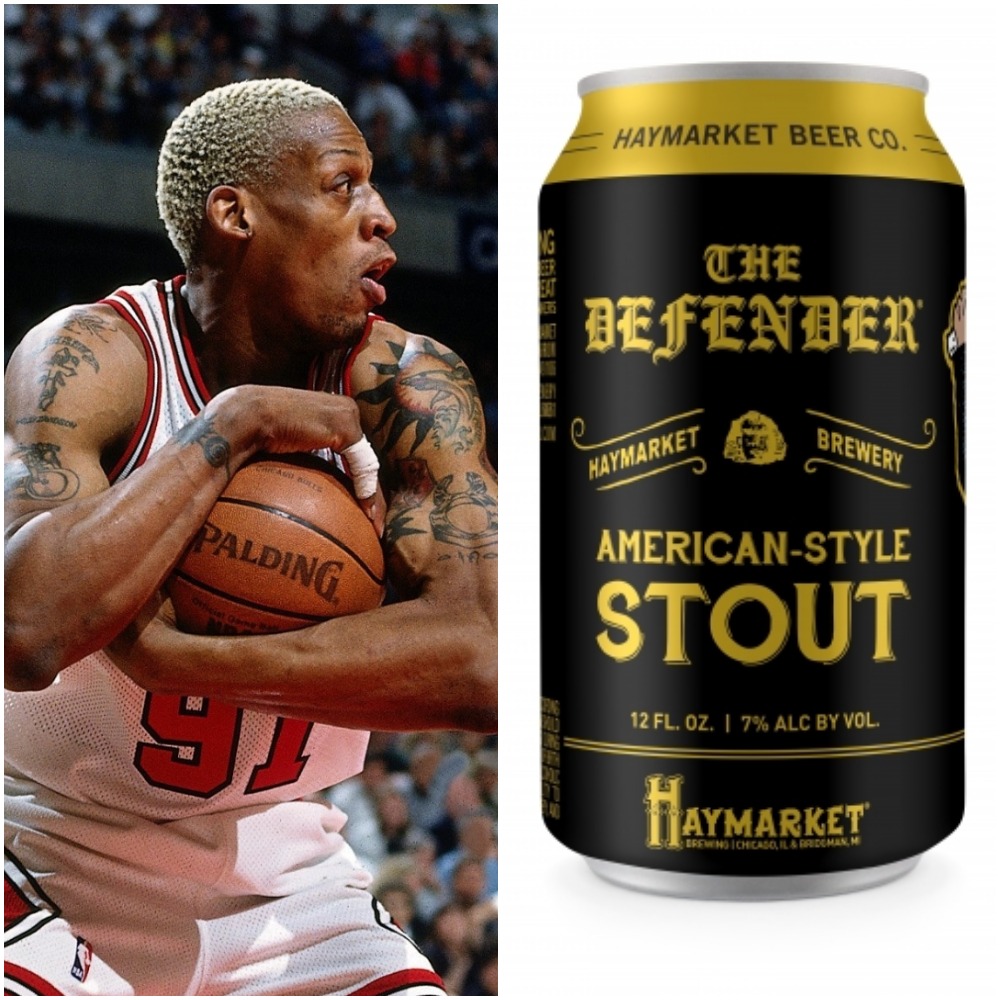 When Dennis Rodman joined the Bulls, I don't think my mom knew what to think. If you weren't paying attention to the Bulls during the 90s, you might think Rodman was just the guy with the ever-changing hair color, or the one who wore a wedding dress, but on the court, Rodman was the Bulls' defensive superstar. He would grab every rebound and could lockdown defensively on a team's best player. And if you got in his way, he'd just kick you in the leg, and somehow you'd have to wear a neck brace – yeah that was crap!
While Rodman's off-court life was a media spectacle, he was probably one of the hardest workers on that 1997-98 team. He's the perfect player to pair with Haymarket's Defender Stout. Haymarket is all about the worker and enjoying a beer after a hard day on the job. The two go hand-in-hand, and the fact that they have a beer called the Defender makes the pairing even more perfect.
---
Scottie Pippen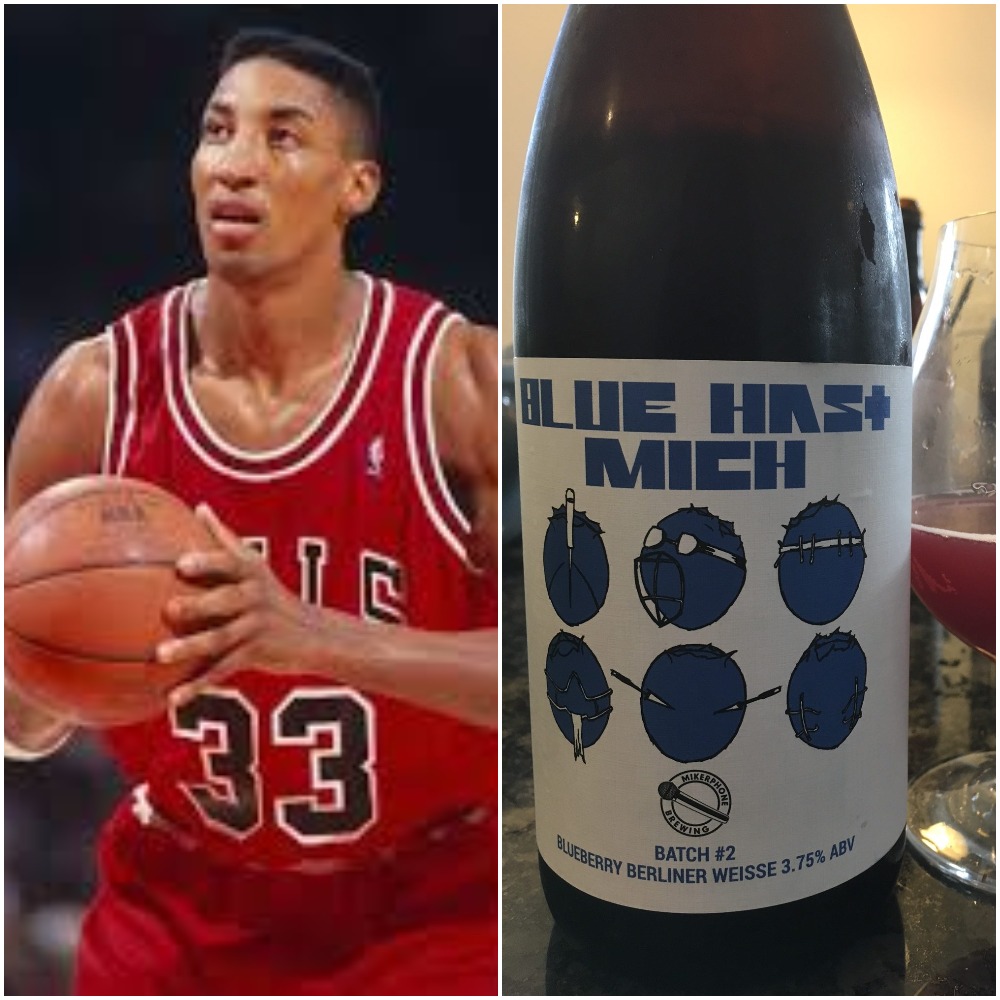 Scottie Pippen's pairing was probably one of the hardest for me to figure out. To say Pippen was forgotten about during the Bulls' six-peat would be inaccurate. Was he overshadowed—definitely—but in no way forgotten. When you're playing next to the greatest basketball player ever, it doesn't matter how good you are. Michael Jordan often stole the show.
For Pippen's beer, I thought about one that might be overlooked sometimes because of all the other beers around it are garnering the attention and hype.
While Mikerphone Brewing is known for hazy IPAs and big Stouts full of all kinds of adjuncts, Blue Hast Mich is actually my favorite beer from them. Brewed with buckets of blueberries, this fruited Berliner Weisse is a must-have for me anytime it's brewed.
People don't line up for, nor do they feverishly refresh their browsers to get tickets for a release event, but no matter – Blue Hast Mich is an all-star beer.
---
Michael Jordan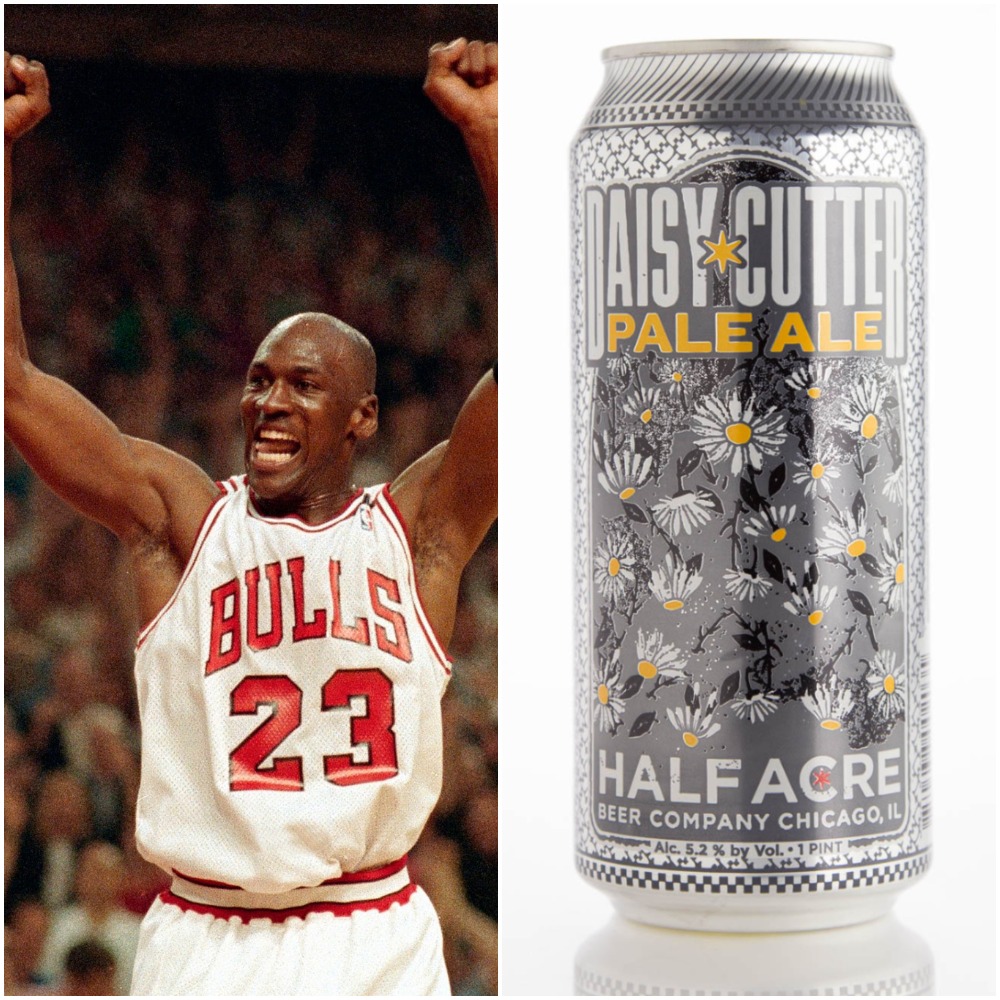 Today there's a debate in the sports world about who is the greatest basketball player of all time. While anyone from Chicago will say it's Jordan, the MJ vs. Lebron James conversation will go on for years.
Half Acre's Daisy Cutter is an iconic beer, and at its release 10 years ago, it was a game-changer in the industry. There weren't many Pale Ales being made in the city, so to have one hit the market like Daisy Cutter turned heads. Full of flavor, hoppy, but lighter than an IPA, Daisy Cutter quickly became a fan favorite.
In its prime, you couldn't walk into a Chicago bar and not see Daisy Cutter on tap. The 16-ounce can covered with daisies were what many beer drinkers remember as one of their first forays into craft. Today it might not have the hype that it once commanded, but those that remember Daisy Cutter from its early days will always sing its praises, no matter how industry trends shift.
As The Last Dance is proving, I could watch hours of old MJ footage, and I could sit at Half Acre's bar and drink Daisy Cutter all night. At just 5.2% ABV, it's light enough to have multiples, yet so full of flavor that you won't get bored.
Two GOATs, one city.
Feature image courtesy of the Chicago Bulls.
---