No Comments
Alvarado Street Brewery | Mai Tai P.A.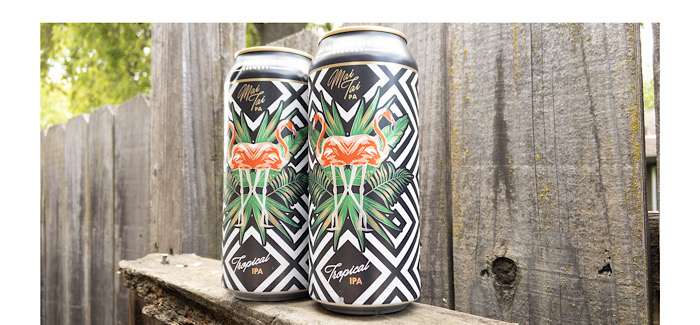 Alvarado Street Brewery has been brewing incredible beers since 2014. Led by a father-son team who opened their first brewpub in downtown Monterey, California, the brewery expanded two years later, building out both its beer garden and another production brewery in Salinas, aka "The Salad Bowl of the World". In 2015, Alvarado struck gold when their Mai Tai P.A. won a GABF gold medal, a win the brewery repeated in 2018.
Indeed, this is an award-winning beer, with striking can art. The entire aluminum vessel is covered in a diamond pattern of black and white lines, accented in gold; dual flamingos rest in a mirrored setting amid tropical greenery. The artwork screams tropical vacation, and/or Miami Vice.
When you finally pry your eyes from the label and crack the can, massive tropical and stone fruit aromas greet you. The flavor matches that aroma beautifully. There is just enough bitterness to know that this an IPA, without that bitterness being overwhelming. Mai Tai is only 6.5% ABV, which makes it a truly crushable, go-to beer.
https://www.instagram.com/p/B-NpGefl71p/?utm_source=ig_web_copy_link
This IPA is light yellow in color and has just a hint of haze, but there is nothing hazy about it. Crisp, easy-drinking, and finishing dry, this is a 100% Mosaic hopped beer with only 2-Row malts used in the grain bill. Technically this makes Mai Tai a SMaSH beer: Single Malt And Single Hop. That this basic recipe can morph into such a complex beer is a testament to the quality of what Alvarado Street Brewing is putting into the market.
Mai Tai P.A. is a vacation-invoking beer. With the world on lock-down, it just might be one of the best "pick me up" beers out there. Put on a bathing suit, snag a can of Mai Tai, and dig your toes in the sand. Day made.
---