No Comments
Event Preview | Tröegs Harvest Hopfest & HopDash 5K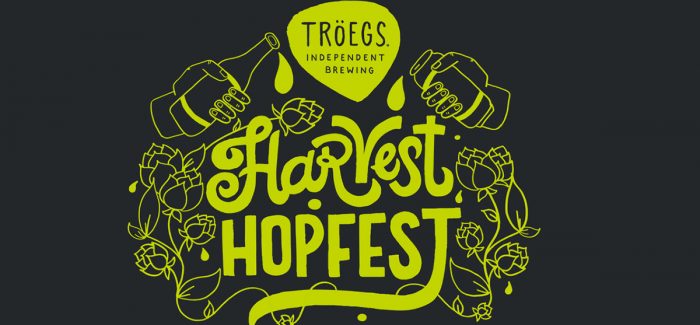 Tröegs Independent Brewing invites you to celebrate all things hoppy at the 2nd Annual Harvest Hopfest to be held this weekend. The festivities will include three new limited beers inspired by the brewery's hop selection trips to the Pacific Northwest, as well as the return of the HopDash 5k to the brewery in Hershey, PA. They'll also feature daily IPA firkin tappings and live music in our Beer Garden including performances from Palm City Ramblers, Rivers, and more.

Each fall, a crew from Tröegs heads to the Yakima Valley in Washington state to select their hop lots for the coming year. "The variety you can find is stunning," says co-owner and brewmaster of Tröegs, John Trogner. "How a hop is farmed, how it's dried, the weather… all those things affect the profile. Having the brewing and quality teams out here makes hunting easier. Everybody has different superpowers and can focus on those notes of passionfruit, orange, mango, raspberry… all the good stuff."
From last year's trip, Tröegs' brewers were inspired by a Lemondrop hop and Experimental hop No. 06297 with citrus and coconut cream notes, which inspired our new limited Double IPAs Golden Thing and Orangerine, respectively. The third new beer is Scratch #346 – Fresh Hop IPA featuring wet whole flower Comet hops straight from the fields of Yakima.
The festivties will kick off Friday – October 5 – at 4 p.m. with the release of all three beers on draft in Tröegs' Tasting Room and in limited 16-ounce cans (Orangerine, Golden Thing) and 12-ounce bottles (Fresh Hop IPA) through the brewery's General Store.
https://www.instagram.com/p/Bob43tpHFmC/?utm_source=ig_web_copy_link
On Saturday, October 6, the 5th Annual HopDash 5K returns to Hershey. Starting at 9 a.m., 1000 runners will take on the hills of Hershey and finish at the brewery to enjoy post-race beers, food trucks, live music and more. Runners are highly encouraged to come dressed in Tröegs-inspired costumes for the chance to win some great prizes. Spectators are also welcome to attend the HopDash to join in the fun.
HopDash is part of the YMCA race series, which hosts some of the highest quality and family-friendly running events in the region. The funds from the race directly support the East Shore YMCA and their efforts. "Our family has been a supporter of the YMCA for a long time, and we've developed a strong relationship with them over the years," said Chris Trogner, founder and co-owner of Tröegs. "We're excited to see the Hop Dash continue to grow and draw people from outside Central PA."
For a complete list of events happening during Harvest Hopfest, please visit troegs.com/hopfest.
While you're visiting, be sure to check out Tröegs Brewery Tours. Visit troegs.com/visit/brewery- tours/ to learn more.
---