No Comments
Watch the Braves in the Playoffs with Terrapin Brewing CJ10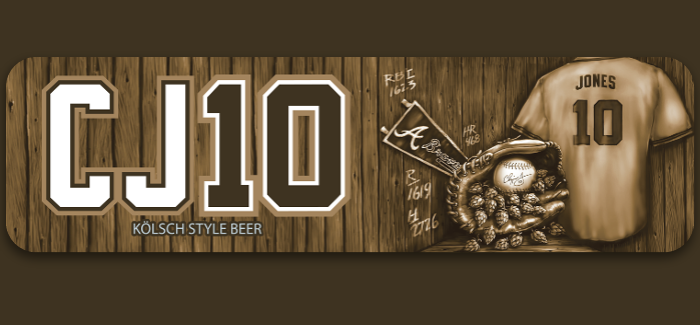 With the baseball playoffs at-hand, one can now toast both the Atlanta Braves' division crown and newly inducted Hall of Fame Braves player Chipper Jones with CJ10, a beer conceived by the prolific switch hitter and the folks at Terrapin Beer Company.
CJ10, an easy-drinking Kölsch-style ale, emerged from Terrapin's unique ATL Brew Lab found at SunTrust Park in Atlanta during the summer. And, what better way to honor a switch hitter than with a beer that's made with ale yeast, but is fermented like a lager?
New Hall of Famer Chipper Jones joins the booth to discuss his new "CJ10" selection at @TerrapinBeerCo, his bobblehead and more. pic.twitter.com/FW0Dnbu6Ss

— FOX Sports: Braves (@FOXSportsBraves) August 18, 2018
ABV: 4.9% | IBU: 25
In addition to the ballpark service, Terrapin released the beer mid-August in cans from Terrapin's main brewery in Athens, Georgia. Thus, one can feel free to search for the beer (or at least find a friend that can obtain it) and drink it at home while the game is on. To be sure, the beer is more than something with a catchy backstory; the Terrapin Kolsch-style brew nails the style.
The beer pours yellow (slightly clear) and offers plenty of frothy head and lacing. The lovely kiss of carbonation level goes perfectly with the light, every-so sweet malt and then it finishes a bit dry – a lovely, thirst-quenching beer.
We're excited to finally talk about something that's been brewing! We teamed up with Chipper Jones to brew a Kolsch beer with Spike, first at the ATL Brew Lab (tapping in the Terrapin Taproom July 27th) and we'll be releasing cans from the brewery in Athens in mid-August! pic.twitter.com/YnzklCg5jH

— Terrapin Beer Co. (@TerrapinBeerCo) July 20, 2018
For those unaware of Chipper Jones' accomplishment, here are a few highlights:
In addition to striking out fewer times (1,409) than he walked (1,512), Jones joined Babe Ruth, Stan Musial, Lou Gehrig, Mel Ott and Ted Williams as one of only six players in MLB history to hit .300 (.303), exceed an OPS of .400 (.401) and slug greater than.500 (.529). He also hit more than 450 home runs (468), walked more than 1,500 times (1512), knocked in more than 1,600 runs (1623 RBI) and scored more than 1,600 runs (1619).
Not bad, huh?
If that's not enough, Chipper earned eight All-Star selections and garnered the 1999 National League MVP Award. The Braves won 11 consecutive division titles from 1995-2005 with Jones in the lineup, and three times won National League pennants along with the 1995 World Series championship. During his 93 postseason games, he ended up producing an .864 OPS.
We've got a limited amount of commemorative CJ10 posters available – grab yours before they're gone! @realcj10 https://t.co/aaFzoeFtDx pic.twitter.com/4QNQfMWsDM

— Terrapin Beer Co. (@TerrapinBeerCo) September 5, 2018
Passing the Torch
Chipper entertained fans as an exceptional baseball player for twenty years. Now, he's found yet another way to help fans enjoy baseball and the National League East champion Braves with a solid beer perfect for taking in a game.
The Braves will host the National League West Champion L.A. Dodgers, who won a "Game 163" tiebreaker against the Colorado Rockies. The Braves this year, in surprising fashion, won 90 games and bested the Nationals by 8 games, though they mostly battled the upstart Phillies for the bulk of the year.
The new Braves showed resilience that matched that of Chipper. Thus, CJ10 seems like the perfect beer to honor the Braves — no matter what era one feels most attached.
https://www.instagram.com/p/Bob9Q9HnwdB/?hl=en&taken-by=braves
---