No Comments
2 Days, 2 Nights | Southwest Michigan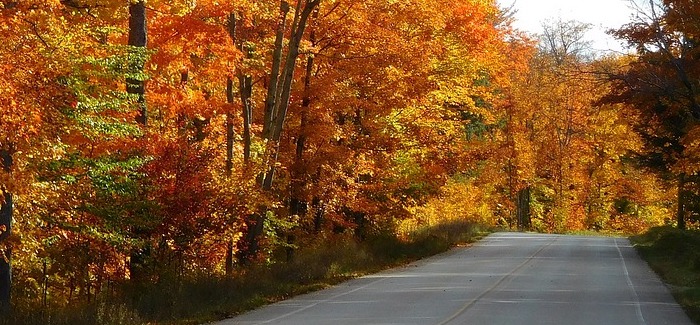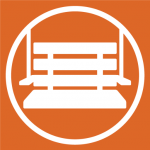 Now that summer is officially over, a weekend getaway to the Great Lakes State may not be high on your travel bucket list. However, fall is the perfect time of year to travel north, as the opportunity awaits to get two tours for the price of one! The changing colors of Michigan's beautiful landscape provide a stunning backdrop for a craft beer tour in Southwest Michigan.
According to Pure Michigan's website, the best time of year for a color tour of this area is early to late October. Since most visitors to Michigan will be driving north, start your weekend by driving to the southwest corner of the state via US-12 east. Hugging the lake shore is the Red Arrow Highway, which will provide a scenic drive north to your first destination of the weekend. Along the way, soak in the beautiful hues of yellow, orange, and red that surround you on this perfect fall day.
https://www.instagram.com/p/BZWD0NAD-2e/?utm_source=ig_web_button_share_sheet
Before you start your journey, keep in mind: Unless you are in a big city (which Michigan has few of) most breweries are spread out and require you to drive between them. Consider drinking half-pours or sharing a flight with a friend if you want to enjoy a taste of the many stops along the way.
Day 1 | Friday
Afternoon
Begin your drive on the Red Arrow Highway in New Buffalo, Michigan and head north. Within 15 minutes, you will arrive at your first destination: Greenbush Brewing Company. This place is always hopping, so if the sun is shining and there is not enough room in the taproom, head across the street to enjoy a brew in the beer garden at The Annex. Here, you can also purchase beer and souvenirs to-go, or grab a light snack before dinner. My personal favorites include the Star Chicken Shutgun, a classic tasting American IPA, or the Sleeper Awakes Saison. At only 4% ABV, this light beer with subtle hints of citrus and coriander is perfect for if you are looking for something refreshing to sustain you for the evening to come.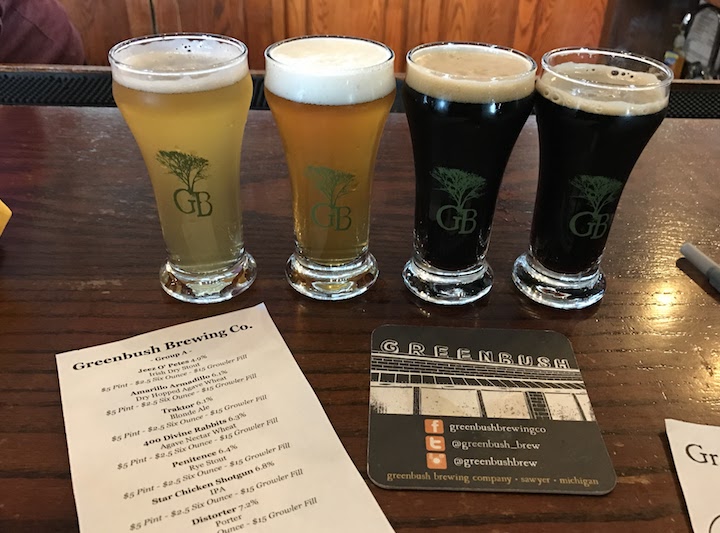 If it is still early in the day, take the back roads to the Baroda Tasting Room and Estate, which is the hallmark location of Round Barn Winery, Distillery and Brewery. On a beautiful fall day, this will definitely be a highlight of your trip! As you can tell by the name, this stunning white, round barn has something for everyone. Enjoy seasonal favorites, such as the Pumpkin Ale or Harvest Ale (which is actually an American IPA), while gazing out on the picturesque views of the surrounding farmland.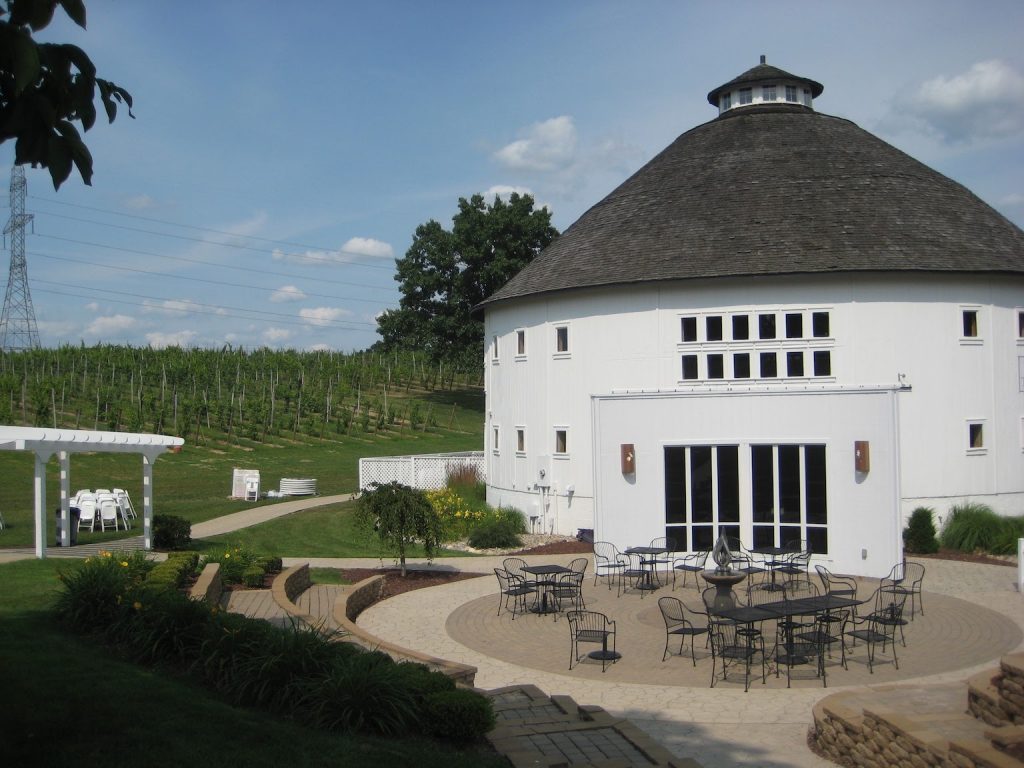 Evening
After you've enjoyed the scenery at Round Barn, continue your color tour by driving about 7 miles north on Hills Rd. to Watermark Brewing Company. This pet and kid-friendly brewery features daily food trucks if you need a snack before dinner, and when the weather is nice, you can choose to sit outside where there may be a live band playing. In regards to beer, I HIGHLY recommend trying the Slippery Bob Tropical IPA, one of my favorite brews in the area, or the King Prawn Hazy IPA which is a close second.
https://www.instagram.com/p/BcN5C4kn5Bl/?utm_source=ig_web_button_share_sheet
By now, you are probably starving, so thankfully Silver Harbor Brewing Company in downtown St. Joseph is just over 10 minutes north via Lakeshore Dr. If the sun has not already set, you may be able to sneak some views of Lake Michigan along the way. Silver Harbor features a large menu of delicious flatbreads, salads, handhelds, and more. I enjoyed the Kumbaya Brown Ale with my dinner, and if you are feeling adventurous (which I was not!), you can see it "smoked" in front of you. Your beer will be placed in a glass chamber and injected with hickory smoke, infusing brown ale with these flavors. Perhaps, the campfire smell will be the perfect way to end your first day of your fall brewery and color tour.
Other notable breweries in the area: Haymarket Brewing Company, The Livery and Tapistry Brewing.
Places to Stay: St. Joseph and the surrounding area is a popular tourist destination. There are several hotel and Air BnB options, or if the weather is nice and you enjoy the outdoors, try camping at Warren Dunes State Park, which is open for camping year-round.
Day 2 | Saturday
Morning
If you spent the night in the St. Joseph area, its time to get up and at-em'! St. Joe is a beautiful area, and if the sun is shining, there is plenty to explore! Consider fueling up at Thornton's Hometown Café in downtown, a local diner known for serving up classic breakfast dishes at a great price. Another option is the Broad Street Café, which operates out of a former firehouse and serves bagel sandwiches and pastries for a quick bite to eat.
Now that your belly is full, its time to continue your color tour by visiting Silver Beach County Park where you can take a stroll to the South Pier (its $12 to enter with a car so consider walking from your lodging as it is only a short way from the downtown area). You could also venture to Warren Dunes State Park ($8 per car for a day pass) where there are miles of hiking trails and a spectacular 260 ft. dune climb which will offer you stunning views of Lake Michigan and the surrounding fall colors.
https://www.instagram.com/p/BoE1CBJlJg3/?utm_source=ig_web_button_share_sheet
Afternoon
After you get your taste of the lake shore, hop in your car and continue your colorful drive approximately 20 minutes east on I-94 to The Jollay Orchards Farm for an iconic fall experience in Michigan. Here, you can plan on picking fresh apples in September and October, and you can select out your family's pumpkins just in time for Halloween. Honeycrisp are by far the most sought after apple this time of year, so you will want to plan on visiting in late September or early October if you want to get your taste of these gems! Every weekend in the fall, you will be treated to a Harvest Festival from 10:30 a.m. to 6:30 p.m. where you can enjoy pond fishing, a corn maze, a haunted house, hayrides and more! The cost is $8.75 per person (children under 2 are free) for the festival, but you do not have to pay if you are simply going to pick. If you need a snack or a sweet treat, the farm market sells fresh pies, cookies, dumplings, and ice cream! What a perfect way to spend a fall afternoon!
https://www.instagram.com/p/BY0xAtdgKiS/?utm_source=ig_web_button_share_sheet
Not only is Southwest Michigan known for its great breweries, but there are also plenty of wineries where you can get a "taste" of the area while you are here. Just 10 minutes away from Jollay Orchards is 12 Corners Vineyards, where you can enjoy a sampler of 5 wines for $10 (which includes a chocolate and the tasting glass) while savoring the beautiful fall hues displayed throughout the vineyard. If you prefer to stick with beer, Arclight Brewing Company is only 5 miles from the Jollay Orchards. Although they specialize in sours, the Oktoberfest or Peach Wit could be worth a try in celebration of fall.
https://www.instagram.com/p/BljDyfOlzX8/?utm_source=ig_web_button_share_sheet
Evening
Our final stop for the night is North Pier Brewing Company, which will bring you back to the downtown St. Joe area. The menu features a variety of handhelds and flatbreads. I recommend trying the Mac Daddy which is a flatbread with mac n' cheese, bacon, and pulled pork—YUM! In regards to beer, I enjoyed the Springtooth Farmhouse DIPA (a whopping 9.1%), or if you are looking to end your night with something a bit lower in alcohol, the Old Shuck Porter may do the trick.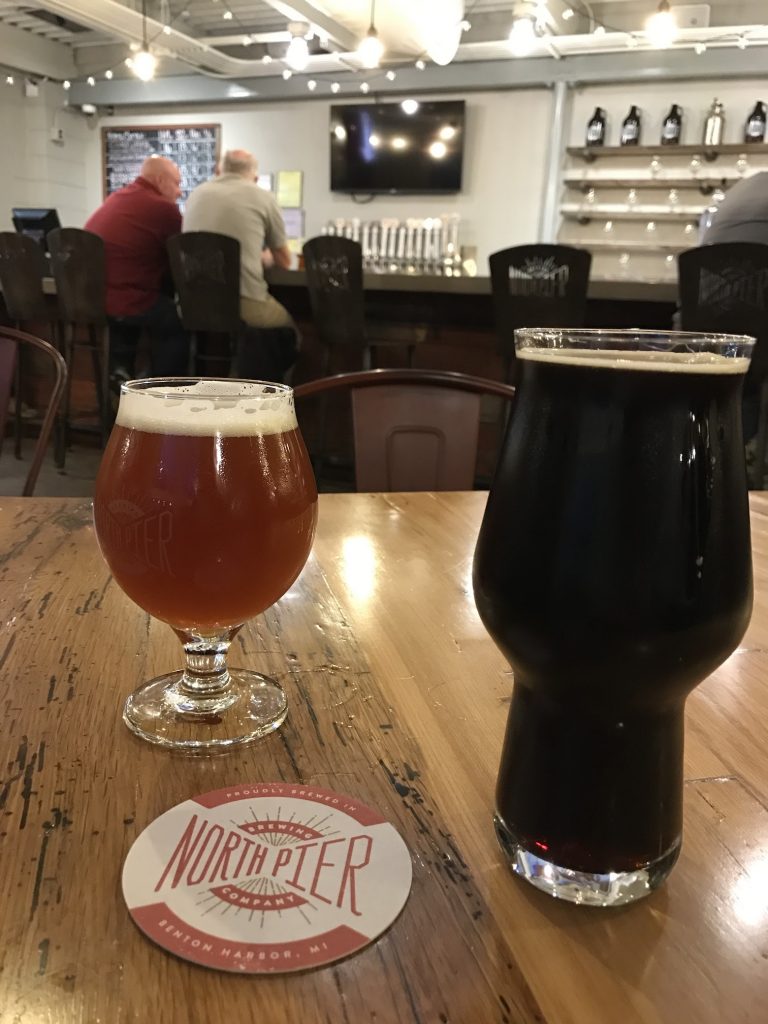 After a full day of exploring, you will appreciate the laid back, quiet atmosphere here, and if you are lucky, someone will have brought a really cute puppy for you to cuddle with while you are there!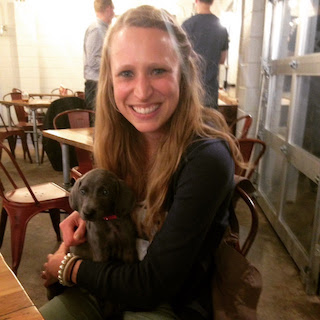 On You're Next Trip to Michigan
According to Pure Michigan's website, the Great Lakes State is now fifth in the nation in the number of breweries, microbreweries, and brewpubs. The Michigan Brewers Guild currently lists 272 breweries, and this number seems to continue to climb. Now that you've gotten a taste of the beauty of this state in the fall, its time to begin planning your winter return for more beer adventures!
---