No Comments
The Bruery | Weekday Stout Lineup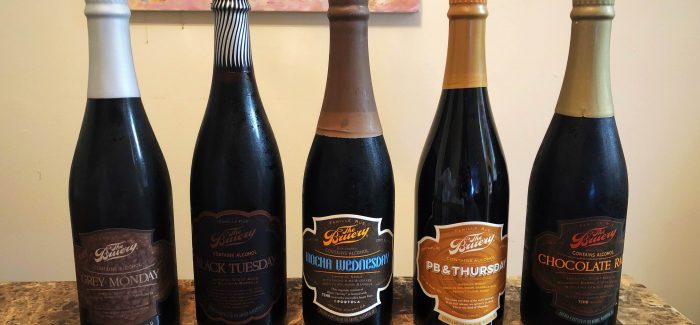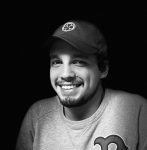 Exclusive…Brues? I love lists. With craft beer, it has never been any different. When I first started drinking craft, The Bruery's Black Tuesday quickly came onto my radar. With its exclusive nature, only being available once a year on the final Tuesday in October, I made it a mission to get a hold of one. I quickly discovered that not only was there Black Tuesday, but The Bruery brewed arguably even more exclusive Stout releases for other days of the week, using Black Tuesday as the base beer and then adding different adjuncts to each other day. These other variants were available to Reserve Society Members only.
A Bruery Stout a Day
This "Weekday Lineup" as it became known, was individually made up of Grey Monday, Black Tuesday, Mocha Wednesday, PB & Thursday and Chocolate Rain. I recently was able to obtain all five of these from various years and got the pleasure of trying them all side by side. I'll showcase each one individually, and what you can expect from each one.
Grey Monday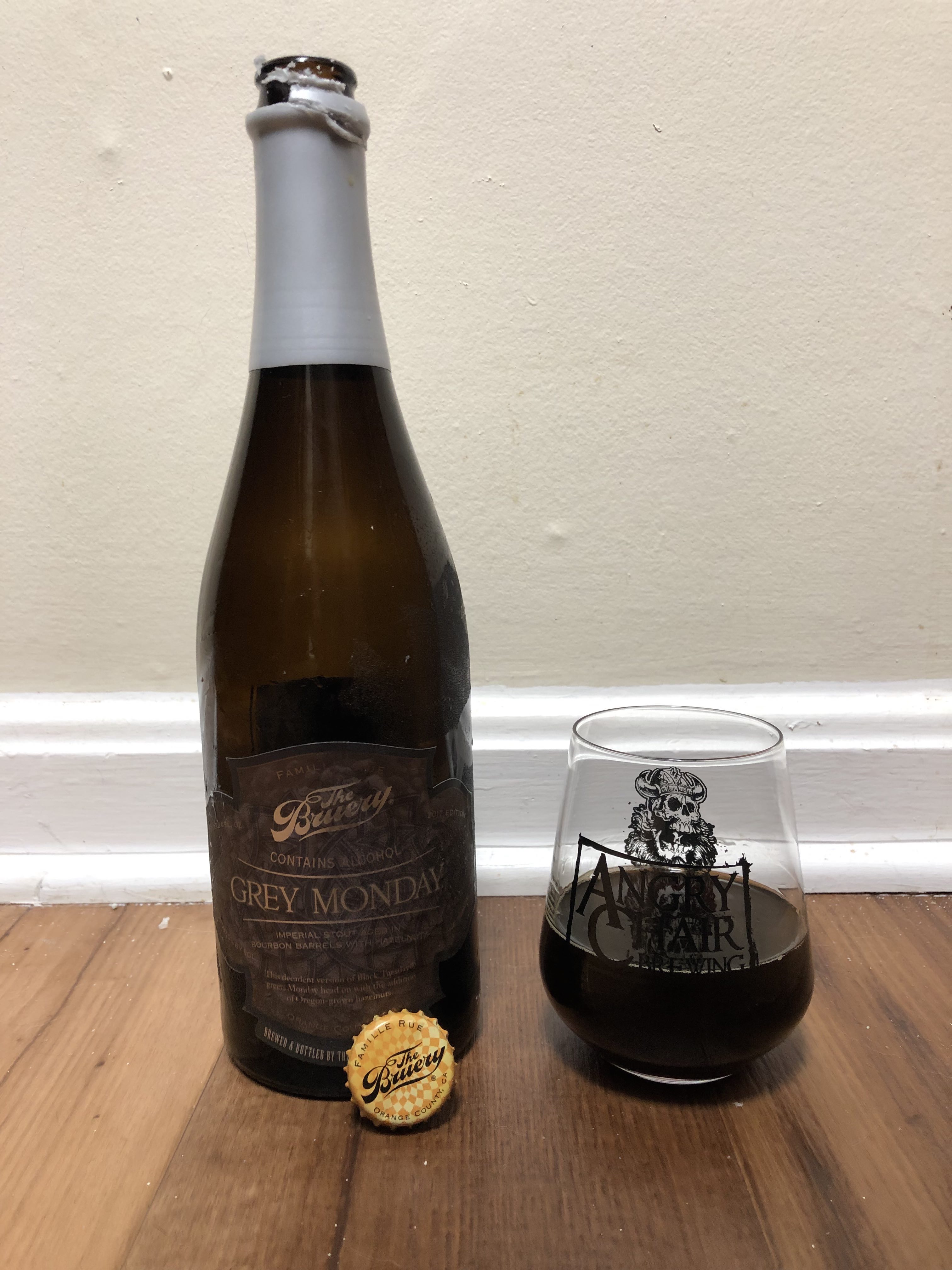 Naturally, Monday had to come first. This first variant was the 2017 Grey Monday, and was brewed with Oregon-grown hazelnuts. I made sure to get a more recent release of this beer, as any type of nut is an adjunct often known to have its presence fall off quickly. The ABV on this year's release rang in at an alarming 20.0%, and is meant to be enjoyed slowly like all Black Tuesday variants.
The pour is a dark brown with a distinct crimson hue. Hardly any head appears, but what does bubble up is a nice ivory color–thing and spaced out; quick to disappear. As was expected, this thing is BOOZY, with lots of dark fruit right away on the nose. As it warms, bourbon and oak come forth with some urgency. The booze is still overwhelming, but the subtly complex aromas that come peeking through that ethanol are pleasant, and chocolate in particular becomes gradually more prevalent.
In the flavors you get more of that powerful booziness, but it is not as overwhelming as the nose. Oak and bourbon ire noticeable, with that stinging alcohol quick to follow it up. As it warms, you get some nuttiness, but can't really pick out hazelnuts specifically. Hazelnuts are one of those nuts that can be potent in a beer, but even just a year bottle conditioning, high ABV can swallow up some of the original components.
The body on Grey Monday is thin, but with a syrupy feel and a low carbonation. Sharp, stinging booze is present throughout and makes for a hot finish. Closer to the liquor end of the spectrum than beer, honestly.
Overall, this is a monster of a beer with a huge booze presence that serves as the backbone for a subtly complex flavor profile of oak, bourbon and dark fruit. Expect some mild nuttiness as it warms as well.
Black Tuesday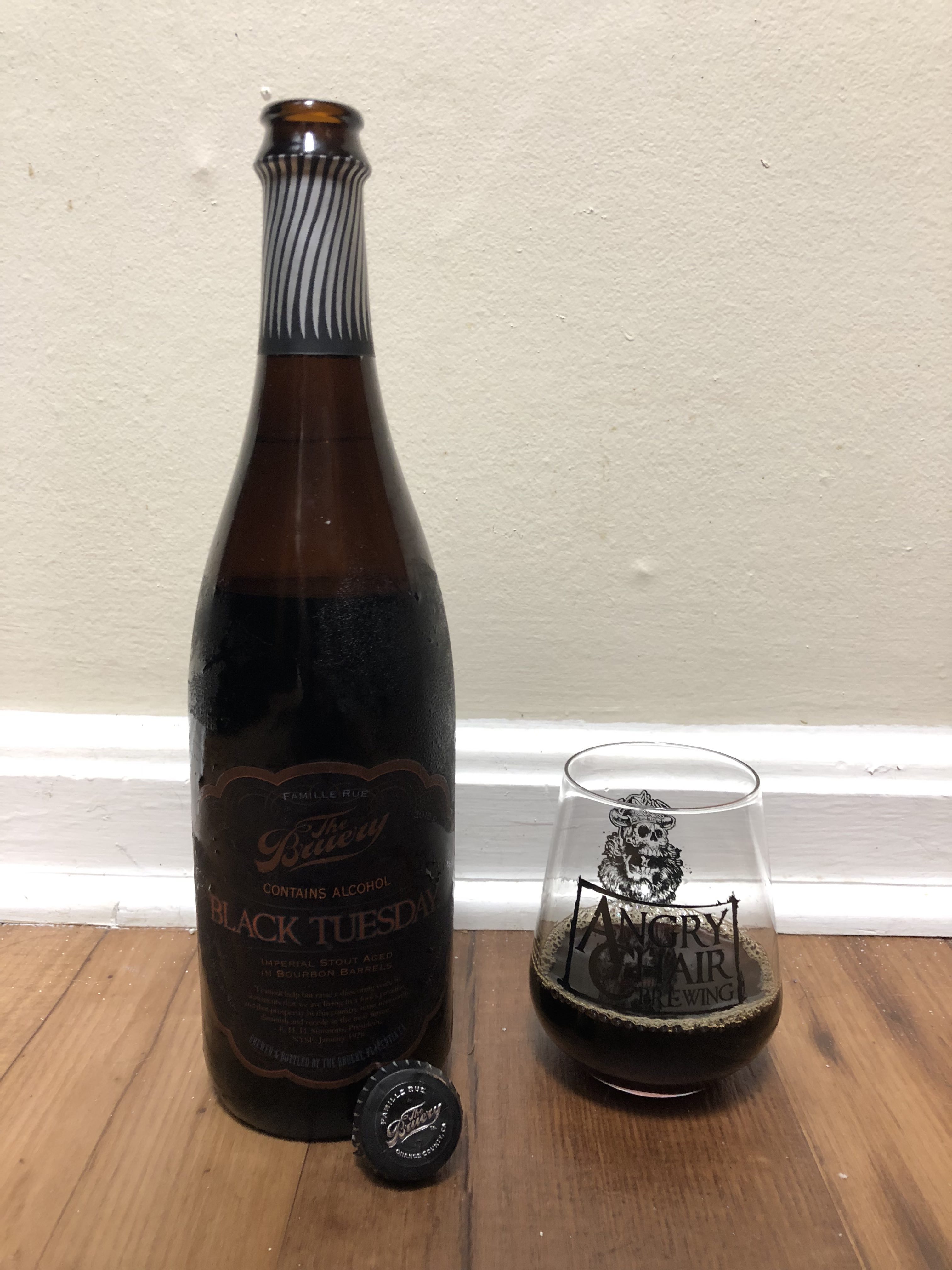 I've had the opportunity to try Black Tuesday a couple times prior to this, but this was my first time visiting the 2015 Vintage. At 19.9% ABV, it is one of the higher alcohol vintages of Black Tuesday. While this bottle was familiar in many ways to other years I've had of this beer, it was also distinct.
The pour on this was a familiar deep brown, with a crimson hue as it catches the light. A sweet nose, a difference when comparing to past years. Lots of dark fruits emerge and compliment notes of chocolate, caramel and hints of vanilla. The flavors also worked with the nose nicely, familiar caramel and dark fruit flavors, but a unique, roasty coffee quality to it as well. This unexpected flavor worked nicely to bring out hidden flavors from the bourbon barrels. It's got a smooth, warming, boozy finish.
Overall, this is a nice balance of potent booze, caramel, dark fruit, and hints of chocolate. The brew has a coffee quality as well that is unique to this vintage of Black Tuesday, and it finishes warm, smooth and boozy.
Mocha Wednesday
This particular bottle of Mocha Wednesday was the 2015 release, noted as being a "perfect follow-up" to Tuesday. Utilizing cacao nibs from from San Francisco-based TCHO, and roasted coffee from Portola Coffee Lab in Orange County, California, this locally sourced Black Tuesday variant had me very excited. The ABV on this 2015 bottle clocked in at 18.6%.
The pour is dark, with a subtle crimson hue just like the others. A thin, frothy head bubbles up on the pour, but it has a good look and the head dissipates quickly with no lace left behind. Loads of coffee on the nose with subtle but not unpleasant notes of green pepper. Many more experienced beer drinkers know green pepper to cause oxidation as side effect in stouts that have coffee in them. This is not abnormal, but not typically preferred. Those subtle hints of oxidation don't take away from anything, though, with a predominance of espresso, baker's chocolate, charred oak barrel and bourbon aromas.
Rich notes of chocolate and coffee hit first, with less green pepper than on the nose. Some charred oak character emerges as the beer warms and helps to compliment that bourbon flavor. There's a really nice balance between the base beer, the barrel and the adjuncts. Nice medium weight to the beer, with low carbonation and a warm, boozy finish; mildly viscous and not overly syrupy.
Overall, only mild oxidation on this bottle. Rich chocolate and roasty coffee notes complement a charred oak and bourbon character that strengthens as it warms.
PB & Thursday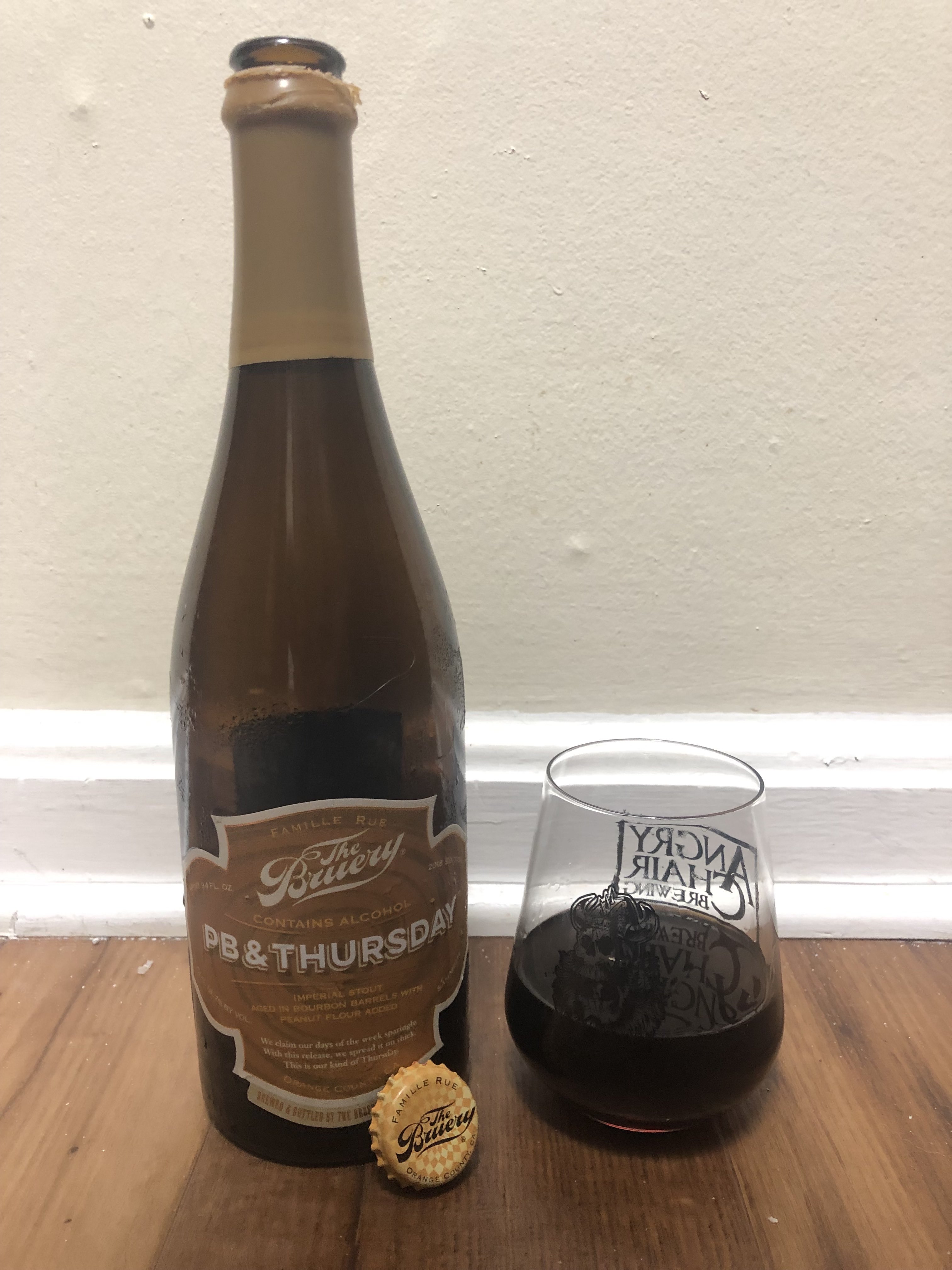 I am a big peanut butter fan, and am always on the look for beers that have any sort of peanut product in them. I sought out the 2018 release of this beer in order to get it as fresh as possible. Some forums had mentioned some issues with earlier batches, and I wanted to ensure I was still getting loads of the peanut flavor. To impart a distinct nutty flavor, this beer utilizes peanut flour into the base recipe. The 2018 bottle is 19.7% ABV.
PB & Thursday has the same dark crimson-hued brown pour as the other bottles. There's hardly any head, but what comes out is ivory in color and quickly dissipating, leaving the beer with a flat surface. Definitely a nutty quality quickly emerges on the nose. Once poured into the glass and allowed space and time to breathe, it becomes more complex. The booze and dark fruit are potent but keep a pretty balanced nose overall. Not too much going on, just a simple, pleasant aroma.
Again, the peanut flavor is present, but a predominance of dark fruit and bourbon characterizes the flavors. I expected a more prominent peanut butter flavor, but it's not necessary with this beer. However, as it warms and settles, that peanutty flavor really sticks with you, and a surprising complexity of sweet coffee and vanilla emerges as well. There's a nice, warming mouthfeel, and it's not overly boozy, with a low carbonation and dangerously smooth finish.
Overall, this is a variant that only improves as it warms. Predominant peanut on the nose and in the finish, with complimentary elements of dark fruit, oak and bourbon with a smooth finish.
Chocolate Rain
The only of the Black Tuesday variants without a day of the week title, this one is also perhaps the most sought after. For this share I got a hold of the 2015 release, which holds an ABV of 18.4% and therefore the mildest of the bunch.
According to the Bruery itself, Chocolate Rain was "originally created as a single cask conditioned version of our Black Tuesday imperial stout for one of our release parties several years ago. The base beer is a select few bourbon barrels of our imperial stout that can range anywhere from 16-21% in alcohol. Once those barrels are chosen, we spend an entire day slicing fresh vanilla beans to add to those barrels along with cacao nibs that are sourced by San Francisco-based TCHO chocolatier. After a few months soaking up those rich, dessert-like flavors, the barrels are blended to taste and the result is one of the most decadent beers that we make."
Like with all the other "Weekday" brews, Chocolate Rain pours dark brown with crimson hues. Small amounts of ivory make up the head that dissipates quickly and settles into the beer. Dark fruit and booze are present right away on the nose, with hints of roasty coffee and vanilla. There is a lot of potent ethanol, with expected notes of oak and char from the Black Tuesday base. Although there's that high gravity potency, even after three years of bottle conditioning, both adjuncts are still very much present.
The vanilla and chocolate have held up so well in the flavors. If you have a bottle of this from 2015, now is the time to open it. Chocolate Rain is predominantly sweet, with complementary hints of dark fruit and subtle roasty coffee. Baker's chocolate bitterness contrasts a sweet vanilla bean finish. This is smooth, had has the softest mouthfeel of all the other variants I tried. it's warm, boozy, with low carbonation that is still present but not at all distracting.
Overall, the adjuncts here are holding up really well. A beer with rich notes of chocolate and vanilla bean cut through the familiar flavors of dark fruit and caramel.
Time for the Weekend??
All in all, this was a lot of fun. But this is definitely a bottle share for at least four people, as the ABV on these beers is just too high. Even with varying years on these beers, all the bottles have held up incredibly well, and prove that high-gravity beers can have just as much character as any other and don't always get swallowed up by a boozy character. Just for fun, here is my order of preference for the five beers from last night.
Chocolate Rain
Mocha Wednesday
PB & Thursday
Black Tuesday
Grey Monday
Cheers, and if you choose to partake in a similar lineup, drink responsibly!
---