No Comments
Event Recap | 7th Annual Cider Summit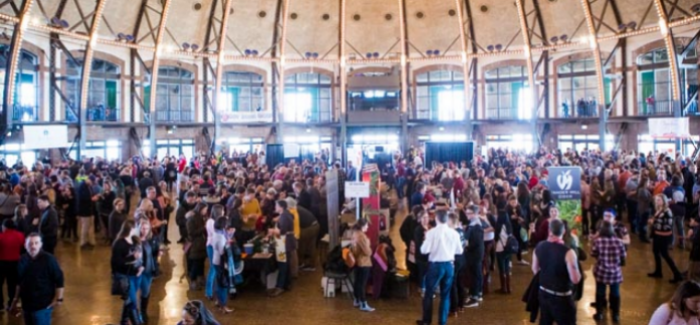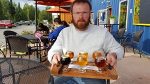 This past weekend, Navy Pier's Aon Grand Ballroom once again hosted the 7th Annual Cider Summit in Chicago, welcoming thousands of cider enthusiasts from around the Midwest as they enjoyed over 150 ciders from producers around the country and the world.
If you are new to The Cider industry, like me, this was a great opportunity to try all styles of ciders and talk directly to the producers themselves. I found that many of the producers on-site were more than eager to talk about their production methods and cider styles. I walked away with much more knowledge and appreciation of this growing industry.
The Aon Grand Ballroom was a great space for the event; allowing the producers to spread out on the first. The second floor also allows for plenty of room for event attendees to move around.
Many of the producers were also offering a flight of all of the ciders that they brought for one ticket. This was a great opportunity to try small pours of everything; so, you don't feel like you missed out on some of the specialty ciders that were brought by the producers. This was something I took advantage of quite often; I really enjoy the flexibility that this offers.
The Cideries & Meaderies
This producer from Valparaiso Indiana brought an excellent caramel apple cider to the event. I had the opportunity to sample this before it t out and was very impressed. I went in thinking it would be extremely sleep sweet but was impressed that it was not as I anticipated. The caramel apple flavors were very pronounced without the overly sugary aftertaste. It was extremely well done and one of my favorite specialty cider of the event.
This Middlebury, Vermont producer of the famous woodchuck ciders came out with one of the most impressive offerings. The woodchuck Belgian white cider utilized Belgian yeast most often found in belgian-style white Ales. The dry cider as a base of really brought forth the citrus flavors of the yeast. Cloudy and bursting with flavors of orange, coriander, and a touch of lemon, this was one of my favorite ciders of the event.
If it ever crossed your mind that coffee and hard cider do not go together, I invite you to try totally roasted coffee cider by Vander Mill out of Grand Rapids Michigan. A dry, crisp cider at first taste slowly transitions to a subtle signature black coffee flavor at the end. The coffee flavors do not overpower, as I expected; and the subtleness really allows this to stand out on it's own.
This Denver, Colorado producer brought some specialty ciders that really stood out. If you're a fan of salted cucumbers, you would be very impressed with a salted cucumber cider. Even though I am not a fan of the vegetable, the flavors from the sea salt and cucumber juice were very spot on; they're also subtle enough for it not to be overly salty or possess the overly bland tasteless flavors I think of when I think of cucumbers. I enjoyed it much more than I thought I would and was the biggest surprise of the event. Their Chile Guava cider, infused with guajillo chiles, was a delicious combination of sweet guava with a touch of heat at the end.
I came into this Festival a fan of the classic dry cider style, and this Mineral Point Wisconsin producer did not disappoint with their interpretation. Their classic dry cider is just as you expect; very dry. It allows you to pick up the classic apple flavor from the tannis of the 5 different apple types used to produce this cider without all the sugar sweetness.
Random Encounters
Mesh and Bone Imports from Chicago specializes in liquors from around the world that I would guess most people have never heard of. They had a great spirit for tasting called Arraku, which is a Sri Lankan spirit made out of coconut flower sap.
Tig Snacks set up a tasting of their new, protein packed, bars made with chickpeas, lentils and wild rice. Their pizza flavor was a standout.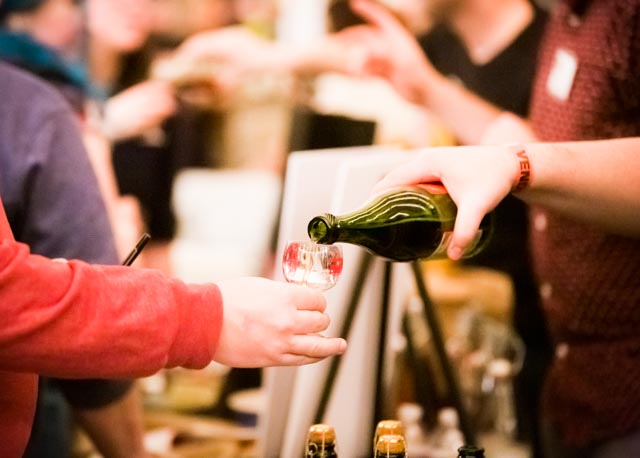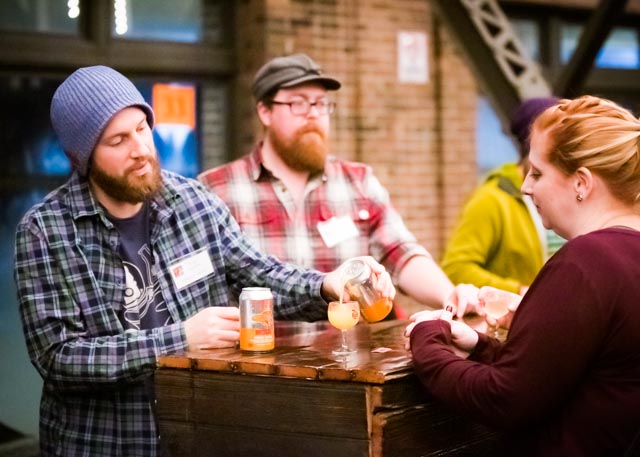 All images courtesy of Solstice PR//Goshia Photography.
---