No Comments
Brewery Showcase | Temperance Beer Co.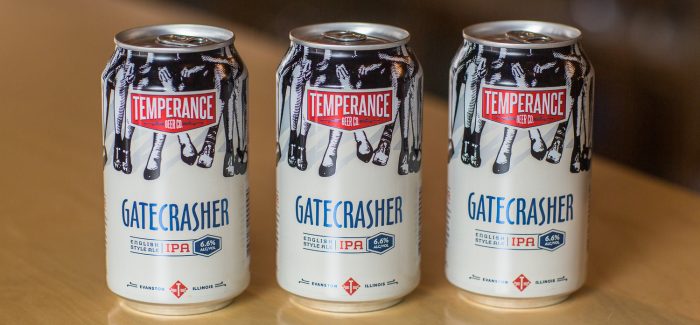 Who better to build a craft brewery from the ground-up than a former architect? Josh Gilbert, born and raised in Evanston, IL (a northern suburb of Chicago), left the world of architecture and founded Temperance Beer Company in 2013, the town's first brewery since Prohibition. Three years later, the brewery can best be summed up with one word — balance. Balance in beer. Balance in approach. Balance in philosophy.
Gilbert designed the physical layout of Temperance Beer Co, but despite his passion for beer and homebrewing, he understood he needed someone with large-scale brewing experience. He turned to another person who similarly changed career paths prior to entering the world of brewing, Claudia Jendron. The former marine biologist had been job hunting when a friend led her to job at Goose Island — as a receptionist. By 2012 she was a Goose Island brewer, and then in 2013, the brewmaster at Temperance. She explained, "I had homebrewed with friends before, but Goose taught me how to scale it up to a professional level… it mainly boiled down to me learning how to brew quality beer. No matter what style it was.  I was lucky to have so many experienced brewers as my teachers."  Much like Temperance, Jendron started on the ground floor, and then quickly excelled.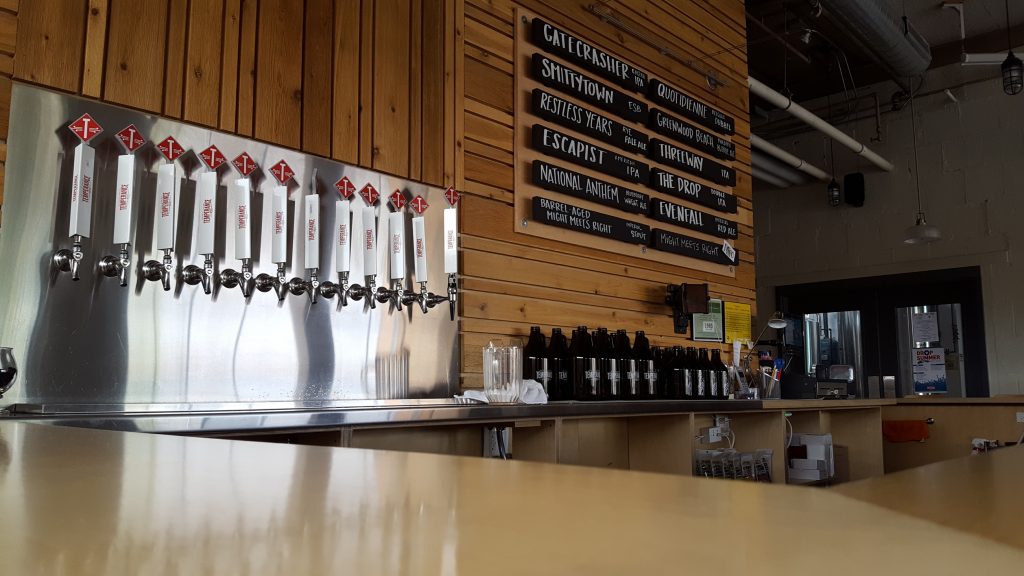 The taproom list reads like a United Nations meeting — England, Belgium, Germany, and America all represented by their malty, hoppy, yeasty minions. No wars here, though. It's peace through brewing balance — red ales, ryes, IPAs, sours, fruit-forward beer, and easy-drinking pils. However, it's the balance found within each brewing recipe that makes Temperance Beer Co. so successful. For instance, the new special release, Drop DIPA possesses abundant hops, but the flavor profile is such that it is almost tough to notice; it's so easy-drinking that it's dangerous (and awesome).
The brewing philosophy is simple at Temperance Beer Co. If they like it, they brew it. Emily Kwasny, brewery operations manager, explains, "We want beers you can have a couple of. Not necessarily session, but we want to be able to drink our beer and enjoy it." Additionally, each Temperance beer comes with a story, a feeling. For instance, Greenwood Beach Blonde Ale (with Pineapple):
Swimsuits on fences. Chances taken. Summer belongs to the carefree and the courageous…It's a beer for the opportunities you don't pass up.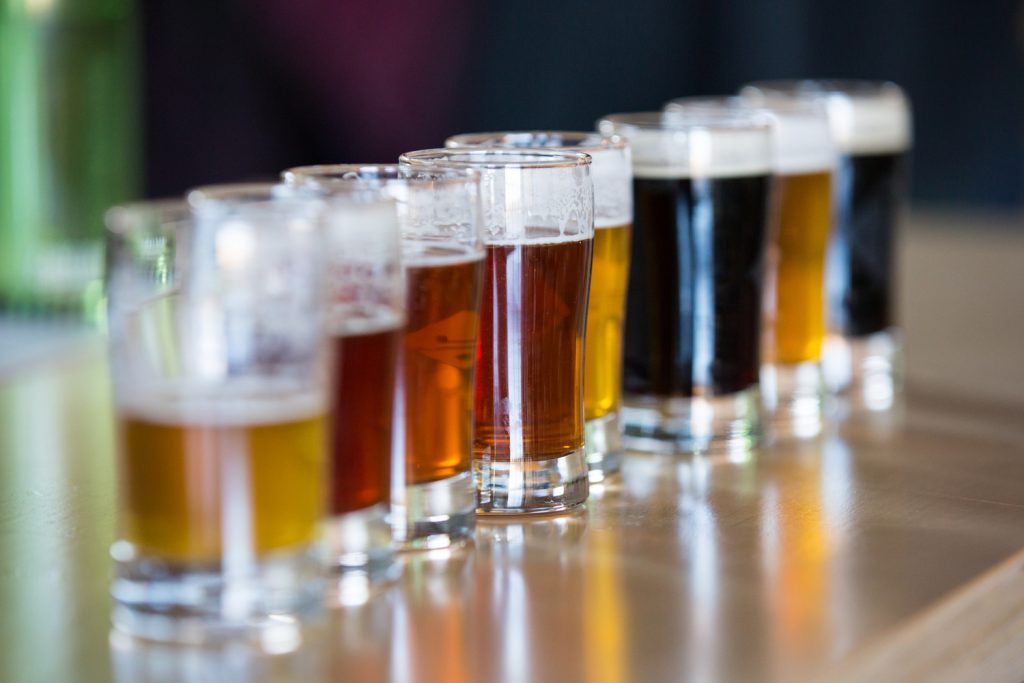 It doesn't mean Temperance Beer. Co can't be a bit experimental, too. Indeed, they won the bronze at the 2014 Festival of Barrel Aged Beers (FoBAB) for the experimental category with Boulevardier Barrel-Aged Might Meets Right Imperial Stout. But, most of the time, Claudia's goal is to "brew beers that are accessible to anyone." She added,
"I really just hope that when people drink my beers, they want more because they are balanced and non-overpowering."
And when July 4th arrives, patrons will enjoy a demonstration of that balance with the Temperance Beer National Anthem Blueberry Wheat. Kwasny commented, "We use real fruit in all our fruit beer. We tend to do a lot of them, but it's not like a syrup or sugary taste… the fruit compliments it. It's an accompaniment." And soon, a blueberry sour, aged in wine barrels for the last two years, will be released. Not too sour. Not too sweet. Just right. Balance.
Temperance Beer Co is a microbrewery. Thus no cocktails or guest taps are served. Nonetheless, the taproom is regularly packed, evidence that the beer is good. In fact, it's real good. But, it also means the staff works hard. To manage a taproom, can products, attend festivals, and otherwise keep Temperance Beer. Co running, requires an "all hands on deck" approach. That determination has allowed Temperance Beer Co. to be sold in eight Chicago area counties (with a combined populace of roughly eight million people). That's a lot of beer to make for a baseball-lineup sized staff. Yet, they do it!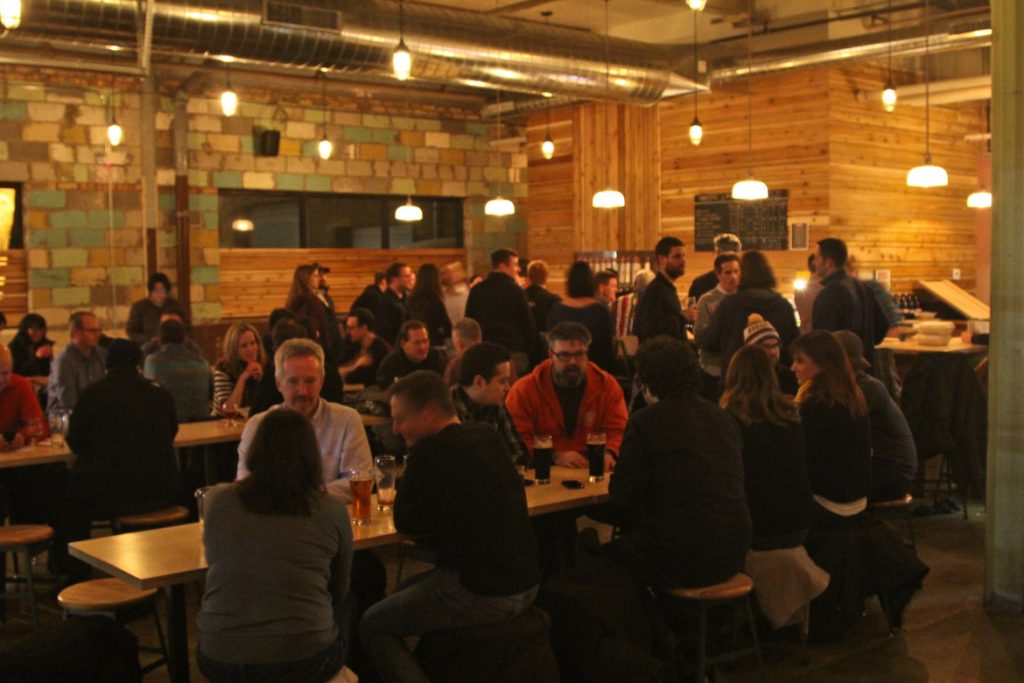 That hard work is balanced by a incredibly fun atmosphere, both in how they interact with each other, but also with their local clientele. They have a great patio seating area, host bags tournaments, conduct monthly yoga classes (with proceeds going to a local charity), hold private events, and….have a circus night. Yep..aerialists and acrobats while you drink. Cool, huh?
The fun taproom atmosphere stems from a dedication to community. They may distribute, but Temperance Beer Co. loves its hometown of Evanston, including its most famous residents at nearby Northwestern University. Kwasny notes,  "We've sold and donated beer for events on campus, hosted school related events at the tap room, and get a good number of people from the University in the tap room as regular customers." Lastly, they have partnerships with local food places that bring their food to the taproom. Local helping local.
Hard work balanced by play. Distribution balanced by a dedication to community. Brewing profiles and recipes that exude balance. It was balance that served as the foundation for a brewery, and now that brewery's success is soaring sky high.
---