No Comments
Kiitos Brewing | The Tangerine Dream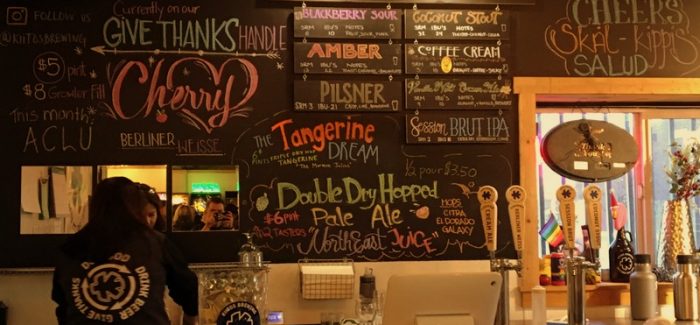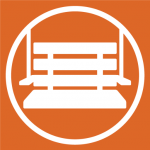 Breweries across the nation have entered an epoch of mass experimentation. Classic Lagers have given way to the Haze Craze, and every next head brewer is trying to out-do the last. While these pioneers have been a driving force in expanding our perceptions about what a beer can be, Utah continues to lag. However, while most of us are busy trying to make sense of Utah's alcohol legislation, Kiitos Brewing continues to keep pace with industry leaders.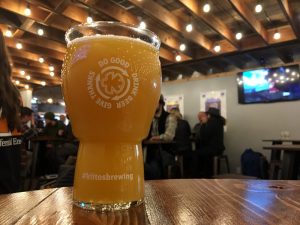 ABV 4%
I stopped by the Kiitos Brewing taproom in Salt Lake City to try one of their new such experiments called The Tangerine Dream.  Labelled as "The Mormon Julius," this triple dry-hop IPA ignites a firestorm that blasts your taste buds in to the stratosphere. The nose is hop-forward, but each sip is like a tangerine juice box exploding in your gullet. The mouthfeel is a dense and creamy assault on your citrus receptors. It serves as a stark reminder that Utah's craft beer scene is strong and resilient. Fighting against the grain of monolithic macro-breweries, Kiitos Brewing is rallying back in the tenth round, trudging forward after being battered and bruised for the previous nine.
The Tangerine Dream was simply delicious and seemingly filled a void that had been growing in me as of late. In Utah, we are trying to make adjustments to the liquor laws. More specifically, we would like to see high-point beer more widely accessible. With how much frustration has surrounded that legislative action, it seems like there hasn't been a lot happening in the local beer scene that excites me. Though, that may be purely anecdotal. The Tangerine Dream brought that excitement back, and I can't wait to see what experiments they come up with next.
---