No Comments
4 Noses Brewing Company | 'Bout Effin' Time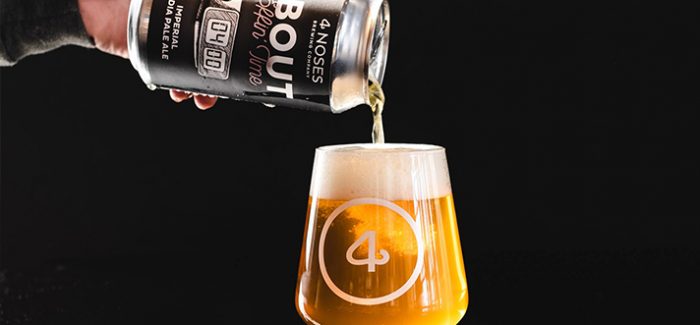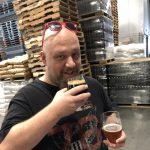 So many apostrophes. With all the hub-bubbin' about 4 Noses new Boulder taproom and sour barrel-aging facility, one of the Broomfield-based brewery's newest creations might have been a bit lost in in the shuffle.
'Bout Effin' Time is 4 Noses' first Imperial IPA, released at the end of March this year. For those who love hops and would enjoy a callback to the pre-sour-crazy days of hoppy beer's heydey, this is a can to try and get  your nose in.
At a glance, the brewery's creations–from its core lineup, to its "Whimsy" series, to its experimental brews–might seem gimmicky. But the reality is, 4 Noses has never been one to give into gimmicks or fads. That's led to some incredible success.
"When we're brainstorming, we usually try to focus on beer styles that we're interested in and what we think our folks will be excited to try. We like to avoid letting trends or fads determine what goes in the kettle, leaving it as a space for experimental recipes our brewers are passionate to test out and subsequently drink. Thankfully we've had a lot of freedom over the years to do this experimentation, and we think that's led to a lot of our success today," said Stacey McMahan, marketing manager for 4 Noses.
I am personally not a master beer reviewer–which admittedly, is an odd thing to say for a person who writes about beer. I admire the folks who are skilled in this craft and take the time to talk in great detail about things like the sexy lacing the beer foam makes around the edge of a pint glass. What I will say about this beer, is the slightly sweet and hoppy smell of it–which I could smell all day–lets you know exactly what you're getting into when you take a drink.
'Bout Effin' Time is incredibly hoppy, but it's also amazingly well-balanced. It's just sweet enough and just malty enough to keep the bitterness and piney dankness at bay. It reminds me of the huge-hop beers that got me hooked on craft beer back in the day, like Avery's Maharaja. It's too sweet to be West-Coast, but doesn't spill over into hazy/juicy territory either.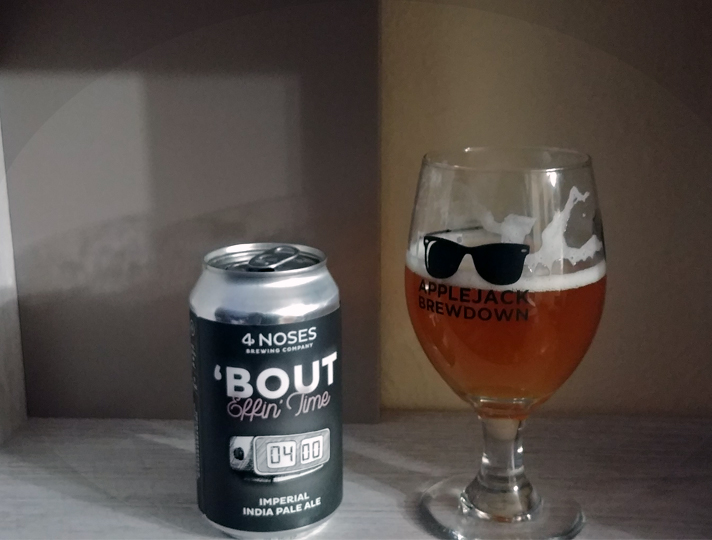 "We really like to focus on keeping our IPA malt bills simple and tasty to allow the late hop additions to really shine. For 'Bout Effin' Time, we rely heavily on the flavor and body contributions from malted oats to provide balance without contributing a linger or cloying sweetness. We also like to add the vast majority of hops towards the end of boil or after "flame out," to contribute all of the beautiful flavors and aromas that we get from the Pacific Northwest hops. A massive dry hopping regiment of Mosaic is one of my personal favorite parts of this beer as it fills your nose with aromas of tropical fruit, citrus and light pine which makes the palate much brighter," said Tommy Bibliowicz, co-owner and brewmaster at 4 Noses.
One person's idea of "sessionable" is another person's hangover. But, at 8.5% ABV, 'Bout Effin' Time hits the sweet spot for many people–the spot where you get the powerful, rich flavor of a high-ABV beer without the double-digit ABVs that can lead to ill-advised online shopping and VERY ill-advised messages to your ex.
In a beer world that seems to be more dominated by experimental brews than solid, core offerings, 4 Noses (who excels at both their core offerings and their experimental one-off brews) has opted to get back to basics and finally dive into the world of Imperial IPAs.
"We have been playing around with several IPAs for a while and this variation is by far my favorite. It leans more on the drinkable side of the style and is a really pleasant experience.  I would never call an Imperial IPA sessionable, but…" Bibliowicz trailed off, presumably to crack open another can of 'Bout Effin' Time.
Which is precisely what I'm 'bout to do. If you see this beer in your local store and enjoy a hoppy effin' good time, then be sure to pick up a four-pack.
Feature image from 4 Noses Brewing Company on Facebook
---