No Comments
2019 Avery Invitational Pour List Preview & Ticket Giveaway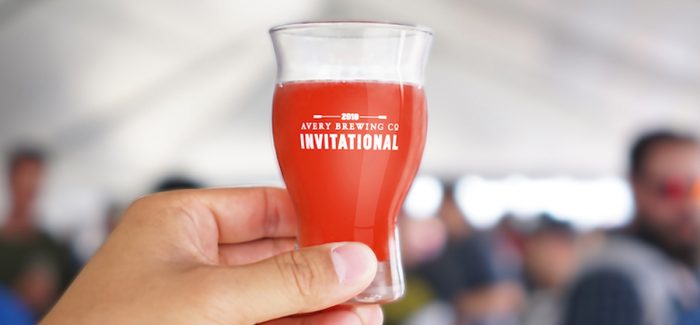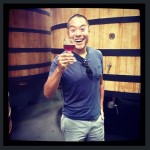 The Avery Brewing Invitational & Anniversary, which now enters its second year, is primed for an even bigger celebration than its debut. Armed with an all-star cast of breweries, and plans to unleash a myriad of vintages, this year's festival aims to make a statement in celebration of its 26th anniversary.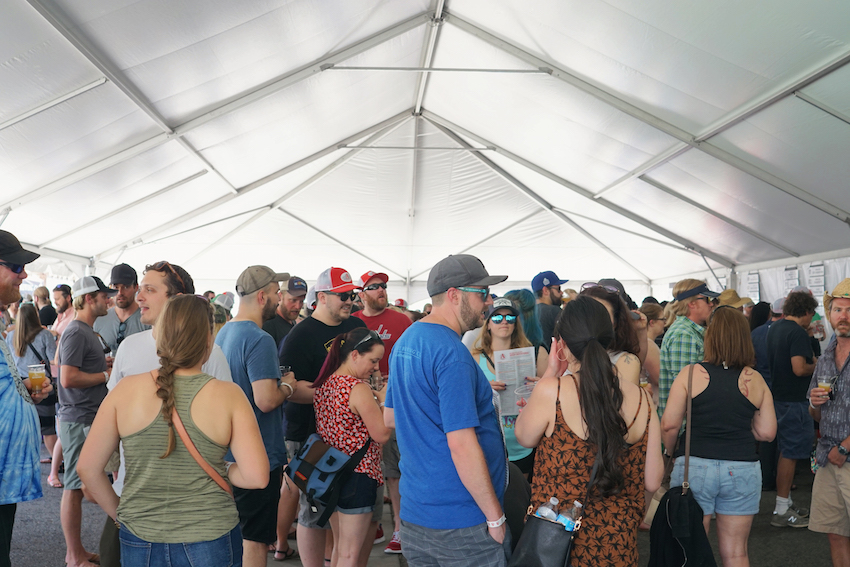 This year's Avery Brewing Invitational & Anniversary will take place on Saturday, June 8 from 12-5pm. Attendance includes:
– 2 oz pours of 200 beers from more than 70 breweries hailing from Colorado and around the U.S.
– Timed Barrel Tappings from the Avery Wood Cellar
– Specialty Avery beers from Adam Avery's Cellar
– Local live music on two different stages
– Beer Centric Seminars from:
Travis Rupp- Innovation & Wood Cellar Manager, Avery Brewing Co
Colin Quinn- Special Projects Brewer, Avery Brewing Co
Patrick Combs- Production Manager & Advanced Cicerone, Cerebral Brewing
Events Manager, Rachael Burrell teased back in April that attendees could expect legacy brands like Mephistopheles' Stout, Samael's, The Beast and vintages of Rumpkin, Pumpkin, Tweak and Uncle Jacob's, as well as a host of one-off gold foils. And we now have a first look at what that pour list will likely look like.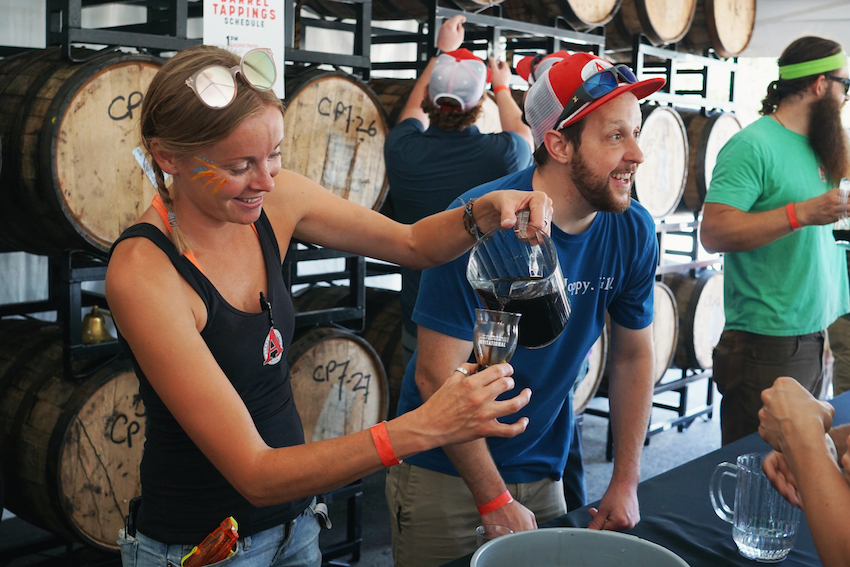 This year's pour list brings even more star power not just from participating breweries but also in the beers they'll be bringing. Beginning with the host brewery, the Invitation will give attendees their first sneak peak of the trendy upcoming release of Rocky Mountain Rose. We're also excited to try limited releases such as Dulce Vida, a pistachio, vanilla, coffee, bourbon barrel-aged Stout, Jesse's Boy, a turmeric, tarragon, lemongrass Sour, and Bour-bon-bon. When it comes to vintages, Avery will unleash the return of everything from 2012 Salvation, to 2014 Beast and Samaels, 2015 Mephistopheles and Pumpkyn, 2016 Uncle Jacobs and Tweak, and 2017 Rumpkin.
From the out-of-towner breweries, this is one of Colorado's first opportunity to try Alvarado Street Brewery's hop-forward beers on draft. Creature Comforts makes their rare non-GABF appearance with a Jester King Collab Farmhouse Lager, an Imperial Stout with toasted coconut and dulce de leche and a Double IPA collaboration with the aforementioned Alvarado St., Portland's Culmination Brewing will bring a pair of Farmhouse Ales including a collab with Ale Apothecary aged in cabernet barrels. Pittsburgh's Dancing Gnome will be a can't miss bringing their hoppy lineup. Fremont Brewing will bring the house with Barrel-Aged Coffee Dark Star, B-Bomb, and Sky Kraken. Chicago's Half Acre is bring a trio of heavy hitters including Daisy Cutter, Bourbon Barrel Aged Big Hugs, a barrel-aged Imperial Coffee Stout, and Beer Hates Astronauts IPA. Be sure to try Cowboy Breakfast from Prairie Artisan Ales, an Imperial Stout Aged in Bourbon Barrels with Maple, Cacao Nibs and Vanilla, Rowley Farmhouse Ales is back again this year with a trio of barrel-aged Saisons and Southern Gentleman, brewed in honor of John Rowley's late uncle Lee Rowley. It boast a Golden Sour base which substituted organic white grits for wheat, it was then aged in Gruet Chardonnay barriques for 15 months and refermented with organic ripe peaches from Hotchkiss, CO. Smog City will rock the BIL vibes with their Bourbon O.E. bourbon barrel-aged Barleywine. Under most interesting beers we're looking forward to trying, Surly's Electric Sombrero of Death, a tequila barrel-aged double dry-hoped Mexican-style Lager. And Trillium is back for another year with their Double Dry-Hopped Congress Street and Citra Cutting Tiles and Louisiana's Urban South continues to make a big Denver push with a Gose and IPA.
As for the locals, Amalgam will pour their beautiful Landscapes Orchard blend, a Golden Sour blend refermented with peaches and nectarines. Atom Brewing's sours are always worth checking out. Bierstadt's Slow Pour Pils is of course the perfect crusher. Burns Family Artisan Ales continues to crank out killer stuff so we're excited for their Old Ale aged in High West bourbon barrels as well as their triple dry-hopped hazy IPA made in collaboration with WeldWerks. Cannonball Creek will be back with their award winning Trump Hands and Netflix and Pils. We can't wait to try Cellar West's Sapience Reserve, an oak-aged Bier de Mars with Brett, double dry-hopped with Citra and finished on pineapples. Cerebral's Sugar Pie, an Imperial Oatmeal Stout aged in maple syrup bourbon barrels with pecans, vanilla and cinnamon is sure to be a pastryboi's delight. For those who haven't had Finkle & Garf's Rum Barrel-Aged Milk Stout, now is the perfect opportunity to try this gem. Liquid Mechanics has become one of the Colorado elite when it comes to barrel-aged stouts so we're excited to try their Coffee Anarchy Project blend. OMF's Fixed Blade is a phenomenal Laws Whiskey barrel-aged Barleywine. Outer Range will be on hand with a pair of hazy hop gems. We're always excited to see what's new from Primitive's spontaneous projects but most excited for Petit Bon Vivant. Upslope's Batch 1000 is a sleeper for Colorado beer of the year, and this might be one of your last chances to try it. Verboten has a trio of pastry inspired beers worth trying, and we highly recommend exploring Wibby's new RIPL rotating IPL series offering.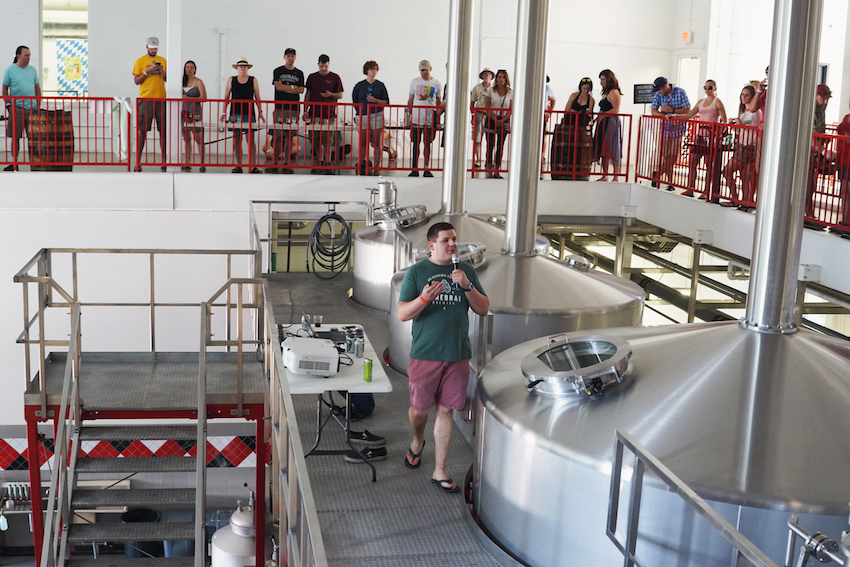 Proceeds from this year's event will benefit Resource Central, an innovative nonprofit dedicated to helping people save water, reduce waste, and conserve energy. With over 40 years of experience, its programs have helped more than 500,000 people conserve natural resources. Learn more at ResourceCentral.org
And now your first look at the tentative brewery lineup for this year's Avery Brewing Invitational & Anniversary. Keep in mind, participating breweries are subject to change.
We want to send one lucky PorchDrinking newsletter subscriber to the fest! Just email [email protected] with your name and Avery Invitational in the subject line for a chance to enter.
Without further ado, here's the tentative pour list for the 2019 Avery Brewing Invitational & Anniversary:
| BREWERY | BEER NAME | BEER DESCRIPTION | BEER ABV | | | | | | | | | | | | | | | | | |
| --- | --- | --- | --- | --- | --- | --- | --- | --- | --- | --- | --- | --- | --- | --- | --- | --- | --- | --- | --- | --- |
| 105 West Brewing Company | Jelly the Elder | A sticky malt forward tropical citrus hoppy IIPA 144ibus | 10.90% | | | | | | | | | | | | | | | | | |
| 105 West Brewing Company | Bear Spray | A Dry Brut Russian Imperial Stout | 12.7 | | | | | | | | | | | | | | | | | |
| 105 West Brewing Company | Apricot Saison | 2018 GABF Gold Specialty Saison | 6.3 | | | | | | | | | | | | | | | | | |
| Amalgam Brewing | Landscapes (Orchard Blend) | Golden Sour Blend Refermented on Red Globe Peaches and Ovation Nectarines. | 6% | | | | | | | | | | | | | | | | | |
| Alpine Beer Company | HFS | West Coast-style IPA featuring Mosaic, Citra & Simcoe hops! | 6.50% | | | | | | | | | | | | | | | | | |
| Alvarado Street Brewery | Contains No Juice | Hazy Double IPA | 8.50% | | | | | | | | | | | | | | | | | |
| Alvarado Street Brewery | Mai Tai PA | Flagship Tropical IPA | 6.60% | | | | | | | | | | | | | | | | | |
| Asher Brewing Company | Green Bullet IPA | Organic India Pale Ale | 7.00% | | | | | | | | | | | | | | | | | |
| Asher Brewing Company | Tree Hugger Amber | Organic Amber Ale | 6.00% | | | | | | | | | | | | | | | | | |
| Asher Brewing Company | Cafe Kolsch | Kolsch-style Ale infused with Organic Coffee | 5.00% | | | | | | | | | | | | | | | | | |
| Atom Brewing Co. | Old Blue | Golden Sour aged in used Bourbon Barrels | 7% | | | | | | | | | | | | | | | | | |
| Atom Brewing Co. | Hop Farm | Mixed culture, open fermented barrel aged ale with 8 hop additions; IBU: 45 | 7% | | | | | | | | | | | | | | | | | |
| Avery Brewing Company | White Rascal | | | | | | | | | | | | | | | | | | | |
| Avery Brewing Company | Grapefruit Shandy | | | | | | | | | | | | | | | | | | | |
| Avery Brewing Company | Brut IPA | | | | | | | | | | | | | | | | | | | |
| Avery Brewing Company | Hazyish | | | | | | | | | | | | | | | | | | | |
| Avery Brewing Company | Barrel-aged Trogdor | | 8.46% | | | | | | | | | | | | | | | | | |
| Avery Brewing Company | Rocky Mountain Rose- Sneak Peek! | | 4.40% | | | | | | | | | | | | | | | | | |
| Avery Brewing Company | Dulce Vida - | Pistachio-Vanilla-Coffee-Bourbon Barrel-Aged Imperial Stout | 16.80% | | | | | | | | | | | | | | | | | |
| Avery Brewing Company | Sarah's Spicy Sorpreso | Jalapeño and Agave Barrel-Aged Sour Ale | 6.80% | | | | | | | | | | | | | | | | | |
| Avery Brewing Company | You're Turning Violet, Violet: | Hazy IPA with fresh blueberry juice | 6.20% | | | | | | | | | | | | | | | | | |
| Avery Brewing Company | Quinntiki #1: Piñada (Blonde Demon Base) | | | | | | | | | | | | | | | | | | | |
| Avery Brewing Company | Fog on the Harbor | Navy Grog inspired Hazy IPA with grapefruit, lime, mint, and allspice | 10.20% | | | | | | | | | | | | | | | | | |
| Avery Brewing Company | Camino del Buey | Watermelon infused gose style beer | 4.20% | | | | | | | | | | | | | | | | | |
| Avery Brewing Company | Double Dry Hopped Maharaja | | 10.00% | | | | | | | | | | | | | | | | | |
| Avery Brewing Company | Jesse's Boy | Turmeric, Tarragon, Lemongrass Sour | 7.00% | | | | | | | | | | | | | | | | | |
| Avery Brewing Company | Khonsu | | | | | | | | | | | | | | | | | | | |
| Avery Brewing Company | Out of Bed | (Barrel Aged Stout with Coffee and Lactose) | 16.40% | | | | | | | | | | | | | | | | | |
| Avery Brewing Company | Bourbon- Barrel Aged Reverend | | 11.20% | | | | | | | | | | | | | | | | | |
| Avery Brewing Company | San Juan Sour | | | | | | | | | | | | | | | | | | | |
| Avery Brewing Company | Ask Again L8er- | Pineapple Basil Sour (Parry's collab) | 6.80% | | | | | | | | | | | | | | | | | |
| Avery Brewing Company | Dionysian - Thalia | | | | | | | | | | | | | | | | | | | |
| Avery Brewing Company | Promiscuus | | | | | | | | | | | | | | | | | | | |
| Avery Brewing Company | Nox Reposado | | | | | | | | | | | | | | | | | | | |
| Avery Brewing Company | Lunctis Viribus | | | | | | | | | | | | | | | | | | | |
| Avery Brewing Company | Fiel el Estilo | | | | | | | | | | | | | | | | | | | |
| Avery Brewing Company | Sandy Claws | | | | | | | | | | | | | | | | | | | |
| Avery Brewing Company | Islay | | | | | | | | | | | | | | | | | | | |
| Avery Brewing Company | Beast (2014) | | | | | | | | | | | | | | | | | | | |
| Avery Brewing Company | Mephistopheles (2015) | | | | | | | | | | | | | | | | | | | |
| Avery Brewing Company | Samaels (2014) | | | | | | | | | | | | | | | | | | | |
| Avery Brewing Company | Uncle Jacobs (2016) | | | | | | | | | | | | | | | | | | | |
| Avery Brewing Company | Tweak (2016) | | | | | | | | | | | | | | | | | | | |
| Avery Brewing Company | Rumpkin (2017) | | | | | | | | | | | | | | | | | | | |
| Avery Brewing Company | Pumpkyn (2015) | | | | | | | | | | | | | | | | | | | |
| Avery Brewing Company | Salvation (2012) | | | | | | | | | | | | | | | | | | | |
| Avery Brewing Company | Collaboration (2015) | | | | | | | | | | | | | | | | | | | |
| Avery Brewing Company | Czar (2015) | | | | | | | | | | | | | | | | | | | |
| Avery Brewing Company | Cucumber Hibiscus Sour | | | | | | | | | | | | | | | | | | | |
| Avery Brewing Company | Razzy Sour | | | | | | | | | | | | | | | | | | | |
| Avery Brewing Company | Vanilla Bean Stout | | | | | | | | | | | | | | | | | | | |
| Avery Barrel Tappings | 12 PM Vanilla Bean Stout | | | | | | | | | | | | | | | | | | | |
| Avery Barrel Tappings | 1 PM Double Barreled Maple Stout | | | | | | | | | | | | | | | | | | | |
| Avery Barrel Tappings | 2 PM Cucumber Hibiscus | | | | | | | | | | | | | | | | | | | |
| Avery Barrel Tappings | 3 PM Bour-bon-bon (Sneak peek!) | | | | | | | | | | | | | | | | | | | |
| Bagby Beer Company | Gotta pay the Pils | German-style pilsner; pronounced German hop aromas and flavors, with soft pilsner malt character to balance | 5.30% | | | | | | | | | | | | | | | | | |
| Bagby Beer Company | Goof Troop | American IPA; flavors of stone fruit, orange peel and pine resin are supported by biscuity malt and firm bitterness | 7.40% | | | | | | | | | | | | | | | | | |
| Bagby Beer Company | Weisser Than I Look | German-style Weissbeer. Aromas of spice, clove and subtle fruit, all from traditional yeast. Soft body, dry finish. | 5.40% | | | | | | | | | | | | | | | | | |
| Ballast Point | White Wine Barrel Aged Sour Wench | Ale with blackberries aged in Chardonnay and Sauvignon Barrels | 7.1 | | | | | | | | | | | | | | | | | |
| Ballast Point | 2018 High West Barrel Aged Victory at Sea | Imperial Porter aged in High West Barrels | 12.2 | | | | | | | | | | | | | | | | | |
| Beachwood Brewing | Hayabusa Lager | Ultra-Crisp and Refreshing Japanese-style Lager | 5.30% | | | | | | | | | | | | | | | | | |
| Beachwood Brewing | Floating in Space | Belgian-style Sour with Nectarines and Dry Hopped with Mandarina Bavaria. | 6.50% | | | | | | | | | | | | | | | | | |
| Beachwood Brewing | Greenshift DIPA | Resinous Intergalactic Hop Bomb West Coast-style DIPA | 10% | | | | | | | | | | | | | | | | | |
| Bell's Brewery | Two Hearted Ale | American IPA; citrusy, piney, grapefruit, 100% Centennial hops | 7% | | | | | | | | | | | | | | | | | |
| Bell's Brewery | Oberon | American Wheat Ale; fruity & citrus notes, spicy hop character, smooth mouthfeel | 5.80% | | | | | | | | | | | | | | | | | |
| Beyond The Mountain Brewing | Headspin Double IPA | A juicy double IPA originally brewed with local band The Jauntee | 8.10% | | | | | | | | | | | | | | | | | |
| Beyond The Mountain Brewing | Basil Saison | A classic saison with basil added for full flavor. | 4.80% | | | | | | | | | | | | | | | | | |
| Big Grove Brewery | Big Grove IPA | West Coast Style IPA featuring Simcoe | 7 | | | | | | | | | | | | | | | | | |
| Big Grove Brewery | Easy Eddy | Hazy Double Dry Hopped IPA | 6 | | | | | | | | | | | | | | | | | |
| Big Grove Brewery | Summer Jam | Tart Berliner Weisse Style Loaded with Cherries, Raspberries and Blackberries | 4.40% | | | | | | | | | | | | | | | | | |
| Bierstadt Lagerhaus | Slow Pour Pils | German Style Pilsner | 5.10% | | | | | | | | | | | | | | | | | |
| Bootstrap Brewing | Insane Rush | Well balanced, highly drinkable American IPA | 7.60% | | | | | | | | | | | | | | | | | |
| Bootstrap Brewing | Wreak Havoc | Massively hopped Imperial Red Ale | 8.50% | | | | | | | | | | | | | | | | | |
| Boulevard Brewing Company | Bourbon Barrel Quad | Based loosely on the Smokestack Series' The Sixth Glass, this abbey-style quadrupel is separated into a number of oak bourbon barrels where it ages for varying lengths of time, some for up to three years. Cherries are added to make up for the "angel's share" of beer lost during barrel aging | 11.20% | | | | | | | | | | | | | | | | | |
| Breakside Brewery | True Gold | Lightly hopped golden pils. | 5.10% | | | | | | | | | | | | | | | | | |
| Breakside Brewery | Rainbows and Unicorns | Session IPA brewed with flaked rice with fruity hop flavors | 4.80% | | | | | | | | | | | | | | | | | |
| Breakside Brewery | Oligarch | Imperial Stout aged in Bourbon Barrels | 10.40% | | | | | | | | | | | | | | | | | |
| Brewery Bhavana | Grove | Sunny, Citrusy Double IPA | 8.00% | | | | | | | | | | | | | | | | | |
| Brewery Bhavana | Piglette | Tart & Funky Grisette | 4.20% | | | | | | | | | | | | | | | | | |
| Brewery Ommegang | Brut IPA | brewed with pilsner malt and flaked corn and hopped and dry-hopped with Mandarina Bavaria, Calypso, and Citra varietals, followed by a two-week bottle conditioning process to achieve exceptional levels of carbonation. It pours a light straw color with crystalline clarity. | 6.30% | | | | | | | | | | | | | | | | | |
| BRU handbuilt ales & eats | Loch Wee Heavy Scotch Ale | Peated Malt / Fuggle Hops | 8.40% | | | | | | | | | | | | | | | | | |
| BRU handbuilt ales & eats | Tru Grist | Imperial IPA | 9.30% | | | | | | | | | | | | | | | | | |
| Burial Beer Co | An Abyss of Human Experience TIPA | Life is a twisting knife of expectations. Fulfill them and glory be thy earnings. Fail them and lodge the sharp edge into your dreams. This Beer Week we celebrate the revival of these aspirations, controlling our own destiny, and awakening from this slow and excruciating torture. Made with lactose and candi sugars. Double Dry-Hopped with Mosaic, Citra, Nelson and Galaxy hops. | 10% | | | | | | | | | | | | | | | | | |
| Burns Family Artisan Ales | Belgian Quad | Belgian-Style Quadrupel. Rich, malty palate & softly spicy phenols. | 11 | | | | | | | | | | | | | | | | | |
| Burns Family Artisan Ales | Ship Of Theseus: Bourbon Barrel Aged | Award-winning Old Ale aged in High West Bourbon Barrels | 12.5 | | | | | | | | | | | | | | | | | |
| Burns Family Artisan Ales | Old Norway // New England | Triple Dry Hopped Hazy IPA: collaboration with Weldwerks Brewing Co. | 12.5 | | | | | | | | | | | | | | | | | |
| Call to Arms Brewing Company | Shirtless Putin Nuzzling With Dolphins | Imperial baltic Porter Aged in Breck Bourbon Barrels with Coffee | 11.7 | | | | | | | | | | | | | | | | | |
| Call to Arms Brewing Company | Low Hanging Fruit | Dark Sour in Neutral Oak with Pommegranite & Boysenberry | 5.40% | | | | | | | | | | | | | | | | | |
| Call to Arms Brewing Company | Ballroom Beer | Domestic Lager brewed with 1000% Ice cold Rocky Mountain Water | 5.00% | | | | | | | | | | | | | | | | | |
| Cannonball Creek | Trump Hands | Session IPA. A blend of German and American hops lend notes of white grape and citrus fruit. This IPA is light bodied and finishes dry with a moderate hop bitterness | 4.70% | | | | | | | | | | | | | | | | | |
| Cannonball Creek | Netflix and Pils | German Style Pilsner | 5% | | | | | | | | | | | | | | | | | |
| Cannonball Creek | Falling Rock Anniversary Collaboration | West Coast IPA. Tropical, citrus, dank. Light bodied, finishes dry with a moderate hop bitterness. | 6.70% | | | | | | | | | | | | | | | | | |
| Casey Brewing and Blending | Dry-hopped Funky Blender (Nelson) | Farmhouse ale | 7.00% | | | | | | | | | | | | | | | | | |
| Casey Brewing and Blending | East Bank Peach + Nectarine | Farmhouse ale with honey and fruit | | | | | | | | | | | | | | | | | | |
| Cellar West Artisan Ales | Assimilation | Proprietor's Blend Saison; a blend of Cellar West oak aged Saison with solera golden sour and apricot sour from Amalgam Brewing | 6% | | | | | | | | | | | | | | | | | |
| Cellar West Artisan Ales | Sapience Reserve | Oak Aged Bier de Mars with Brett, Double Dry Hopped with Citra and Finished on Pineapple | 6.10% | | | | | | | | | | | | | | | | | |
| Cerebral Brewing | Sight Unseen | Export-strength Foeder Lagerbier | 7.1 | | | | | | | | | | | | | | | | | |
| Cerebral Brewing | Forbidden Idol- Castaway | Tiki-Sour IPA (CONTAINS LACTOSE, TREE NUTS) | 7 | | | | | | | | | | | | | | | | | |
| Cerebral Brewing | Sugar Pie | Imperial oatmeal stout aged in maple syrup bourbon barrels with pecans, vanilla, and cinnamon | 12.7 | | | | | | | | | | | | | | | | | |
| City Star Brewing | Widow Maker | Imperial Oatmeal Stout | 10% | | | | | | | | | | | | | | | | | |
| City Star Brewing | Scarlet | sour barrel aged cherry stout | 7 | | | | | | | | | | | | | | | | | |
| Creature Comforts | Chill Beach Wave | Brewed in collaboration with our friends at Alvarado Street. A Hazy DIPA hopped with Mosaic, Citra, Galaxy, & Vic Secret | 8% | | | | | | | | | | | | | | | | | |
| Creature Comforts | Gaucho de la Playa | Imperial Stout with Toasted Coconut and Dulce De Leche | 12% | | | | | | | | | | | | | | | | | |
| Creature Comforts | Mutualism | Southern Style Farmhouse Lager – Jester King Collab | 6 % | | | | | | | | | | | | | | | | | |
| Crooked Stave Artisan Beer Project | Serenata Notturna Laws Secale Rye | Mixed Fermentation Belgian Style Golden Ale Aged in Secale Rye Whiskey Barrel | 12% | | | | | | | | | | | | | | | | | |
| Crooked Stave Artisan Beer Project | Member Berries Tempranillo | Golden Sour Ale Aged in Oak Barrels with Tempranillo Grapes | 7.6 | | | | | | | | | | | | | | | | | |
| Crooked Stave Artisan Beer Project | Colorado Reserva Farmhouse Palisade Peach | Provision Sour Ale Aged in Oak with Palisade Peaches | 6.50% | | | | | | | | | | | | | | | | | |
| Crooked Stave Artisan Beer Project | Surette Reserva Juniper & Ginger | Provision Sour Ale Aged in Ransom Old Tom Gin Barrels with Juniper & Ginger | 9.00% | | | | | | | | | | | | | | | | | |
| Culmination Brewing Company | Foed For Thought | Dry Hopped Foeder Conditioned Farmhouse | 6.9 | | | | | | | | | | | | | | | | | |
| Culmination Brewing Company | Native Oregonism | Foeder and Cabernet Barrel Aged Farmhouse Colab. W/The Ale Apothecary | 7.95 | | | | | | | | | | | | | | | | | |
| Dancing Gnome | Wishbone Pale Ale | all Citra hopped | 5% | | | | | | | | | | | | | | | | | |
| Dancing Gnome | Better One or Two DIPA | Citra, Simcoe, Mosaic | 8% | | | | | | | | | | | | | | | | | |
| Dancing Gnome | Double Lustra DIPA | Citra, Amarillo | 8.50% | | | | | | | | | | | | | | | | | |
| Dogfish Head | SuperEIGHT Super Gose | Gose brewed with prickly pear, mango, boysenberry, blackberry, raspberry, elderberry, kiwi juices, toasted quinoa and Hawaiaan sea salt | 5.3 | | | | | | | | | | | | | | | | | |
| Dogfish Head | Liquid Truth Serum IPA | An unfiltered IPA brewed using a unique process that incorporates four different stages of hops | 7 | | | | | | | | | | | | | | | | | |
| Dogfish Head | 2016 Red and White Ale | Brewed with wheat, coriander and orange peel and fermented with Pinot Noir juice then aged in oak | 10% | | | | | | | | | | | | | | | | | |
| Door 4 Brewing Co. | Down the Drain IPA | An easy to approach IPA made with cascade hops. Nice aroma with a medium citrus hop flavor presence. | 6.20% | | | | | | | | | | | | | | | | | |
| Door 4 Brewing Co. | D4 Strawberry Lager | Our easy drinking D4 lager with a touch of strawberry flavor | 4.2 | | | | | | | | | | | | | | | | | |
| Ecliptic Brewing Co. | Starburst IPA | A juicy, tropical IPA with a galaxy's worth of Amarillo, Azacca, Centennial, Mosaic and Simcoe hops. | 7.80% | | | | | | | | | | | | | | | | | |
| Ecliptic Brewing Co. | Phaser Hazy IPA | Juicy and unfiltered, Phaser Hazy IPA stuns with a lively array of fruity hop notes. | 6.50% | | | | | | | | | | | | | | | | | |
| Ecliptic Brewing Co. | Flamingo Planet | Easy drinking blonde ale brewed with guava. Lightly hopped with Amarillo and Crystal. | 5.50% | | | | | | | | | | | | | | | | | |
| Ecliptic Brewing Co. | Carina Peach Sour Ale | Loaded with fresh peach flavor, Carina is a sour ale perfect for any time of year. | 5.50% | | | | | | | | | | | | | | | | | |
| Ecliptic Brewing Co. | Cosmos Hazy IPA with Coconut & Vanilla | | TBD | | | | | | | | | | | | | | | | | |
| Ecliptic Brewing Co. | Barrel-Aged Rastaban Oud Bruin with Cherries & Raspberries | Aged in red wine barrels for 12 months. | 7.40% | | | | | | | | | | | | | | | | | |
| Fifty West Brewing Co | Saturday Morning Cartoons | BA Stout with Chocolate Cereal, Cocoa Nibs, Vanilla, Lactose | 11% ABV | | | | | | | | | | | | | | | | | |
| Fifty West Brewing Co | Afoot and Lighthearted | Wild Farmhouse with Budda's Hand | 6.5% ABV | | | | | | | | | | | | | | | | | |
| Fifty West Brewing Co | 10&2 Barleywine | BA Barleywine | 11% ABV | | | | | | | | | | | | | | | | | |
| Finkel & Garf | New England Pale Ale | New England style Pale Ale with Mosaic, Cashmere, and Citra. | 5.5 | | | | | | | | | | | | | | | | | |
| Finkel & Garf | Chocolate Pecan Pie Imperial Milk Stout | Imperial Oatmeal Milk Stout with coco nibs, vanilla, and candied pecans. | 12.2 | | | | | | | | | | | | | | | | | |
| Finkel & Garf | Rum Barrel Aged Milk Stout | Our Oatmeal Milk Stout aged in rum barrels with coffee, coconut, and vanilla. | 5.6 | | | | | | | | | | | | | | | | | |
| Firestone Walker | Bretta Weisse | Berliner Weisse | 4.70% | | | | | | | | | | | | | | | | | |
| Fonta Flora | Whippoorwill Wit | Witbier brewed with Earl Grey Tea, coriander, orange zest and orange juice. | 4.50% | | | | | | | | | | | | | | | | | |
| Founders | Green Zebra | Gose Style Ale Brewed with Watermelon & Sea Salt | 4.60% | | | | | | | | | | | | | | | | | |
| Founders | Backwoods Bastard | Bourbon Barrel-Aged Scotch Ale | 11% | | | | | | | | | | | | | | | | | |
| Founders | Mas Agave | Barrel-Aged Imperial Lime Gose | 8-10% (final TBD) | | | | | | | | | | | | | | | | | |
| Fremont | Bourbon Barrel Aged Dark Star: Coffee Edition | IMPERIAL OATMEAL STOUT WITH COFFEE AGED IN BOURBON BARRELS - Chocolate, espresso and bourbon notes | 13.6 | | | | | | | | | | | | | | | | | |
| Fremont | B-Bomb | BOURBON BARREL AGED IMPERIAL WINTER ALE- Vanilla, wood, caramel aromas with Cocoa, bourbon, dried fruit flavors. | 14 | | | | | | | | | | | | | | | | | |
| Fremont | Sky Kraken | Hazy Pale Ale- A contradiction of the senses offering ripe melon, juicy citrus, pineapple and pepper flavors to the brave. | 5.50% | | | | | | | | | | | | | | | | | |
| Funkwerks | Raspberry Provincial | Sour Ale Brewed with Raspberries. Subtly sweet, tart finish. | 4.2 | | | | | | | | | | | | | | | | | |
| Funkwerks | White | Belgian-Style Wheat-Ale with Spices. | 4.8 | | | | | | | | | | | | | | | | | |
| Goose Island | 2018 BCS Midnight Orange | Imperial Stout Aged in Bourbon Barrels With Oranges And Chocolate | 15.20% | | | | | | | | | | | | | | | | | |
| Goose Island | Brasserie Blanc | Ale Fermented With Grape Juice And Aged in Wine Cask For 14 Months. | 8.6 | | | | | | | | | | | | | | | | | |
| Goose Island | Next Coast IPA | Big, Bracing, Piney Hop Flavors Meet A Tropical Bouquet of Nugget, Citra, and Mosaic Hops. | 7% | | | | | | | | | | | | | | | | | |
| Great Divide Brewing Co. | Wood Werks #5 | Belgian-style tripel artfully soured for 15 months in red-wine barrels and additionally enhanced with plums. This rare spiced sour ale has notes of luscious stone fruit with a tart, dry finish and a hint of French oak. | 9.30% | | | | | | | | | | | | | | | | | |
| Great Divide Brewing Co. | 2017 Barrel-Aged Hibernation | winter seasonal aged for over 12 months in whiskey barrels. Big whiskey flavors mellow out into luscious chocolate, dark fruit, and vanilla | | | | | | | | | | | | | | | | | | |
| Grimm Bros. Brewing Co. | Bleeding Heart Sour Cherry Blonde | Barrel aged sour blonde ale with cherries added | 7 | | | | | | | | | | | | | | | | | |
| Grimm Bros. Brewing Co. | Bourbon Barrel Aged Old Brown Shoe | A traditional English Old Ale aged in Angry James Whiskey Barrels | 9.3 | | | | | | | | | | | | | | | | | |
| Grossen Bart | Chin Curtain IPA | west coast IPA | 7.70% | | | | | | | | | | | | | | | | | |
| Grossen Bart | Rye Barleywine | A rye barley wine made with 35% rye. | 10.10% | | | | | | | | | | | | | | | | | |
| Grossen Bart | Zappa IPA | A designer IPA | 6.50% | | | | | | | | | | | | | | | | | |
| Jessup Farm Barrel House | Fancy Pants | Oak barrel-aged Brett IPA | 7.5 | | | | | | | | | | | | | | | | | |
| Jessup Farm Barrel House | Jimmy Buffett Problem | Pineapple & Coconut DIPA aged in rum and bourbon barrels | 9 | | | | | | | | | | | | | | | | | |
| Jessup Farm Barrel House | Hurry Up & Wait - POG | oak-aged quick sour with passion fruit, orange, and guava | 6.5 | | | | | | | | | | | | | | | | | |
| Jolly Pumpkin Artisan Ales | Apocolocynposis | Sour Fruit Ale with blackberry and lime. Collab with Monkish. | 4.30% | | | | | | | | | | | | | | | | | |
| Jolly Pumpkin Artisan Ales | Bam Noire | Sour Dark Farmhouse Ale | 4.5 | | | | | | | | | | | | | | | | | |
| Half Acre Brewing Company | Daisy Cutter | Pale ale with dank citrus flavor and aroma | 5.20% | | | | | | | | | | | | | | | | | |
| Half Acre Brewing Company | Bourbon Barrel Aged Big Hugs | Bourbon barrel-aged coffee imperial stout | 12.00% | | | | | | | | | | | | | | | | | |
| Half Acre Brewing Company | Beer Hates Astronauts | American IPA | 7.00% | | | | | | | | | | | | | | | | | |
| Horse & Dragon Brewing Company | Adventure On IPA | NW-style IPA perfect for CO adventures! | 7.00% | | | | | | | | | | | | | | | | | |
| Horse & Dragon Brewing Company | Disfrute! | Pineapple ginger lager inspired by Mexican tepache. | 5.10% | | | | | | | | | | | | | | | | | |
| Horse & Dragon Brewing Company | Almost Summer Blonde Ale | Biscuity, light, with clean finish, slight tinge of citrus. | 5.50% | | | | | | | | | | | | | | | | | |
| La Cumbre Brewing Company | Project Dank | West Coast IPA | 7.50% | | | | | | | | | | | | | | | | | |
| La Cumbre Brewing Company | La Negra | Russian Imperial Stout aged in Woodford Bourbon Barrels | 11% | | | | | | | | | | | | | | | | | |
| Lefthand Brewing Co. | Flamingo Dreams Nitro | Black Currant/Raspberry Blonde Ale on Nitro | 4.7 | | | | | | | | | | | | | | | | | |
| Lefthand Brewing Co. | Wake Up Dead | Russian Imperial Stout | 12.1 | | | | | | | | | | | | | | | | | |
| Liquid Mechanics | Lucid A.F | West Coast IPA w/ Amarillo, Citra, and Mosaic | | | | | | | | | | | | | | | | | | |
| Liquid Mechanics | Notoriously BRUTal | Kettle sour fermented with Reisling grapes and finished with Pinot Noir must. Collaboration with Fall Brewing. | | | | | | | | | | | | | | | | | | |
| Liquid Mechanics | Coffee Anarchy Project | Blend of our Kahlua Anarchy (chestnut and coffee BA RIS), Utter Distortion milk stout and Coffee Brown Ale | | | | | | | | | | | | | | | | | | |
| Mahou San Miguel | Mahou 5 Estrellas | | 5.50% | | | | | | | | | | | | | | | | | |
| Mahou San Miguel | Alhambra Reserva 1925 | | 6.40% | | | | | | | | | | | | | | | | | |
| Mahou San Miguel | Alhambra Reserva Cerveza Roja | | 7.20% | | | | | | | | | | | | | | | | | |
| Mash Lab Brewing | Crispi Boi Pilsner | German style pilsner brewed with Hallertau Blanc hops. Crisp and dry with herbal and wine-like aromas | 4.70% | | | | | | | | | | | | | | | | | |
| Mash Lab Brewing | Fog Lamp New England IPA | New England style IPA brewed with Citra, Amarillo and Mosaic hops | 6.50% | | | | | | | | | | | | | | | | | |
| Mash Lab Brewing | Peanut Butter Milk Stout | A creamy, sweet stout, brewed with oats, lactose and peanut butter. Perfect for dessert | 5.50% | | | | | | | | | | | | | | | | | |
| Mash Lab Brewing | Prickly Pear and Black Lime Gose | German style kettle soured Gose brewed with prickly pear fruit puree and black limes | 5.00% | | | | | | | | | | | | | | | | | |
| Melvin Brewing | Cloudy 5000 | Hazy DIPA | 8% | | | | | | | | | | | | | | | | | |
| Melvin Brewing | Hubert | MPA (Melvin Pale Ale) | 6% | | | | | | | | | | | | | | | | | |
| Mockery Brewing | Solera #2 | Barrel-aged amber sour. Our second pull from our Solera Series | 6.20% | | | | | | | | | | | | | | | | | |
| Mockery Brewing | Mockerita | Double Barrel Aged Golden Sour | 8.60% | | | | | | | | | | | | | | | | | |
| Mockery Brewing | Rock the Fuck on Forever IPA | 2018 Best IPA in Colorado! | 7% | | | | | | | | | | | | | | | | | |
| Odell Brewing Company | Mountain Standard | Mountain-style IPA with loads of pineapple, orange, stonefruit and lemon flavors and aromas | 6.5 | | | | | | | | | | | | | | | | | |
| Odell Brewing Company | Brazzle | Barrel-Aged Golden Raspberry Sour Ale | 5.4 | | | | | | | | | | | | | | | | | |
| Odell Brewing Company | Whiskey Barrel-Aged Lugene | Rye Whiskey Barrel-Aged Imperial Chocolate Milk Stout | 10.5 | | | | | | | | | | | | | | | | | |
| Odd13 Brewing Inc. | juice hunter double ipa | Double IPA with Galaxy, Amarillo, and Simcoe. Contains lactose | 8 | | | | | | | | | | | | | | | | | |
| Odd13 Brewing Inc. | fruited Sheriff Shane | Foeder-aged rustic sour blonde aged on tba. *****Not gluten removed.***** | 7.1 | | | | | | | | | | | | | | | | | |
| Our Mutual Friend Brewing Co. | Fixed Blade | Laws Rye Barrel-Aged English Style Barleywine | 14% | | | | | | | | | | | | | | | | | |
| Our Mutual Friend Brewing Co. | Little Maker | Mixed-culture sour aged on cherries | 6.50% | | | | | | | | | | | | | | | | | |
| Outer Range Brewing Co. | In the Steep IPA | New England-Style IPA with 100% Citra | 6.7 | | | | | | | | | | | | | | | | | |
| Outer Range Brewing Co. | Fresh Pallette IPA | Brewed with Citra, Simcoe, and Columbus | 7.2 | | | | | | | | | | | | | | | | | |
| Port Brewing Co. | 13th Anniversary IPA | Port Brewing 13th Anniversary Double IPA | 11 | | | | | | | | | | | | | | | | | |
| Prairie Artisan Ales | Pink Guava Funk | Sour Ale aged in Pink Guava | 6.3 | | | | | | | | | | | | | | | | | |
| Prairie Artisan Ales | Cowboy Breakfast | Imperial Stout Aged in Bourbon Barrels with Maple, Cacao Nibs, and Vanilla | 13% | | | | | | | | | | | | | | | | | |
| Prairie Artisan Ales | Phantasmagoria | Double India Pale Ale | 8% | | | | | | | | | | | | | | | | | |
| Primitive Beer | P.R. Nightmare | We matured a single puncheon of spontaneous Primitive Beer for six months on High Wire Hops wet Cascade. | 5.50% | | | | | | | | | | | | | | | | | |
| Primitive Beer | Petit Bon Vivant (P-04) | This two-year-old beer we pulled from barrel P-04 is light and refreshing with notes of melon, hay, and strawberry. | 5.50% | | | | | | | | | | | | | | | | | |
| Ratio Beerworks | Genius Wizard | Bourbon Barrel-Aged Russian Imperial Stout | 12% | | | | | | | | | | | | | | | | | |
| Ratio Beerworks | Wild in the Streets | Red Wine Barrel-Aged Wild Saison | 6% | | | | | | | | | | | | | | | | | |
| Ratio Beerworks | Loveless | Barrel-Aged Sour Ale with Raspberries and Blackberries | 6% | | | | | | | | | | | | | | | | | |
| Rhinegeist Brewing | Infinite Dawn | Sour Blonde Ale | 5.65% | | | | | | | | | | | | | | | | | |
| Rhinegeist Brewing | Barrel Aged Mastodon | Belgian Style Dark Ale Aged in Bourbon & Wine Barrels | 12.7 | | | | | | | | | | | | | | | | | |
| Rhinegeist Brewing | Knowledge | Imperial India Pale Ale | 8.50% | | | | | | | | | | | | | | | | | |
| Rowley Farmhouse Ales | Grandissant - 4x Cerise | Cherry Sour Ale. Mixed fermentation saison aged in Chardonnay barrels on 4/lb gallon of cherries | 7.5 | | | | | | | | | | | | | | | | | |
| Rowley Farmhouse Ales | Greyscale | Grisette/Farmhouse Ale. Merlot barrel aged mixed fermentation grisette | 5 | | | | | | | | | | | | | | | | | |
| Rowley Farmhouse Ales | Southern Gentleman | Golden Sour base brewed with organic white grits aged in Gruet Chardonnay barriques and refermented on peaches | 5.50% | | | | | | | | | | | | | | | | | |
| Russian River Beer Company | Pliny the Elder | Imperial IPA | 8% | | | | | | | | | | | | | | | | | |
| Ska Brewing | Decadent | Citrus aroma, fresh hops and caramel malts explosion- double ipa | 10% | | | | | | | | | | | | | | | | | |
| Ska Brewing | Rue B Soho | Grapefruit and citra hopped lager | 5.10% | | | | | | | | | | | | | | | | | |
| Ska Brewing | Pink Vapor Stew | Beets, Carrots, Apples, Ginger Sour- Nuff said | 5.10% | | | | | | | | | | | | | | | | | |
| Smog City | Coffee Porter | Robust porter aged on organic coffee which enhances the chocolate, roasted malt and of course coffee character | 6.00% | | | | | | | | | | | | | | | | | |
| Smog City | Bourbon O.E. | Bourbon Barrel-Aged English Style Barleywine | 13.00% | | | | | | | | | | | | | | | | | |
| Smog City | White Peach Saison | foudre-saison refermented with white peaches | 6.00% | | | | | | | | | | | | | | | | | |
| Short's Brewing Company | Huma Lupa Licious | India Pale ale brewed with five different hop varieties recognized for their citrus, floral, piney, and earthy qualities, giving an intense bitterness that is balanced by a rich malty flavor. | 7.70% | | | | | | | | | | | | | | | | | |
| Short's Brewing Company | Peachy Pom Pom | American Sour Ale brewed with peaches and pomegranate | 8.20% | | | | | | | | | | | | | | | | | |
| Short's Brewing Company | Starcut Cider Mosa | Hard Cider made from Michigan apples and sweet orange juice | 4.30% | | | | | | | | | | | | | | | | | |
| Station 26 Brewing Co | Juicy Banger IPA | Our flagship IPA. Notes of apricot, papaya, and honey. | 7.40% | | | | | | | | | | | | | | | | | |
| Station 26 Brewing Co | Brut Rose IPA | A dry and sparkling brut IPA brewed with raspberries and hibiscus. A spring and summer crusher | 6% | | | | | | | | | | | | | | | | | |
| Station 26 Brewing Co | Catharina Sour | A lightly tart blood orange sour with floral notes | 5.4 | | | | | | | | | | | | | | | | | |
| Strange Craft Beer Company | 2016 Dr. Strangelove | Award-winning American Style Barleywine | 12% | | | | | | | | | | | | | | | | | |
| Strange Craft Beer Company | 1,000 Barrels Imperial IPA | Imperial IPA with 3lbs of Simcoe, Amarillo and Summit hops per barrel. | 8.70% | | | | | | | | | | | | | | | | | |
| Strange Craft Beer Company | Jean-Claude Van Brett | Belgian Blond fermented in oak with our house Belgian yeast and Brettanomyces | 7.40% | | | | | | | | | | | | | | | | | |
| Surly Brewing | Electric Sombrero of Death | Tequila barrel-aged double dry-hopped imperial Mexican-style lager | 8% | | | | | | | | | | | | | | | | | |
| Surly Brewing | Axe Man | India Pale Ale | 7.20% | | | | | | | | | | | | | | | | | |
| Surly Brewing | Sound Into Color | Imperial kettle sour brewed with tart cherry and raspberry | 7.70% | | | | | | | | | | | | | | | | | |
| Surly Brewing | One Man Mosh Pit | Hazy IPA | 6.80% | | | | | | | | | | | | | | | | | |
| Telluride Brewing Company | AlpenGOSE | Leipzig-Style Plum Gose | 4.50% | | | | | | | | | | | | | | | | | |
| Telluride Brewing Company | Telluride Mountain Beer | German-Style Kolsch | 5.20% | | | | | | | | | | | | | | | | | |
| The Lost Abbey | My Black Parade | Bourbon Barrel-Aged Strong Ale with cocoa nibs, vanilla beans, and spices | 12.5 | | | | | | | | | | | | | | | | | |
| Trillium | Double Dry Hopped Congress Street | An amplified version of our flagship American IPA, Congress Street, is a focused exhibition of the Australian Galaxy Hop | 7.20% | | | | | | | | | | | | | | | | | |
| Trillium | Citra Cutting Tiles | Cutting Tiles is an exploratory series of Double IPAs featuring a range of aromatic single hop varietals brewed with raw local wildflower honey | 8.50% | | | | | | | | | | | | | | | | | |
| Trillium | Wild Sinister Kid with Sour Cherry | AMERICAN WILD ALE AGED ON SOUR CHERRIES IN OAK BARRELS | 11.00% | | | | | | | | | | | | | | | | | |
| TRVE Brewing Co. | Ostara | Mixed-culture golden ale with dandelion, lemongrass and lemon peel | 5.70% | | | | | | | | | | | | | | | | | |
| Upslope Brewing Company | Lee Hill Series volume 20: Galaxy Dry Hopped Wild Saison | Foeder-aged, mixed culture sour ale dry hopped with Galaxy | 7.8 | | | | | | | | | | | | | | | | | |
| Upslope Brewing Company | Lee Hill Series Volume 19: Batch 1000 | Brewed with ten different sugar types, High-gravity Bourbon Barrel Aged. | 17.50% | | | | | | | | | | | | | | | | | |
| Upslope Brewing Company | Lee Hill Series Volume 9: Barrel Aged Doppelbock | Traditional German Lager aged in Whiskey, Tequila, and Rye Whiskey Barrels | 9% | | | | | | | | | | | | | | | | | |
| Urban South Brewery | Holy Roller IPA | Hazy juicy Citra/Mosaic NEIPA | 6.30% | | | | | | | | | | | | | | | | | |
| Urban South Brewery | Lime Cucumber Gose | Gose brewed with fresh juiced cucumbers and lime | 5% | | | | | | | | | | | | | | | | | |
| Verboten Brewing and Barrel Project | Electric Banana | Milkshake IPA with strawberry, banana, and vanilla | 5.8 | | | | | | | | | | | | | | | | | |
| Verboten Brewing and Barrel Project | Barrel-Aged Cake or Death | Imperial Stout with chocolate aged in bourbon barrels | 14 | | | | | | | | | | | | | | | | | |
| Verboten Brewing and Barrel Project | 6th Anniversary Sour | Sour Brown aged 3 years in barrels with cherries | 6.5 | | | | | | | | | | | | | | | | | |
| Weldwerks Brewing | Starry Night | Milk stout brewed with milk sugar, hazelnut, toasted coconut, and milk chocolate | 7.50% | | | | | | | | | | | | | | | | | |
| Weldwerks Brewing | Grandma J's Strawberry Rhubarb Pie | Kettle sour with lactose, strawberry puree, rhubarb puree, graham cracker and vanilla | 4.40% | | | | | | | | | | | | | | | | | |
| Weldwerks Brewing | Double Mango Milkshake | Milkshake IPA brewed with mango puree, milk sugar, vanilla, and azacca + Idaho 7 hops | 8.30% | | | | | | | | | | | | | | | | | |
| Westbound and Down Brewing Company | Westbound Session IPA | Light IPA featuring big peach character from use of Strata. | 5.2 | | | | | | | | | | | | | | | | | |
| Westbound and Down Brewing Company | Blender's Insurance + Nectarine | Foeder aged Saison and golden sour blend. Funky refreshment. | 6.00% | | | | | | | | | | | | | | | | | |
| Westbound and Down Brewing Company | Single-Barrel Sauternes Louie | A single barrel of Sauternes White Wine Barrels that finished Breckenridge Bourbon before aging this English barleywine for 9 months | 11.50% | | | | | | | | | | | | | | | | | |
| Wibby Brewing | RIPL:Best Friend | The second installment of our rotating IPL series RIPL: Best Friends is a 7.5% ABV, 55 IBU IPL brewed with Cascade, Centennial, Crystal, Simcoe, and Mosaic hops with a hopping rate of 3 #'s of hops per barrel. | 7.50% | | | | | | | | | | | | | | | | | |
| Wibby Brewing | Strawberry Radler | Delicious, light, and refreshing our Lightshine Helles is mixed with strawberry lemonade. | 4.50% | | | | | | | | | | | | | | | | | |
| Wild Woods Brewery | Ponderosa Porter | Rye porter aged on oak and vanilla beans | 5.60% | | | | | | | | | | | | | | | | | |
| Wild Woods Brewery | Agave Lime Mexican Lager | Light lager brewed with corn, agave nectar, and fresh lime. | 5.50% | | | | | | | | | | | | | | | | | |
| Wild Woods Brewery | Golden Raisin Belgian Golden Strong | Strong Belgian ale brewed with golden raisins and candi sugar | 11% | | | | | | | | | | | | | | | | | |
| Wiley Roots | Geometry | Foeder Aged Farmhouse Ale with Gewurztraminer Grapes | 9.50% | | | | | | | | | | | | | | | | | |
| Wiley Roots | Raspberry Limeade Slush | Sour Ale with puréed Raspberries and Limes | 4.6% | | | | | | | | | | | | | | | | | |
| Wiley Roots | Swatches: Galaxy Blue | East Coast Style IPA with Citra, El Dorado, and Galaxy | 6.8% | | | | | | | | | | | | | | | | | |
---