No Comments
Karl Strauss Brewing Co. | Aurora Hoppyalis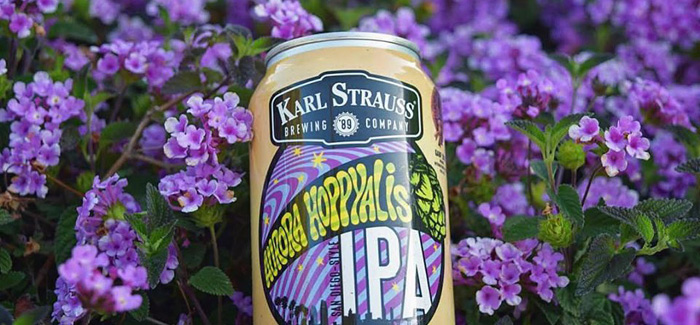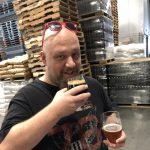 Once in a while, some news story comes out talking about how the Northern Lights are visible from not-too-far away. This excites us sky geeks. For most of us in the U.S., unfortunately, the caveats are extreme (e.g. hiking three miles into un-mapped forest in the hopes that the sky is clear enough during the five-minute window when the Aurora Borealis can actually be seen). Finding a good location that's dim enough to see this spectacle of nature is a challenge if you live in the lower 48.
On the other hand, if you live in a hot craft beer city like San Diego, it's real easy to find quality beer. So save the skywatching for your bucket list vacation to Iceland, or if you have to lay low for a while and need to move to Alaska. We're not here to judge; what you do in the privacy of your own back-alley gambling hall is your own business. Beer though…that's our business. And business is booming, dammit.
Aurora Hoppyalis from Karl Strauss is a so-called "San Diego-Style IPA," named accordingly to distinguish it from its West Coast brethren. What makes it so different from a West Coast IPA that its makers felt the need to coin a whole new style?
"We first brewed Aurora Hoppyalis at a time when West Coast IPAs seemed like they just kept getting more and more bitter, bigger and more aggressive. We wanted to take a different direction with this beer. We chose Citra, Amarillo, Mosaic, and Simcoe for the hops. These cultivars give off really tropical and citrusy aromas and flavors. They're very intense in the aroma, and a little less harsh and bitter than some of the classic "C-hops" you'll find in a West Coast-style IPA," said Lyndon Walker, the head brewer at Karl Strauss.
To me, as a lover of the hoppiest hop-bombs and the booziest of barrel-aged brews, this description seemed like I was headed for a bit of a let-down. I actually still MISS the era of craft brewing where hops reigned supreme like a daunting, dank diva over all of beerkind. But, I heard from many reputable sources that this was a beer for hop lovers, so here we are, giving it a go.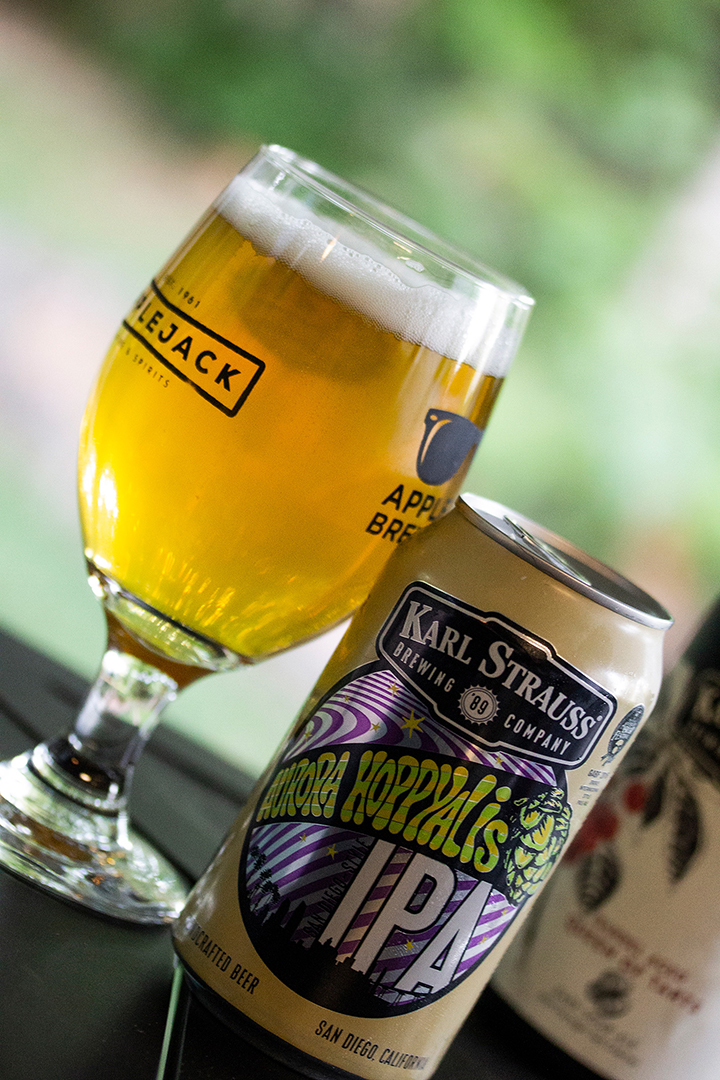 Pouring it out of the can, I could smell those tropical notes right away. Regardless of how hoppy or juicy the beer ends up being, that hint of sweet, tropical goodness in the nose is right where you'd want it to be. In the glass, Aurora Hoppyalis has a nice, honey color with good carbonation and a proper head.
For all the effort that Karl Strauss puts into claiming this is not a hop-bomb, it sure as hell is a hoppy beer. And I mean that in the best possible way. I had my taste buds all set for a flaccidly hopped tincture, but there's no getting around the hops here. Having said that, there is a very distinct bit of citrus and tropical, malty sweetness on the palate as well. After a couple of drinks, the distinction becomes a bit more clear: this is not a typical West Coast IPA.
At first it seems pretty ballsy to try and redefine a beer style by putting a new name on the label. But when you taste it, it makes a lot of sense. So go ahead and call Aurora Hoppyalis a San Diego-Style IPA, because the people who make this beer are very proud of it. And the people who drink it are in love with it. With a badass dose of hops, and a beautifully balanced bit of tropical sweetness, you can really taste the hard work that went into perfecting this recipe.
If you think well-balanced, hoppy beers are relics into today's craft world, you'd be wrong. "We're super proud of Aurora Hoppyalis and it is our top-selling IPA," said Walker. Visit Karl Strauss' website to see if you're lucky enough to live in their distribution area–or better yet, skip the cold, aurorae-seeking trip up north for now, and have the award-winning San Diego Style IPA on tap in the beautiful warmth of a Southern California night.
Feature image courtesy of Karl Strauss Brewing Co.
---