No Comments
Monkish Brewing Company | Really Real Double IPA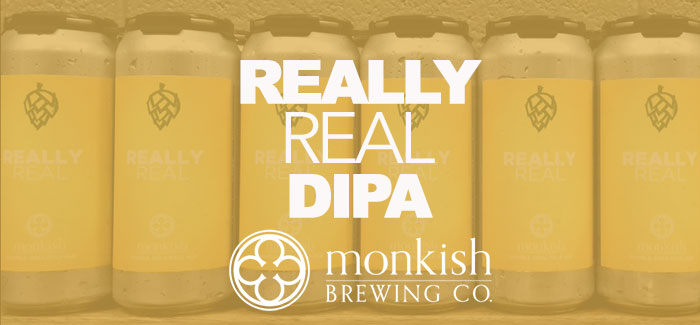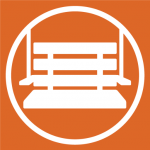 ABV: 8.3% | IBU: 75
Beer trading has seemingly taken off in the last year or so with the increased focus on limited release brews. Treehouse Brewing and Tired Hands are brewing hugely sought after beers from the East Coast, however a contender has arisen from California, making waves with their own New England style, hazy IPAs. That brewery is Monkish Brewing Company and that beer is Really Real Double IPA.
It is a little difficult to showcase on a beer that comes out once and we may never know if we will see it again, but I cannot ignore Monkish and they deserve the love. If I stuck to this mindset, it is possible we would never do a Monkish review, as many of their beers are one-offs.
Monkish currently releases extremely limited quantities of hazy IPAs on a fairly regular, every other week(ish) schedule. Dedicated fans are showing up as early as 4 a.m. for their 10 a.m. releases. Quantities are typically limited to two to four 4-packs per/person. Fortunately, I have a few friends who attend each release and send me some of this good nectar.
Monkish Brewing is located in Torrance, California, about half an hour from downtown Los Angeles (in moderate traffic, to the extent that exists). Monkish originally gained notoriety for some of their Belgian-style beers and sours, however their canned IPAs have made them famous across the country and one of the harder beers for even the most savvy beer trader to find.
This review is for their Really Real Double IPA. True to all the recent cans they have released, the Really Real is a murky and hazy IPA. It pours a thick orange, and has a heavy hit on the nose of tropical fruit and some herbaceousness from the galaxy hops. I have historically favored the heavily bitter West Coast IPAs but the smooth, juicy and hazy IPAs are starting to get my attention, and Really Real is no exception.
Really Real comes in at 8.3% but you would never know it. That said, behind the juiciness, there is just enough bitterness and hop bite to remind you this is a DIPA. The beer was so good I had to bring some with me to Mexico despite staying at an all-inclusive resort (the snobbery is real, really real).
https://www.instagram.com/p/BIn58khBEPn/?taken-by=californiaipa
Monkish's hazy, canned IPAs are still a relatively new phenomenon, so it will be interesting to see if they cycle back through and re-introduce the same beers, such as the Really Real, or keep cycling in all new canned IPAs. However, the Really Real, Day of Underoos, Blazing Arrow and several other of their releases from this year deserve a second serving (Monkish is also very concerned about quality control and standards, they cancelled a recent release the evening before because they tried and it did not meet their high standards). Until then, I will cross my fingers that they keep pumping out California's answer to Treehouse, Tired Hands and Veil, and that I keep in my trade partners' good graces.
---