No Comments
Jester King + Other Half | Urban Mutation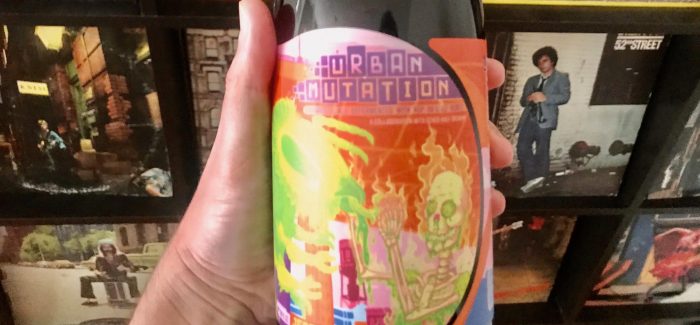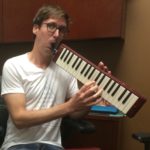 Collaboration beer often presents a mixed bag: Excitement races through your beard when you hear that two of your favorite breweries have Voltron-ed, but then the results follow a predictable pattern. Either you get a middling compromise between the two parties, resulting in a solid and forgettable "eh," or one brewery's profile dominates the other and the beer is like a Paul Simon album after Garfunkel left town in which the expected quality makes you forget that there's supposed another element in this equation.
A friend recently Santa Claused me a suitcase full of Jester King and I've been doing my best to explore these recent offerings at a responsible pace. Jester King beers always have that incredible lightness and drinkability. A 750ml is never quite enough and a 375ml is just plain disrespectful. Moderne Dansk, included in this bounty, was one of the best beers I've had in quite some time. Schopenhauer himself would have impressed at the dour mood that enveloped me, realizing life would be a long struggle with little possibility of another drop. But one that caught my eye in this 20 bottle porch bomb was the collaboration beer with Other Half: Urban Mutation.
I enjoy Other Half immensely, especially their hoppier offerings, but the contrast of styles seemed a bridge too far. Other Half has a tendency to be heavy-handed in its flavors, and Jester King is delicate and naturalistic. I was more enthusiastic than usual for this collab because Jester King has been in the mix on some of my favorite partnerships in recent memory. I was intrigued by Imperial Cabinet with The Bruery and Composition of Elements with Sante Adarius and De Garde was flat-out incredible. Those offerings prompted me to give this one the "old college try," but I definitely wasn't drinking Farmhouse Ales with hop-infused honey when I was in college.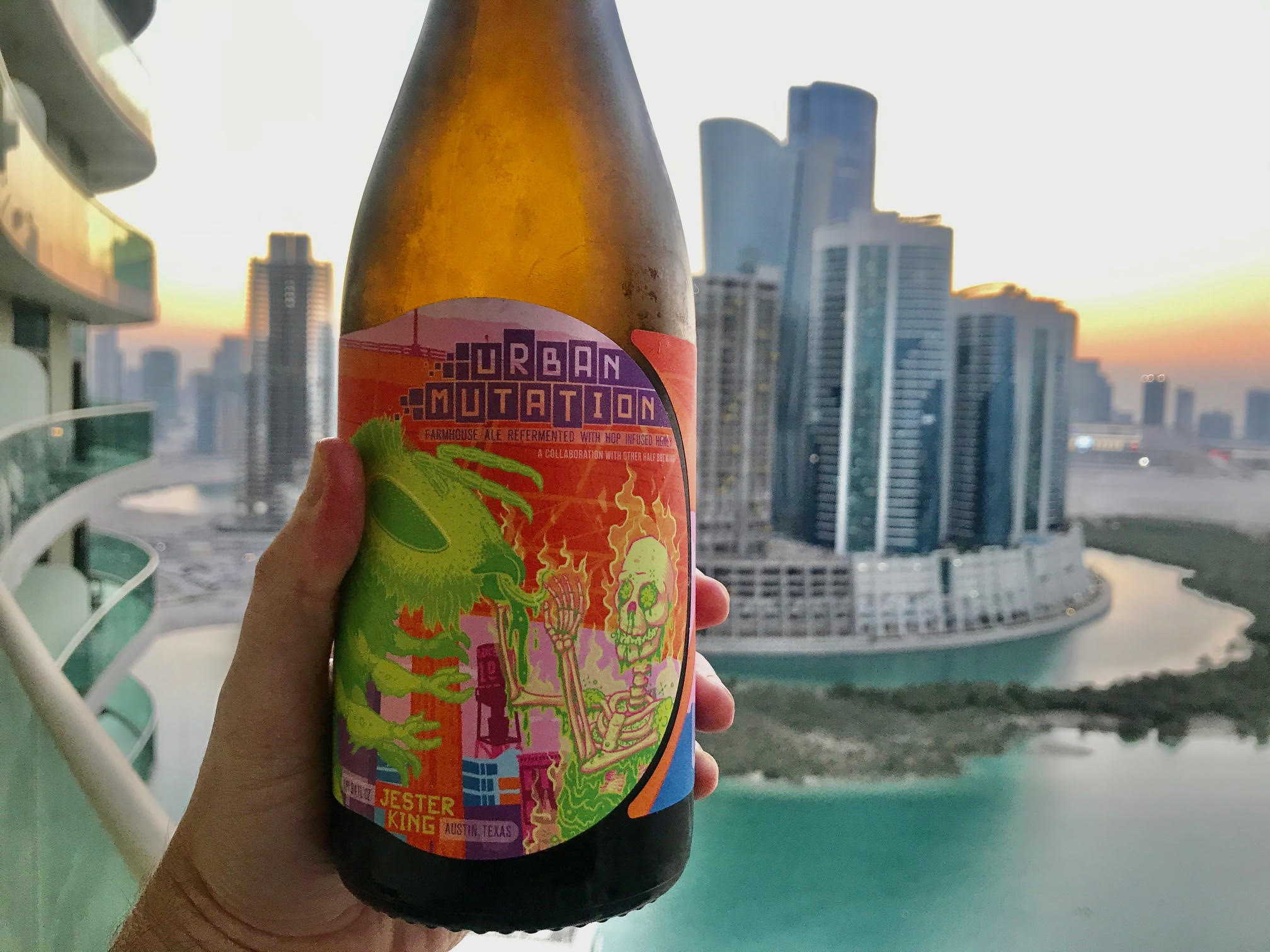 A Successful Collaboration Beer?
If you poured this beer and placed it next to a honey jar, you'd have trouble picking the two apart. There's a dense golden straw color that allows you to see daylight through it, but this is not a Pilsner. A thicker-than-usual head condenses on top, more than what you'd usually see for this farmhouse style (perhaps the voluminous result of being close to all that Texas hair, perhaps?). It looks well put together, but not too refined.
I didn't get much on the nose, which surprised me, but a faint whiff of something pastoral is there. Upon first sip, the advertised honey hop-infusion greets you. The hoppy bitterness slowly gives way to a light citrus tartness, with a pinch of peppercorn and spices on the back end. What sets this apart from many other Jester King beers is that the body is fuller, creamy and a touch sweet. It actually reminds me of the Daydream series of IPAs that Other Half produces. The carbonation at the end helps cut through the chewing-on-a-cloud experience; it finishes dry and musty without lingering.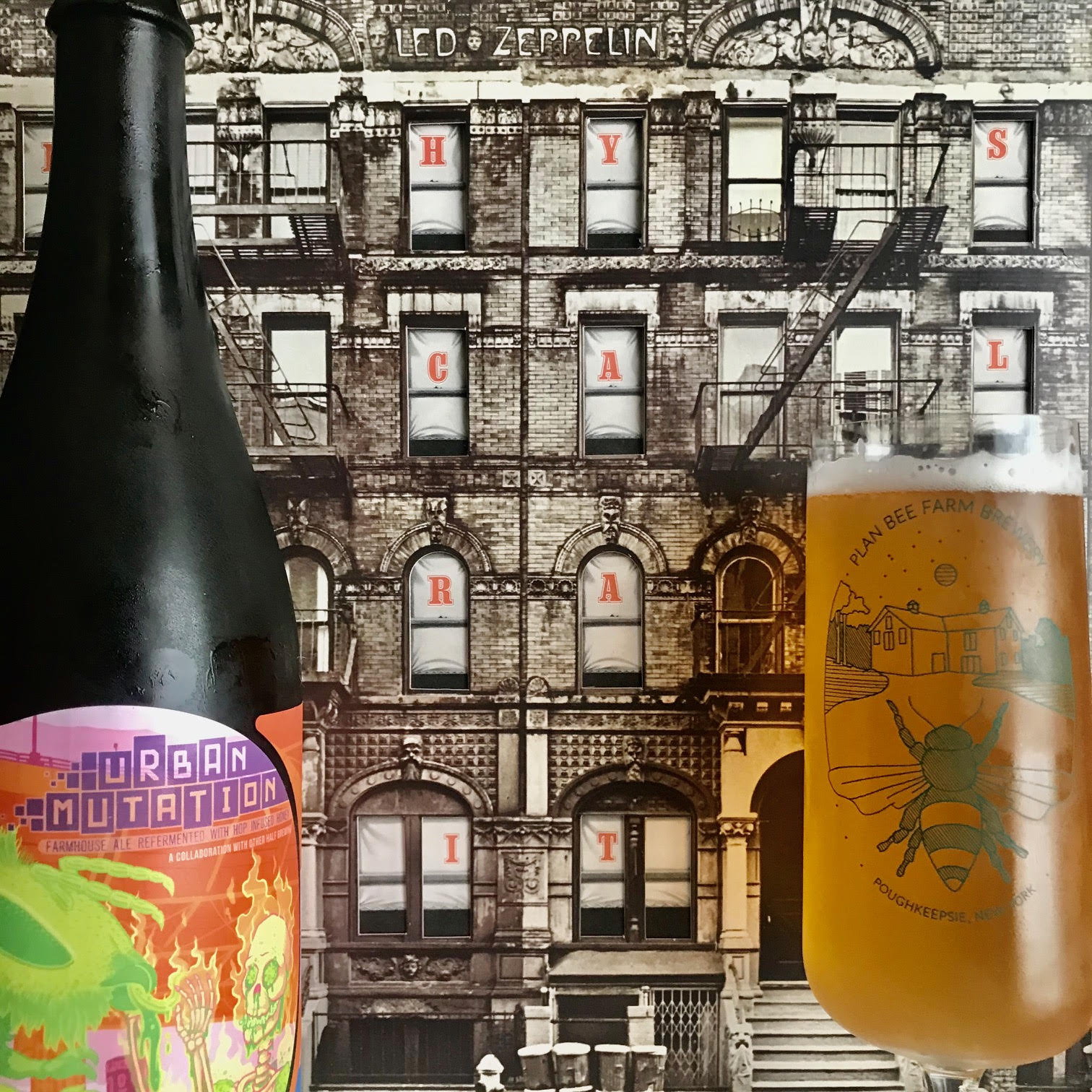 Music Pairing
I always pair beers with vinyl when I'm drinking at home and Urban Mutation has the unenviable task of living up to the urban landscape that graces the cover of Led Zeppelin's "Physical Graffiti." If I would compare this beer to a Zep song, I'd actually choose one from Zeppelin II – "Ramble On." That song blends hard rock with an airy musical exploration of things Tolkein and I think that's what's on offer here. The intro, and like Gollum, the allure of this golden object, draws you in. The stark hoppiness, the crisp finish and the hardcore-for-a-farmhouse 10% ABV rock hard, but then you find yourself floating through the middle section, pondering while strumming out some lyrical musings on Middle Earth.
All-in-all, a successful collaboration: A rare collaboration beer that highlights the strengths of both breweries.
---