No Comments
Proper Brewing Co. | Monolith Barrel-Aged Imperial Stout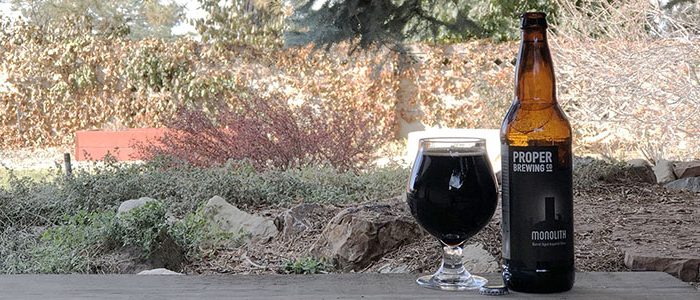 With Monolith, Salt Lake City's Proper Brewing Co. begins its much-anticipated barrel program.
Monolith is a barrel-aged version of Proper Brewing's Grand Sláinte Imperial Stout. It's a limited-edition brew you'll want to get your hands on.

Monolith sat for about six months in four oak casks that originally held Grenache wine. After that, rye whiskey. Monolith is a worthy successor.
The full-bodied, 10.2% ABV chocolate brown stout features a smooth layer of tan foam. It emits stone-fruity aromas. I picked up a dose of vanilla and some oak in the flavor, as well as dark jammy fruit. It finishes with a hint of spice.
It appears to have soaked up a fair amount of Grenache. And brewers added Monolith to the top of whatever rye remained, giving the beer a touch of spice that serves to cut some sweetness.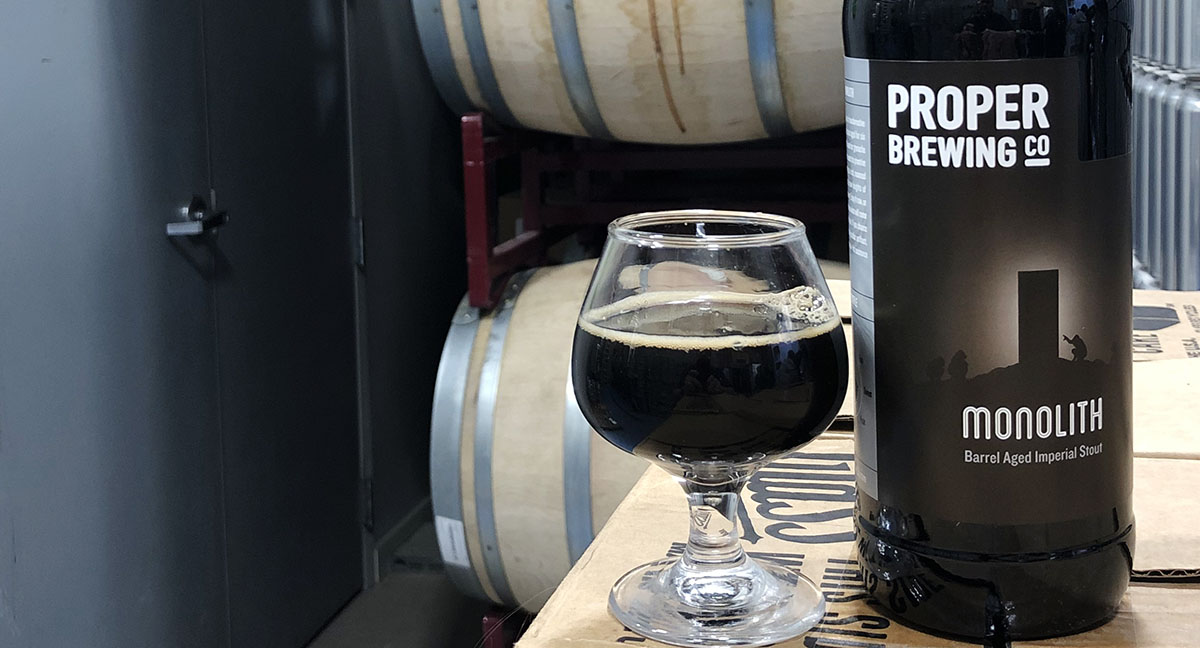 Monolith: Tender Loving Care
Jeff Bunk, who's worked at Utah's Epic Brewing and, most recently, at Breakside Brewery in Portland, is spearheading six-year-old Proper's barrel program. He nurtured Monolith the last several months, checking on it every few weeks. In mid-October, it told the brewer it was ready.
It's the brewery's first barrel-aged beer, but it won't be the last.
The second batch of Monolith went into the same barrels the first batch exited. A barley wine is aging in Pinot Noir barrels. Its Gruit is souring in Pinot Noir barrels. Proper has plans for aging its Gose in rum barrels, its Revenge IPA in gin barrels, and more.
"I'm really trying to open this up next year and get our barrel program moving," Bunk says. "It's been fun. I'm really excited about [Monolith] but I'm also excited about barrel-aging beers other than stouts."
Jack Kern, a Proper Brewing veteran who recently became head brewer after Co-Founder Rio Connelly stepped back from day-to-day operations, appreciates the nuances of barrel-aging beer. It's not simply "fill it and forget it."
"The perception in the market is the longer the better," he says. "You can over- or under-barrel-age. Jeff is really well-versed in making sure we're on top of it and it comes out right at the prime time when it's going to taste its best."
---