No Comments
Athletic Brewing Announces Major Expansion, Closes Series B Funding Round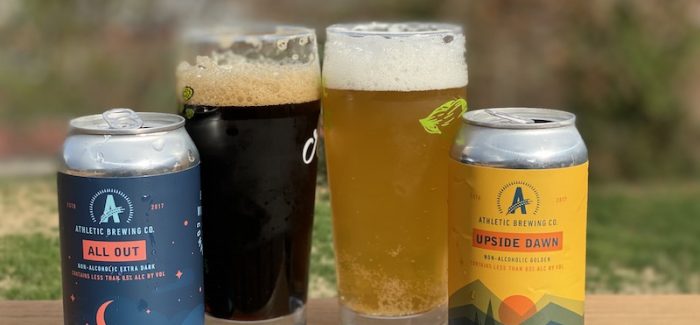 Non-alcoholic craft beer is starting to have its moment, and perhaps no brewery encompasses this moment more than Athletic Brewing Company, who today announced a massive expansion with the purchase of a large production brewing facility in San Diego, California.
After its 2018 opening in Connecticut, Athletic's sales surpassed 10,000 barrels last year, a 1,000% increase in just one year. New beer releases often sell out within minutes on its website because of the brewery's ability to ship nationwide. According to Athletic's cofounder Bill Shufelt, the non-alcoholic beer market has huge room to grow. Worldwide, NA beers account for roughly 5% of sales, but in the United States, it's only 0.5%. NA craft beer has been growing in the U.S. at 30% in each of the last two years. Shufelt is confident that NA beers could account for 20% of the beer market within a decade — expanding the total market rather than stealing share from traditional beer.
The new facility will allow for an almost immediate, ten-fold increase in capacity after a couple of months changing over equipment to accommodate NA brewing methods. The newly-purchased brewing facility will allow for further expansion as time goes on.
California is also a key demographic in the health and wellness sector of the craft beer market, so the move allows quick access to this growing segment. Athletic bought the Ballast Point barrel-aging facility located on Trade Street and plans to invest $5 million into renovations. It is expected to re-open and start producing beer in May.
The news comes on the same day Athletic announced a $17.5M Series B funding round led by notable investors Tastemaker Capital, Wheelhouse and Blake Mycoskie, founder of TOMS Shoes. The fresh capital will allow for the new facility, expanded marketing, and ten new states for distribution. Athletic is looking to distinguish itself in the non-alcoholic craft beer market which is seeing new competitors almost monthly.
While the growth rate of craft beer sales may be slowing a touch, a 30% annual growth rate for NA beers could portend a big momentum shift into this emerging market. Athletic continues to lead the pack and today's announcement will likely lead to a lot more people dipping their toes into the NA beer world.
https://www.instagram.com/p/B9j_YlWp0Cd/?utm_source=ig_web_copy_link
---