No Comments
Urban Roots Brewing & Smoke House | Luna de Miel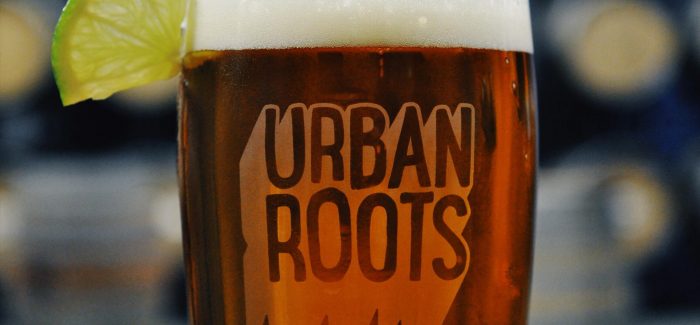 If you were to ask someone in the Sacramento area if they've had a chance to visit a new brewery lately, you would most likely get the response, "Which one?" The rampant growth in U.S. breweries has not been lost on Sacramento. At last count, there are more than 70 breweries, tasting rooms and/or brewpubs open or in planning in the greater Sacramento area. You'll get thirsty just trying to keep track.
So what makes Urban Roots Brewing and Smoke House different? Reputation and experience. Peter Hoey and Rob Archie, the co-owners are both well-known and respected. Archie, the owner of Pangaea Bier Cafe, has been serving up some of the best gastropub food in Sacramento alongside one of the most well-curated tap lists and bottle shops in town. Hoey has been part of the brewing scene since 1998 as a shift brewer at Sierra Nevada Brewing Company. Moved on to head brewer at Bison Brewing and then brewmaster at Sacramento Brewing Company. His first venture into brewery ownership was Odonata Brewing. Unfortunately short-lived, but the legend of their saison still lives on to this day. Until recently he had been at Brewers Supply Group (BSG) where he had the chance to brew and work with a number of breweries, lending both his expertise as well as hands-on brewing.
Hoey and Archie, long time friends, decided the time was right and Urban Roots was born. During the build-out, Hoey called on an all-star cast of nearby breweries to whip up some outstanding collaborations to help kick off Urban Roots. Three Weavers, Cellarmaker, Alvarado Street, Beachwood and Fifty-Fifty all teamed with Hoey over the past year on a series of collaborative projects.
A week after the Urban Roots Brewing and Smokehouse opened, It was time to do some tasting. Lagers, pilsners, IPAs, barrel aged, porters and yes, three different saisons. This is a complete lineup that would satisfy any beer geek.
Luna De Miel (Honeymoon)
Hoey first brewed this beer for his wedding 11 years ago and he brought it back to be part of the core lineup for Urban Roots. Luna De Miel translates to Honeymoon. This not only worked well for his wedding, but I also think it works pretty well for his new brewery… Honeymoon phase?
A Vienna lager, that Urban Roots simply describes as a Mexican Amber Lager, with tasting notes that include caramel, biscuit and malty. The beer comes in a 4.8% ABV and from the bar is served with a small slice of lime. Perfect, vacation beer! This is a beer that all your friends will enjoy (secretly or not).
Stylistically, this beer is spot on. The malty, toasty aroma has a hint of spice, which works well to balance the sweetness from the malt. The beer is copper/red in color, bright, and crystal clear. This beer looks great in the glass. The malts give some nice caramel and bread flavors, while the noble hops cut through the sweetness, and give a nice spice on the aftertaste. The beer finishes dry, clean, and wanting another one. Light in carbonation, the mouthfeel finishes with a creamy texture and is easy drinking. My overall impression is this beer is solid in all the ways you would expect this style. A great beer to hang out with, sitting by the pool or in between a massive bottle share of IPAs, sours and stouts.
The brewery has no plans for packaging the beer at this time. Urban Roots will be sending out kegs around the area, and this may be included in the mix.  Until then, they do sell crowlers.
With all the hype around pastry stouts, hazy and fruited IPAs, it's great to see a new brewery that is brewing classic styles beautifully, right alongside the more trendy options.
Feature image courtesy of Urban Roots Brewing
---