No Comments
Other Half Brewing Releases All Together Beer with Over 550 Breweries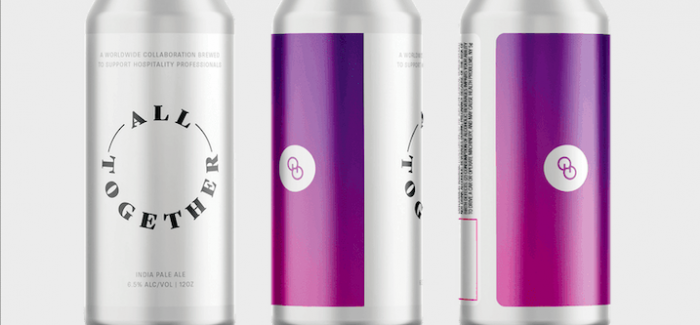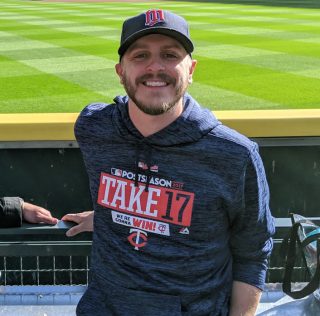 Following in the footsteps of industry titans like Russian River, Sierra Nevada, and Threes Brewing, who have rallied the craft beer industry to support their communities' during times of need, Brooklyn New York's Other Half Brewing (OHB) is now carrying the torch to unite the industry, for the industry.
In late March, OHB, along with a collective of industry partners, announced the spearheading of All Together Beer, a worldwide beer collaboration aimed at raising funds for the hospitality industry, an area of the workforce hit hard by the effects of COVID-19.
Through All Together Beer, OHB along with their design agency partner, Stout Collective, and website studio Craftpeak, have provided participating breweries all of the tools needed to produce a benefit beer that can be brewed and released at their own respective facilities. This includes an open-source recipe, public artwork created by Stout Collective, labels printed at cost by Blue Label Printing and the freedom to use the name.
"Raising awareness about the devastating losses in the hospitality industry is the core vision of this project," says Matt Monahan, co-founder, Other Half Brewing. "We were trying to find the most effective way to help people as we've all been paralyzed not knowing what to do in the current situation," Monahan continued. "And through this project its as easy to make a difference as ordering beer from your local breweries."
Keeping it easy was essential to All Together Beer's success. Monahan noted that head brewer and co-founder Sam Richardson consulted with suppliers like Yakima Chief and Briess to ensure that the ingredients used in the brewing process were readily available across the country. The end result is a recipe that utilizes 2-row malt, oats and caraplis and then hopped with a blend of hand-selected Citra, Mosaic, Simcoe & Cascade.
And while Other Half has gain acclaim for hazy East Coast-style IPAs, they've made two versions of All Together Beer so breweries can choose whether to brew an East Coast or West Coast-style IPA.
"At the end of the day, it's about the label, raising awareness, supporting our industry and the participation," said Monahan. "We just want breweries to do what they need to do, to make it happen even if it means tweaking the recipe a little."
https://www.instagram.com/p/B-N7aF6JKUu/?utm_source=ig_web_copy_link
Supporting Hospitality Professionals
In exchange, OHB asks that a portion of the proceeds go to supporting hospitality professionals in that brewery's community. The rest of the proceeds are meant to support the brewery itself during this difficult time. For OHB, proceeds will go to the Restaurant Workers Community Foundation (RWCF), an advocacy nonprofit created by restaurant workers, for restaurant workers. Monahan noted that they decided to work with RWCF because they help tackle issues like wage issues, equality in the industry and supporting immigrant workers who don't have a voice. Additionally, in light of COVID-19 the organization will also donate a portion of funds directly to restaurant workers and providing zero-interest loans to help restaurants get back on their feet.
Monahan noted that All Together Beer was inspired by previous collaborative fundraising beer projects as Sierra Nevada's Butte County IPA, Resilience project in 2019, and Russia River's beforehand. Resilience helped raise money to provide relief to those impacted by the Butte Co. wildfires, through the help of more than 1,400 craft breweries joined Sierra Nevada in brewing Resilience IPA, raising over $15 million.
But, in addition to raising money, OHB hopes that All Together represents an exercise in awareness so that local communities can understand how daily life has been upended for those that rely on social gathering to make a living.
Breweries can become involved with All Together Beer by reaching out to https://alltogether.beer/ for more information.
Other Half Brewing has released their version of All Together Beer earlier this week. It's available for curbside pickup for $20 in 16oz four-packs at both their Brooklyn and Rochester locations.
To celebrate the release, Other Half Brewing will be hosting a virtual toast tomorrow, Thursday, April 16 at 8pm Eastern via @otherhalfnyc on Instagram.
Participating Breweries
Thus far, Other Half has seen a tremendous outpouring of support with 559 breweries signed up to date including participants from 41 states and 39 countries. Monahan noted that each participating brewery was able to select their own beneficiaries and that they've made a transparent effort to show exactly where those funds will be directed via the website.
Some of the earliest to sign up include:
Other Half Brewing, NYC
Side Project, St. Louis, MO
Monkish, Torrance, CA
Trillium, Boston, MA
Alvarado St, Monterey, CA
Arizona Wilderness, Phoenix, AZ
Outer Range, Frisco, CO
The Veil, Richmond, VA
Omnipollo, Stockholm, Sweden
Humble Sea, Santa Cruz, CA
Finback, NY
Crak, Padua, Italy
3 Sheeps Brewing, Sheboygan, WI
Sigma Brewing, Houston, TX
Southern Grist, Nashville, TN
Burial, Asheville, NC
Mikerphone, Chicago, IL
Pilot Project, Chicago, IL
Modist, Minneapolis, MN
Homes, Detroit, MI
KCBC, Brooklyn, NY
Industrial Arts, Garnerville, NY
Fifth Hammer, Queens, NY
Hidden Springs, Tampa, FL
Green Cheek, Anaheim, CA
Bottle Logic, Anaheim, CA
Parish, Broussard, LA
Vitamin Sea, Weymouth, MA
Ska, Durango, CO
Equilibrium, Middletown, NY
Northern Monk, Leeds, UK
Garage Project, Wellington, NZ
Wylam, Newcastle, UK
Lervig, Stavanger, Norway
Juguetes Perdidos, Buenos Aires, Argentina
Carton Atlantic, Highlands, NJ
American Solera, Tulsa, OK
Civil Society, Jupiter, FL
Anchorage, Anchorage, AK
Hoof Hearted, Columbus, OH
Barrier, Oceanside, NY
Sand City, Northport, NY
Bellwoods, Toronto, ON
Whiplash, Dublin, Ireland
Boundary, Belfast, N. Ireland
Dancing Gnome, Pittsburgh, PA
Collective Arts, Hamilton, ON
Contributions on this article from Tristan Chan
---