No Comments
Collaborating for a Cause | 2 Live Gran Kidd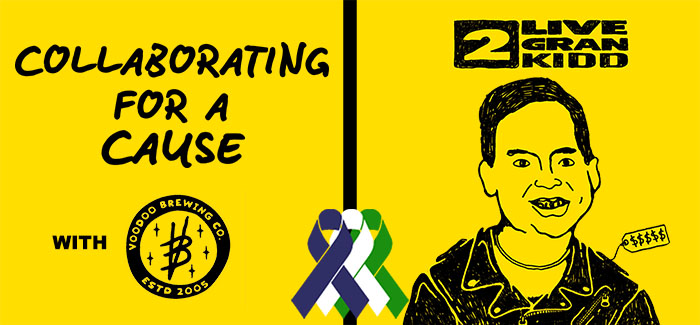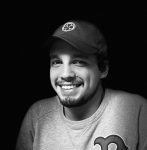 In a continually impressive showing of togetherness for a shared cause, Stay Strong Alex and similar initiatives have been raising an incredible amount of money to support Alex Kidd and his family as they navigate the road ahead following his Stage IV cancer diagnosis. This week we look to Pennsylvania and Voodoo Brewing Company. Having just celebrated the 10th anniversary of its original Arch Street Brew Pub last year, these guys are no strangers to the industry. The devastating diagnosis of the satirical beer icon resonated heavily with the team in Meadville, and we had the opportunity to speak briefly with Voodoo CMO Tom Guzick to gain some insight about the most recent release in their famous Barrel Room Collection series dedicated to Alex Kidd.
The Voodoo Cause
Originally founded in 2005, Voodoo Brewing has seen explosive growth in the 18 years since. 2012 saw the opening of their first taproom, and just three years later they opened their second. After opening its third location in Erie, Voodoo completed the build-out of a full production facility in 2017, which led to virtually endless capabilities in expanding inventory. Their State College Pub opening in 2019 helped bring some of their beer and good vibes to Central PA, while their most recent expansion was last year with their new location on the North Shore of Pittsburgh. Through all these steps towards becoming a globally recognized brand, Voodoo has never changed its ultimate goals. Attention to detail, product consistency, quality of ingredients, and beer innovation are just some of the qualities that have kept Voodoo Brewing in the conversation of being one of the top brewery programs in the country.
Ruffling Feathers
While the team at Voodoo hasn't ever met Alex in person, the inaugural release of their now-famous Hot Garbage stout led to one of the most memorable experiences they've associated with him. The beer originally came about as a way to utilize some of the leftover raw materials they had accumulated over the years during their numerous collaboration, specialty, and one-off releases. Tom went on to tell us that the careful assembly of these ingredients was jokingly deemed by Master brewer Curt Rachocki as a "garbage stout".
The team appropriately decided to differentiate two of the variants of these releases using glitter and feathers on the wax. When Tom mailed the beers to Alex for review, he snuck in some of the leftover feathers as packing materials. Upon opening the box, an incredibly surprised and unsuspecting Alex Kidd, who was recording the unboxing, was greeted with feathers flying out everywhere. Now those familiar with DDB unboxing clips know Alex has a curiously obnoxious tone he'll use when unboxing and going through beer mail, and this explosion of unique packing supplies was enough for him to break character in laughter as feathers littered the office around him. It's these sorts of memories that Voodoo and many others have with Alex that are so funny and meaningful to hear and share.
2 Live Gran Kidd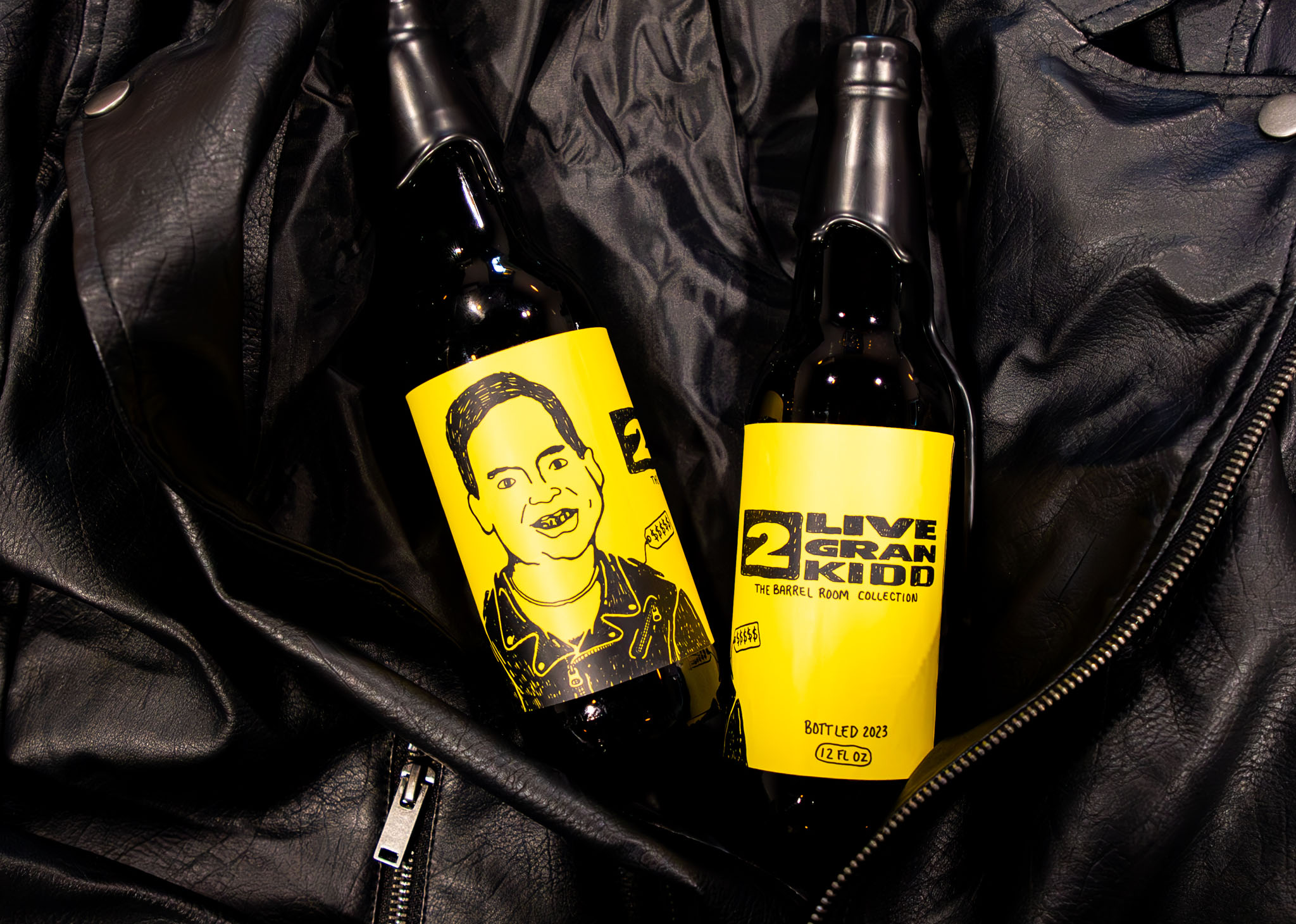 As mentioned above, 2 Live Gran Kidd served as the most recent release in Voodoo's Barrel Room Collection (or BRC). It was one of the more limited runs in the series, and it was a bottle-only offering. The opportunity to purchase worked the same as previous BRC releases. Individuals needed to complete the Bottle Purchase Form online to be entered into a randomly generated selection for the ability to purchase two 12 oz bottles of 2 Live Gran Kidd. Submission opportunities went live on August 26th, and bottles sold out quickly. In the end, Voodoo Brewing raised a total of $2,000 for the Kidd family.
Tom and Voodoo were able to spare an extra bottle to review and share on PorchDrinking. We owe a huge thank you to them for making this possible.
The Blend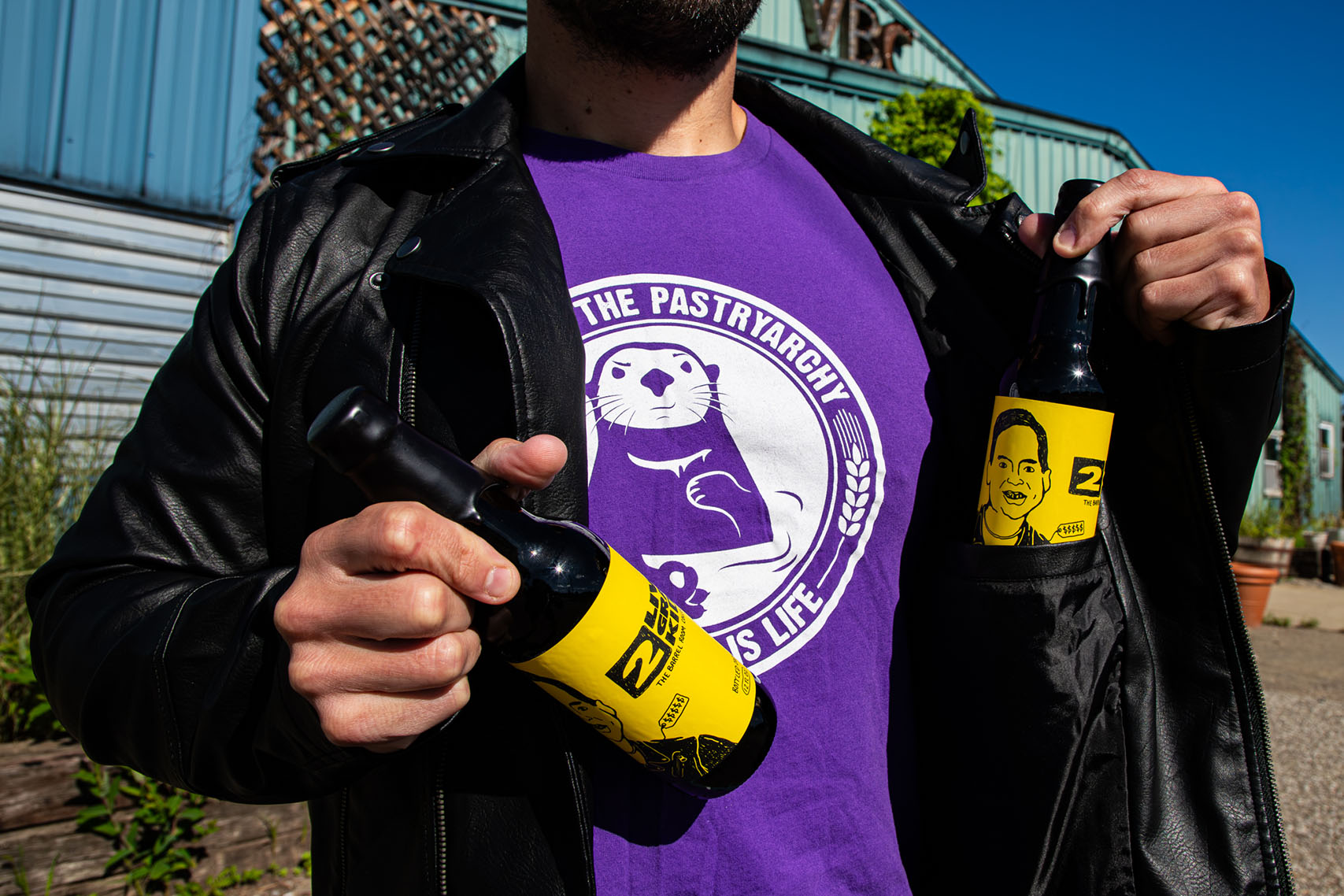 The 2 Live Gran Cru beers have seen 7 different Volumes prior to this exclusive "Kidd" release. Sometimes these beers are all stout, while other times they are a blend of different styles. For this BRC iteration, it was a brewer's blend of stouts aged in various bourbon barrels for 32-36 months. In homage to DDB, Voodoo decided to tease the "craft nerds" by omitting the barrels used in the blend. Alex would frequently joke that all the nerds out there sipping Barrel-aged stouts should already know exactly what barrels were used just by the taste! Jokes aside, Tom did reveal to us that they are from the Buffalo Trace and Heaven Hill families.
The Label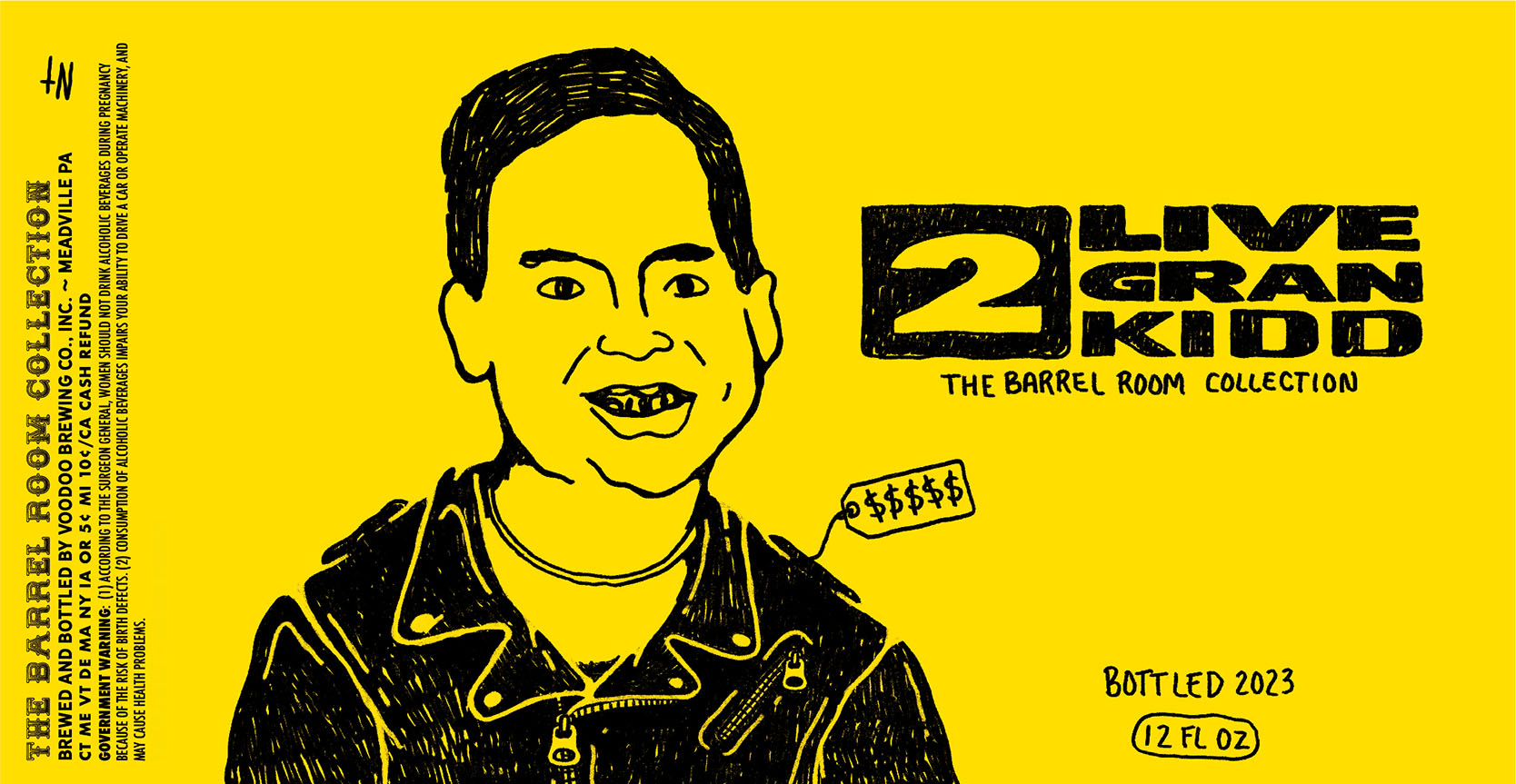 It's well worth bringing attention to the amazing artwork by Tom Ness for the 2 Live Gran Kidd label. Alluding to recent "drama" from the DDB social media platforms, Alex is seen donning a notably expensive leather jacket, one that presumably cost around $3,000. The joke stems from a brief conversation shared by Alex to his followers from an unnamed user. In the conversation they essentially accused Alex of using his cancer diagnosis and associated GoFundMe as a way to pander to an expensive lifestyle, calling him a grifter and using a supposedly "$3k" leather jacket from a past photo as their concrete proof. In reality, it was most definitely not a $3,000 jacket. Alex had bought it used, and two years prior to his diagnosis. Regardless, it led to some great meme content during the early part of June that we felt should be shared.
---
The Review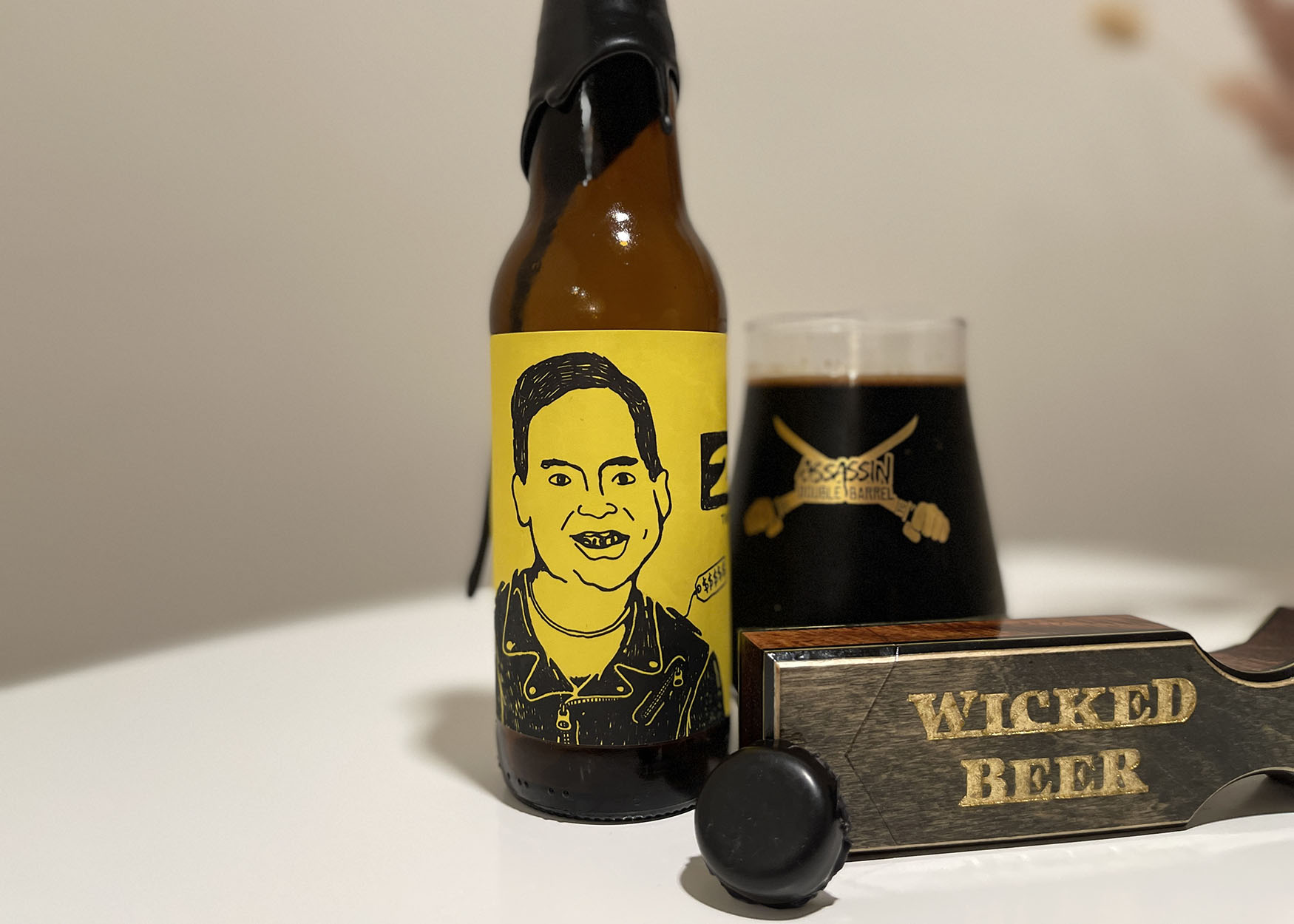 The beer itself is something to behold, with a motor oil viscosity. On a hard pour, there is still very little agitated carbonation. A small, deep brown-colored ring settles above the body of the beer.
The nose is rich and sweet initially, bringing notes of Port wine, dark chocolate, and hints of banana. Added time in the glass subdues the fruit and really celebrates the ashier, earthier notes imparted by the barrel.
The palate, like with the nose after more time, is stark and aggressively barrel-forward. There's a restrained yet present tartness that hits immediately at colder temperatures. The oak adds noticeably drying tannin. A sharp booziness follows closely, additionally characterized by caramelized fruit, boot leather, and pipe tobacco.
The mouthfeel is heavy, syrupy, and mildly dry, with a pleasant warmth throughout. Additionally, the carbonation is low and effervescent. It is undoubtedly a smooth drinker, with a familiar signature profile commonly found in beers coming from the BRC portfolio.
Supporting the Kidd Family
As always, it's important to come full circle to the primary goal of all of these dedicated releases as well as this ongoing series highlighting them. Don't Drink Beer is a name synonymous with Craft Beer and has allowed us to find both the humor in the Industry and its drinkers as well as the satisfaction of reading expertly written and humorous prose about the top trending beers in the market. The news of his diagnosis resonated with so many throughout the community, and any donation to the Kidd's GoFundMe is a huge help as they continue to tackle a series of life-saving surgeries.
We want to thank Voodoo for being a part of this series, and for showing incredible generosity in their support. Stay tuned as we continue to highlight more beers and breweries across the country who are doing the same.
---