No Comments
Ultimate 6er | International IPA Day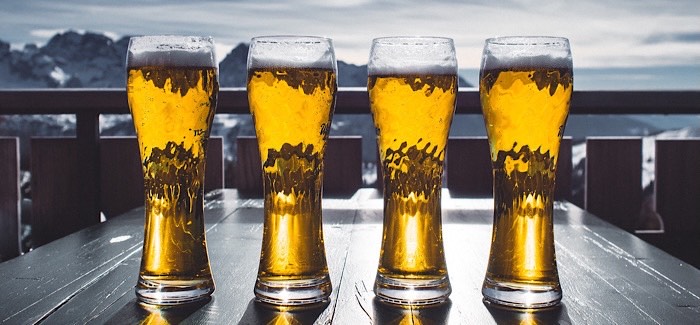 It wasn't that long ago that the letters IPA basically meant one thing. For better or worse, IPA was known as a hop-forward and bitter beer. With International IPA Day coming up on the first Thursday in August (this year it's August 6th), we've rounded up a few to create this Ultimate 6er.
As the US was concerned IPAs included American or New World hops. Citrus, pine, resinous were the main flavor and aroma components you expected. Depending on where you lived the malt presence could go from non-existent to straight-up caramel sweetness. Whether you consider yourself a fan or not, those were your options.
Today, IPA's have as many variations as any other beer style, if not more. From session to triple, West Coast to New England, white to red to black. Let's not forget the fruited, sour, and milkshake IPAs.
While some of these styles have gone in and out of fashion, one thing remains the same. IPAs are loved and it's not unusual to find them crowding out the other styles at your local beer bars tap list.
---
Classic
Over the years, the classic IPA has stayed true to form. A significant hop bite, heavy citrus and pine flavors with just enough malt to give the beer some solid structure. One beer that hits these marks, as well as maintained top quality, is Bear Republic Brewing Company's Racer 5 IPA. This 7.5% ABV beer is full of C-Hops (Cascade, Columbus, Chinook, and Centennial). This beer works as well today as it did when it won gold at the Great American Beer Festival back in 1999.
https://www.instagram.com/p/CDU2vmEpvJE/?utm_source=ig_web_copy_link
---
Low Alcohol/ABV
Is it still an IPA when the alcohol is reduced? If you're looking for the hops while trying to remain sharp, Firestone Walker Brewing Company's Fly Jack IPA might be a perfect choice. Coming in at 4% ABV this IPA has both the hop bite as well drinkability of a hazy. Just because the alcohol is low, doesn't mean they are skimping on the hops. This beer includes both some classic hops as well as some new varieties. Cascade and Callista are in the kettle. The dry hop additions include an impressive six different varieties; El Dorado, Chinook, Mosaic, Strata, Sabro, Idaho 7.
https://www.instagram.com/p/B-u0N88F7oG/?utm_source=ig_web_copy_link
---
Hazy
Whether you call it a hazy, NEIPA, or something else, you need to include one of these in your ultimate 6'er. Picking one beer to represent the style is a tough call. Old Nation Brewing's M-43 N.E. IPA is more than a solid pick. Registering a 6.8 ABV this beer is full of big tropical fruit aromas and flavors, with just enough citrus to round out the profile. Calypso, Simcoe, Citra, and Amarillo compose the hop bill on this soft, but flavor-packed hop bomb.
https://www.instagram.com/p/CAQjiqxpMG0/?utm_source=ig_web_copy_link
---
West Coast IPA
The rumors are not true, West Coast IPAs are not dead. This IPA is truly the masthead for the style. The malts are there, but clearly the hops are the true star. Green Cheek Beer Co's Radiant Beauty is a perfect example of the style. The hops, Citra, Mosaic, and Simcoe work as a perfect combination. At 6.7% ABV, this beer nails the West Coast IPA style.
https://www.instagram.com/p/CAnsgtzHc66/?utm_source=ig_web_copy_link
---
The Double
There is no shortage of DIPAs to chose from. Some people feel they drink smoother than a traditional IPA. A more robust malt bill could help balance this style or maybe it's just the alcohol sweetness talking. Either way, if you're going to vote for a DIPA, vote for Pliny. Russian River Brewing Company's Pliny For President 2020 is a winner!
https://www.instagram.com/p/CDHNJnfliot/?utm_source=ig_web_copy_link
---
It's Still an IPA, Right?
It might be hard for the IPA purists to conceive of an IPA containing massive amounts of fruit and lactose, let alone one that has been intentionally soured. If you have an open mind, there are some true gems. Slice Beer Co's Double Hard Candy is an 8.3% ABV milkshake IPA that works on all levels. Toasted coconut and lactose, paired with Sabro and Citra hops make this one incredibly tasty beers. The flavors and aromas go from sweet orange and pineapple to full tropical tiki coconut and mango. Yes, this is still an IPA.
https://www.instagram.com/p/CA-w34DJyBE/?utm_source=ig_web_copy_link
In celebration of International IPA Day, round out your Ultimate 6er with a full gamut of IPA styles. Reach outside the box and your normal pick. You might find your new favorite IPA. Cheers!
---