No Comments
Dragon's Gate Brewery | The Arkenstone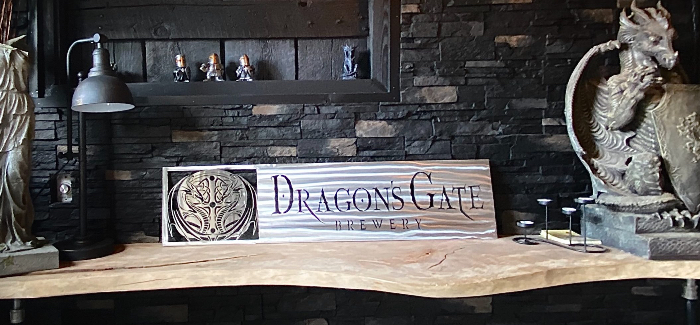 Nestled amongst the sprawling vineyards of the Walla Walla Valley, down a single-lane dirt country road is Dragon's Gate Brewery. Recently featured as a top brewery in Eastern Oregon, this 10-acre farm offers gorgeous views of the surrounding Blue Mountains and provides the perfect backdrop to enjoy these Farmhouse Ales. Owned and operated by Adam and Jennifer Gregory, this brewery is truly a family affair with beers brewed with passion and rooted in traditional Belgian brewing practices. Their tasting room is in a converted barn, and their brewhouse, barrel room and fermentation area are all on-site. Inspired by old-world stylings, this brewery takes you back in time, or to another world entirely.
The Myth, The Legend: The Arkenstone
The name "The Arkenstone" comes from Tolkien's The Hobbit. The story goes that the Arkenstone created its own light; once it was cut and polished by dwarves, it absorbed and then redistributed all light around it, reflecting a brilliant radiance to the viewer. Beloved by Thorin and Thror, the Arkenstone was lost as Thror attempted to flee Smaug, a dragon. Ultimately (spoiler alert if you haven't yet read Lord of The Rings), the Arkenstone is buried with Throin, who is killed in battle, and the Arkenstone is returned to earth. 
https://www.instagram.com/p/B3c5fjwH3ML/?utm_source=ig_embed
Belgian Tripels
Belgian Tripels are traditionally bright, golden beers, and The Arkenstone easily fulfills this brief. In addition to their shimmering color, Tripels are part of a family of Belgian beers rated on the old Belgian brewing gravity scale. The scale estimates the strength of the beer based on gravities of three (single), six (double) and nine (tripel), which loosely approximate today's ABV values in beers. Traditionally, the Tripel has had a darker, richer color, but since the 1930s, different yeast has been used in Tripels, giving it a rich, golden appearance and a new name: the "modern" Tripel. 
The Arkenstone
Brewed in this spirit, the Arkenstone pours a crisp, bright golden hue that lives up to its namesake. Balancing sweet and spicy, this Belgian Tripel contains notes of blood orange, honey and spices allowing for just the right amount of kick. After a six-month aging process, this beer is strong with an ABV of 11.7% and an IBU of 22. Drink slowly and allow for this smooth, sweet Belgian Tripel to take you back in time.
---