No Comments
Harpoon Brewery Deepens Dunkin' Partnership with New Dunkin' Dozen 12-Pack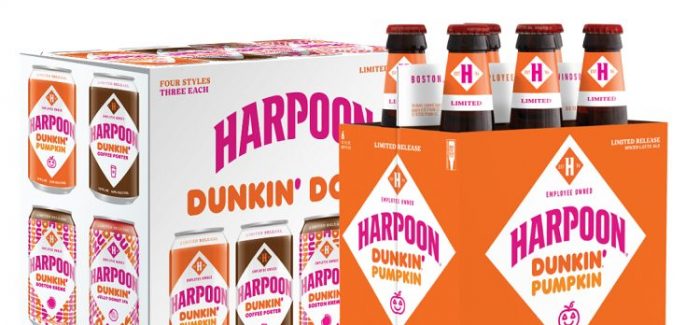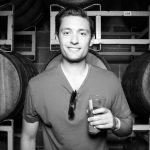 The combination of coffee and beer continues to drive interest and sales from consumers, whether that's through a barrel-aged stout, IPA, Porter or anything in-between. While many breweries brew one-off releases that feature local roasteries, Boston's Harpoon Brewery continues to take things a step further with in its ongoing Dunkin' Donuts  coffee-focused collaboration. What started as a partnership capitalizing on Boston-proximity and community quickly morphed into a headline-making co-branded beer line, which is now generating considerable buzz with the announcement of the Dunkin' Dozen 12-pack collaboration.
The new Dunkin' Dozen 12-pack features three cans each of the following Dunkin'-inspired offerings: 
Harpoon Dunkin' Pumpkin Spiced Latte Ale

Harpoon Dunkin' Boston Kreme Stout

Harpoon Dunkin' Jelly Donut IPA

Harpoon Dunkin' Coffee Porter
https://www.instagram.com/p/CEUC9kChoMp/
The mainstay in the variety pack is the Coffee Porter, which was the result of the first-ever collaboration between the two Boston brands. First released in 2018, the Coffee Porter has drawn rave reviews from both coffee and beer fans alike. According to Harpoon's Brand Manager, Tim Kast, though the beer partnership was realized two years ago, the two companies have been community partners for decades. 
"We had such a fun time with that project, that we knew we had to keep innovating with them to see what other beers we could come up with," said Kast. 
What they did come up with is sure to raise the eyebrows of many beer purists. Pumpkin ales are nothing new, so Harpoon decided to take things a step further with Dunkin' Pumpkin, enticing fans of the famed and foiled Pumpkin Spiced Latte brand with their take on a "Spiced Latte Ale."
https://www.instagram.com/p/CEo99pFnUQ3/
Still, the real hype for any beer fan obsessed with creative adjuncts has to be the two donut-forward beers exclusive to the 12-pack. According to Kast, the Boston Kreme and Jelly donuts were added directly to their respective mash tuns at the beginning of the brewing process. All in all, Kast says the donuts comprise a very minimal (less than 1%) part of the mash because the sugars found in a donut aren't as conducive for fermentation as, say, malted barley. Still, Kast says that beer drinkers should expect a "fried dough-like quality" from each donut-infused beer.
To further amp up their respective flavor profiles and match the donut variety they're celebrating, Kast says the brewers had to come up with some creative solutions to get the flavors just right. 
"For Jelly Donut IPA, we used a bunch of really fruity hops and some raspberry puree to help give it that real jelly-like flavor profile," said Kast. "For the Boston Kreme Stout, we used a bunch of darker malts and a ton of cocoa to make sure those chocolatey notes really come through."
And while the Harpoon Dunkin' Jelly Donut IPA might be the one I'm most excited to try, Kast says his favorite is actually Dunkin' Pumpkin – although he's admittedly not a huge pumpkin spice guy. "There's something about the way the coffee comes through in the beer that rounds everything out nicely. It's still pretty easy-drinking too for how much flavor it has. I'll be enjoying them all this fall, but the Pumpkin might be my go-to."
Limited releases of the Dunkin' Dozen variety pack, alongside a solo release of Dunkin' Pumpkin in a 6-pack of 12oz bottles, will be available in September everywhere Harpoon beer is sold. Cheers! 
Featured Photo Credit: Dunkin' Brands Group, Inc.
---