No Comments
Centennial IPA – Founder's Brewing Co.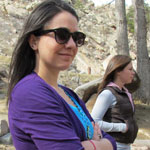 ABV: 7.2%
IBUs: 65
My latest trip home was dominated by delicious drinks. Is that enough alliteration for ya? But, seriously, I had some ridiculously good stuff while I was back in Louisville, KY for the holidays. One of my first beers of the trip was the Centennial IPA from Founder's Brewing Co.
Once reunited with my family, we headed straight from the airport downtown for the University of Louisville basketball game at the KFC Yum! Center. Yes, I know the arena has a really stupid name. We snuck down to the Troll Pub Under the Bridge for a quick dinner and beer. When I saw the Centennial IPA on draft from Founder's, a brewery I've been curious about for a while, I knew that's what I would be having.
This beer hits you hard with its citrusy-grapefruit aroma thanks to a generous amount of dry-hopping. The caramel and amber hues hint at the malty body that's apparent once you take a sip. I wouldn't call this an overwhelming IPA – it's actually surprisingly balanced for 7.2% ABV and 65 IBUs. I will say that I detected some oxidation that came across as slightly papery and stale in this keg. By no means was it unsuitable for serving; I'm just spoiled by working at a brewery where I can get the freshest stuff imaginable.
So, I'd say this brew is pretty approachable for someone who's not ready to be totally knocked over by bitter hoppiness. All of my family members enjoyed it without being accustomed to the hop-madness I experience out here in Colorado. Keep doin' what you're doin', Founder's! Thanks to the Beer Label Gallery from Duke Labs for the image.