No Comments
Halloween Beer Treat | Spiteful Brewing Mrs. O'Leary's Chocolate Stout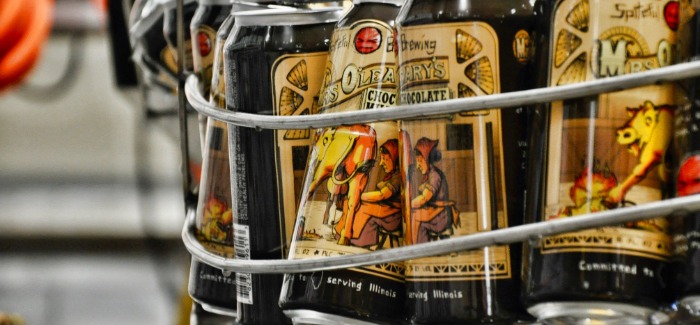 The famous Chicago Fire began on October 8, 1871, in a barn owned by Catherine and Patrick O'Leary. The city went ablaze for 36 hours, destroying 18,000 buildings and leaving 100,000 Chicagoans homeless. A frightful October story, to say the least! But, Spiteful Brewing has taken that story, mixed it with some cow-blaming folklore and turned into a sweet Halloween treat: Mrs. O'Leary's Chocolate Stout.
First, we should offer our readers a chance to understand Spiteful's theory on the genesis of the Chicago Fire. "So this is what we heard… Mrs. O'Leary was excessively milking her cow because she owed money all over town. One day she tugged too hard, and the cow had enough! With one spiteful kick, the lantern exploded, and flames engulfed the city. The cow watched with a smirk as the Great Chicago Fire burned the city to the ground because she knew full well whom the Chicagoans would blame. That's our story, and we're sticking to it!"
Hmm, looks like Spiteful likes to spread Fake News. Or, is that Fake Moos? Most historians have a slightly different take on the famous Chicago event. But we are not here to debate history (or spiteful cows) but talk about Halloween Beer Treats. Spiteful Brewing Mrs. O'Leary's Chocolate Stout certainly qualifies as a beer worthy of sharing with murderous clowns, vampires and witches. Then again, it's so good that sharing it might be the last thing one chooses.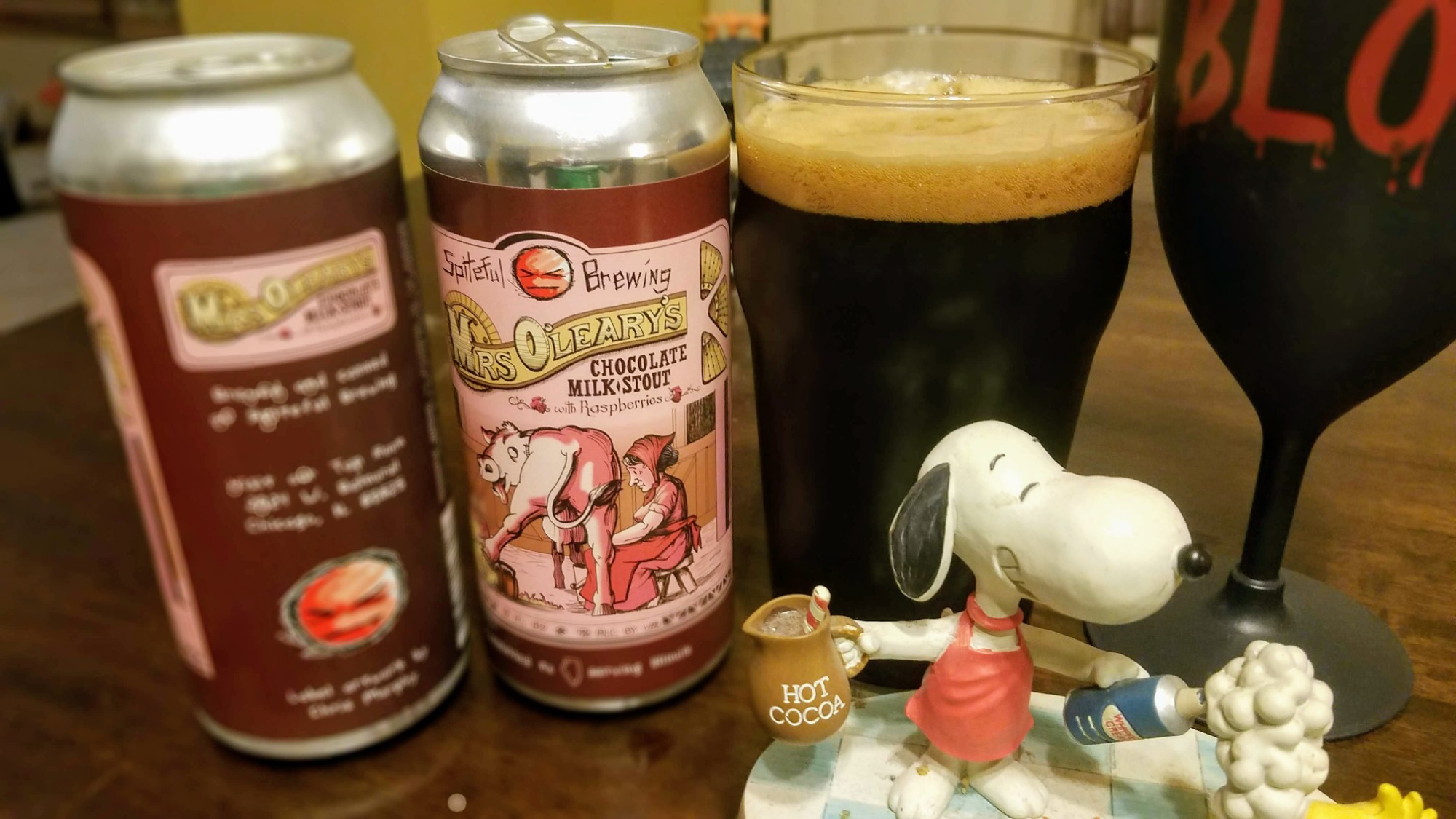 Several of the PorchDrinking.com Halloween Beer Treats featured in October have included an abundance of adjuncts or presented as super-sweet. That is not the case with this particular Spiteful entry. Instead, Mrs. O'Leary's Chocolate Stout resembles the pure, classic treats that end up one's trick or treat bag (although, if one prefers a bit more sweet, try Spiteful's homage to the famous cow with raspberry. The brewery has also produced an Oreo and Cardamom version in the past, too). The use of lactose keeps the beer creamy, granting the beer a chocolate-milk feel. If poured correctly, an enticing, frothy brown head coats the top of the beer and sticks to the glass in a way that can remind one of chocolate malt. Still, while the stout is sweet enough — and plenty rich — to qualify as a dessert beer, the Spiteful crew refrains from turning this delectable beer treat into a sugar bomb. Indeed, Mrs. O'Leary's Chocolate Stout offers a noticeable roasted quality and dryness that balances the beer's sweet character. All in all, Spiteful masterfully provides sweet flavors without making the base stout unrecognizable.
Mrs. O'Leary's Chocolate Stout also pairs beautifully with hearty fall meals or any number of Halloween treats, especially items that include nuts, coconuts, or other complementary flavors. Or, one can simply pour Mrs. O'Leary's Chocolate Stout in a glass and enjoy — but keep it away from open flames and (Jack O') Lanterns!
View this post on Instagram
Notes: The beer is currently towards the end of its availability, but it's still served on-tap in several establishments and cans are available at many locations. And, Spiteful routinely brews and releases the beer, and its raspberry version. Feature Image can be found on various Spiteful Brewing social media channels. Chris Murphy designed the label artwork. 
---