No Comments
Baere Brewing Company | Proceed to Memory IPA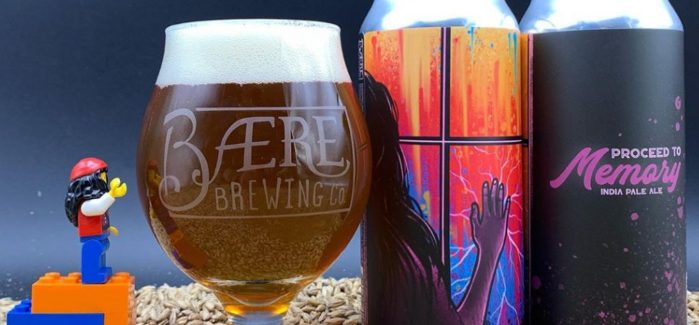 In the beer world, the "trend" pendulum never stops swinging and it's often some variation on an IPA that tops the latest list. While breweries keep cranking out hazy and milkshake IPAs, there remains a large swath of consumers who yearn for the classic, bitter IPA with that telltale bite. Proceed to Memory IPA from Baere Brewing Company in Denver, CO was made for those consumers and for anyone seeking a superbly balanced, flavor-filled exemplar of an IPA.

The beer's name was inspired by a song on Pinback's 2012 album, "Information Retrieved:" "And when the seasons get you down/I'll come running to tuck you in/Out the window looks like all of the colors/All of them melting down…You always seem to call when nothing is on, proceed to memory." That melting down image is perfectly captured on the label art created by freelance illustrator Keever. 
But we're not here to talk about the can.
Utilizing a bit of old school (Centennial), new school (Mosaic, Citra) and new new school (Strata) hop varieties, Proceed to Memory is on par with IPAs born of humble beginnings before becoming beer fridge fixtures. At 7.4% ABV, it's not what one would consider a lawnmower beer (unless you're into grass "art"), but it drinks more like 6%, which is a testament to the mad skills of head brewer Matt Schenck and co-owner and brewer, Ryan Skeels.
The flavor profile is all that you'd expect from a straight-forward IPA but with a bit more heft to the body and some lively notes of white pine, tangerine and blueberry. The head is ample and holds its own for a good amount of time. Similar to clover honey in color, this beer is not completely clear, nor does it need to be — but wonder of wonders, you can actually see your hand on the other side of the glass.
According to Skeels, Proceed to Memory was a true "work in progress" for a very long time (the brewery opened its strip mall doors in 2014). Since the inaugural brew earlier this year, Schenck and Skeels made some tweaks; with this latest batch, the "Baere Den" feels like they hit upon something special. "We may have reached the golden hour with this one," Skeels said.
The current plan is to can Proceed to Memory IPA for as long as consumers continue to enjoy it.
Baere's taproom on S. Broadway is your best bet for finding Proceed to Memory IPA in cans but an order should hit Beer Drop sometime in the next week; it will also be available in select Denver-area liquor stores soon. Keep an eye on Baere's social channels for up-to-date information.
Feature photo credit: Baere Brewing Company 
---