15 Comments
Rake Beer Project Dragged Over Coals for Reppin' Michigan's Gov. Whitmer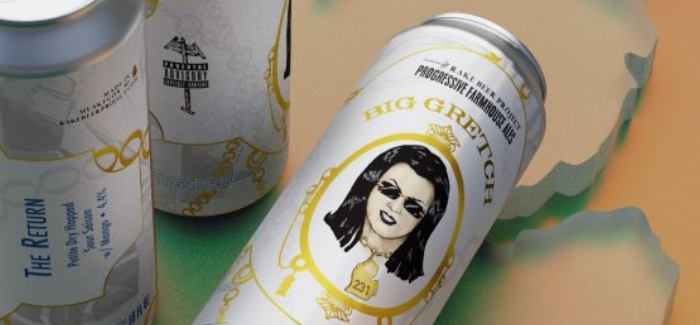 Rake Beer Project, in Muskegon, Michigan, is less than two years old, and whether you love them or hate being told to stay home to help curb a relentless global pandemic, they've probably slowed your newsfeed scroll at least twice in 2020. And, like it or not (trigger warning): they're about to do it a third time.
At the onset of Covid-19 flipping Earth into The Upside Down, Michigan's Governor Gretchen Whitmer was unfazed after being slapped with a belittling nickname, "That Woman From Michigan," by (three guesses) "That President From New York." Twitter deflected the shade and clapped back on her behalf: Photoshop helped place a pair of Cartier sunglasses (known as "Buffs" in Detroit) on Whitmer, and The Michigangster was soon rebranded "Big Gretch." In a public display of support for the governor's Stay at Home Order, Rake joined the party, threw a non-red hat in the ring, and made a beer in her honor.
Big Gretch: The Tonic
The first Big Gretch release, The Tonic (with label artwork inspired by Dr. Dre's '92 debut, The Chronic), dropped last May. The Farmhouse seltzer conditioned on Key lime and cucumber sold out within minutes. As you can imagine, the beer turned political (duh) and the popcorn-enticing comments were every bit as polarizing. Extra salty.
The beer's obvious endorsement of Whitmer centered Rake in the crosshairs of those in opposition. Josh Rake, owner and head brewer, was "blown away" that advocating for public health had become so politically divisive. The loudest voices he heard from on social media were the "most negative and, frankly, stupid."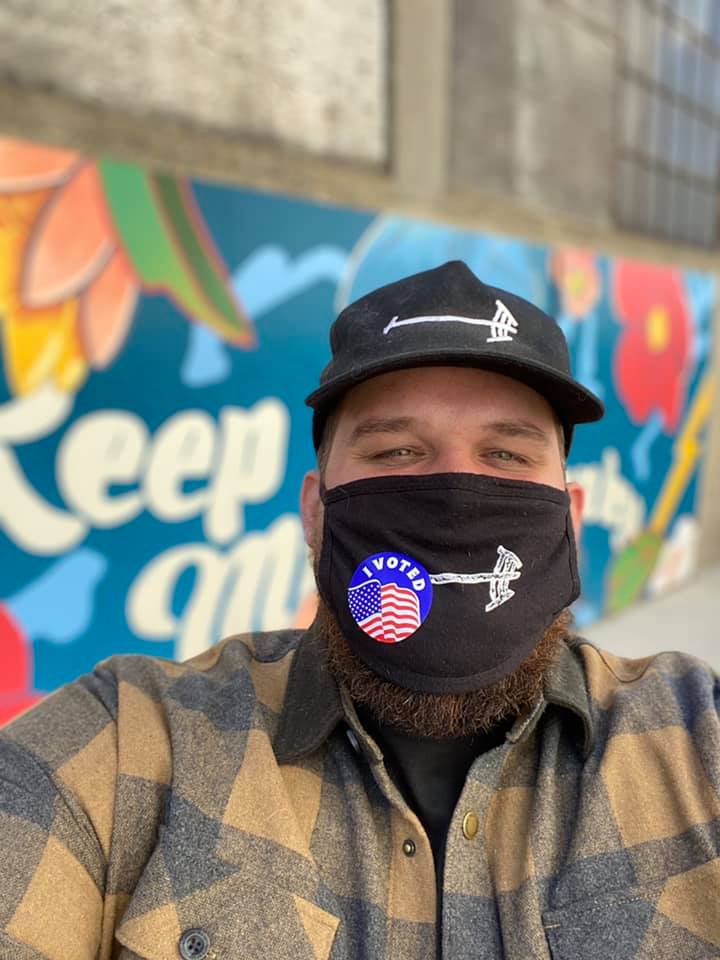 Josh explained his rationale for The Tonic: "We are a business that was directly shut down as a result of [Whitmer's] Order, and we recognize that however unfortunate it is… it's important not only for public health, but the economy long-term as well as for us to take this virus seriously and do everything we can to minimize its spread."
The brewery kept grinding with non-stop beer releases and user-friendly carryout options while navigating perpetually in-flux state mandates  And then came another Stay at Home Order, stoking a reinvigorated onslaught of disgruntled Michiganders. After watching the "huge spike of absolutely nasty commentary," Josh again took action. "We wanted to amplify the Governor's message," he said. "In another demonstration of deserved respect for her and her administration making those incredibly tough decisions, we thought it was time to bring back Big Gretch in the face of adversity."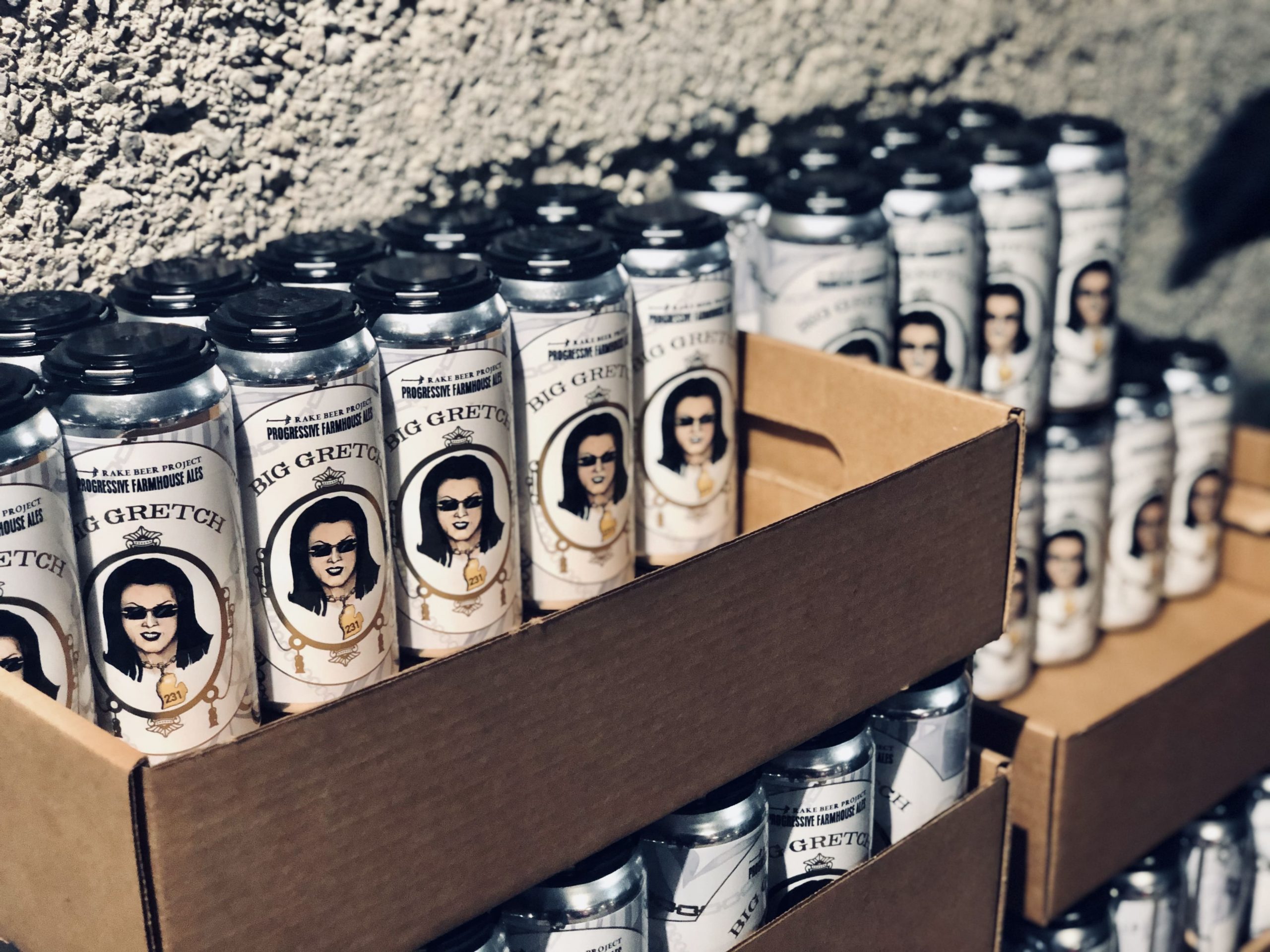 Big Gretch: The Return
Big Gretch's second coming, Big Gretch: The Return, is a petite sour Saison brewed with oats and wheat, fermented with Rake's signature blend of Saison yeasts and lightly dry-hopped and conditioned with mango. For a full review of the beer see further below, at this story's conclusion.
Last November, a media release from the brewery announced The Return's arrival on December 1; the now-familiar can design set off alarms, waking the keyboard warriors. Consistent with The Tonic's appeal, The Return, which was Rake's largest release to date, sold out in ten minutes.
Once again Rake endured an intense assault on social. In an effort to showcase the crazy, Josh shared a selection of screenshots of some of his favorite responses. Still got your popcorn?
Big Gretch: The Return | Social Media Backlash
Politics in Beer and Vice Versa
Signing up for a second helping of expected backlash feels masochistic. If nothing else, it's consistent with Rake's ever-rotating portfolio of audacious, experimental, rustic Farmhouse ales. Still, how much should politics influence beer and vice versa?
"I think that the idea that beer or small business in general should be apolitical is ridiculous," remarks Josh, "and just a way to keep small businesses like mine from using the influence that we do have. Large companies spend bajillions every year directly lobbying politicians, which has infinitely more effect on everyday people than me putting a silly illustration of our governor on a label and asking people to take public health seriously."
For struggling small businesses, Josh offers some helpful, hard-earned advice. "We are a one-year-old, scrappy little operation doing everything we can to keep our employees fed," he said. "We implore everyone who might be tempted to cram folks back into their bars to get creative. There are an infinite amount of ways to move operations toward curbside pick-up, carryout, and fun outdoor drinking and dining." He concludes with a point that has never been more true than it is right now: "People are hungry to support small businesses right now, so give them a reason to support you and they will."
Now that Rake Beer Project has survived—and continues to thrive—after striking a one-two combo of contentious releases, Josh offers words of encouragement for breweries and small businesses that may be apprehensive about going on record to defend their ethics, regardless of which side of history one may end up on.
"We are all influenced by all sorts of other companies that have decided to take a stand about what they believe in," he said. "Look at some of the things that brands like Modist Brewing in Minneapolis were doing to support the [murder of George Floyd] protests this summer as an example. The fact of the matter is that the brewing industry is overwhelmingly progressive, so we just took the sentiment that we were hearing behind closed doors from our friends, and made a beer to support it." When asked if there's anything he would've done differently, particularly considering the volume of ill will that's been wished upon his brewery, Josh's answer was simple: "No regrets." He stands by his decision.
Confronting the Haters
Regardless of where one sits adjacent to the two-party aisle, if it is on the couch in mom's basement, are you willing to look at the guy you're threatening online in the eyes IRL? Josh gets playfully snarky with those who've virtually vomited on him and Rake. "I would tell them that if a beer label makes them so upset that they wish bankruptcy on a small business, they should consider the life decisions that led them to that point. To that he adds, "And, if they still want to boycott every brewery with different ideals from their own, I wish them luck finding anything they'll be able to drink."
He's prepared to protect the livelihood of his business, and knows that its success is rooted in inclusive community. "In all seriousness, we just want to reinforce the idea of loving your neighbor," he said. "I hope that some of these people—even those who've had terrible things to say about us—do visit and check us out. We would love to have them in for a beer when the dust settles because I think that they would find that they might really like us."
But this doesn't mean that vitriolic words don't have consequences. They often do.
Big Gretch | A Threequel
Dear Haters, if you're still fixated, brace for impact. Even though Josh is confident that a Rake experience has the potential to overturn staunch antagonists, that doesn't mean he's forgotten the unsubstantiated cheapshots. Big Gretch is now—surprise—a trilogy! The third installment in this juicy saga—a heavily fruited sour, in true Rake fashion—is expected to be announced soon.
Josh has said that after this final beer, he's out of the Gretch game. "The Return was the most popular Michigan news story when it was announced," he reflected. "We feel like we got the message out that we wanted far and wide, loud and clear, which means that our mission for this specific brand is complete." Based on what Josh has hinted to PorchDrinking, some of those who fired shots will get the attention that they were seeking. Ladies and gentlemen, stand by to get triggered.
Big Gretch: The Return | Beer Review
Poured from its gangster 16-oz can, the beer is an opaque, straw yellow, and resembles grapefruit juice. It's bright, foamy, light head dissipated quickly. The aroma is multi-layered—subtle grapefruit esters, faint mango, sweet rock candy, some Farmhouse funk. Alcohol isn't detectable (it's 4.4%).
The Return tastes of restrained mango sweetness, complimented by hops that dance between citrus and tropical notes playing off the tart, predominantly grapefruit, profile. Alcohol presence is low, outshined by Rake's distinct, pleasing house yeast that's characteristic of modern, progressive Saisons.
Medium-light body and low-to-medium acidity give way to an enjoyable bitter grapefruit peel aftertaste and lingering mild dryness.
Pairs well with democracy, science and compassion.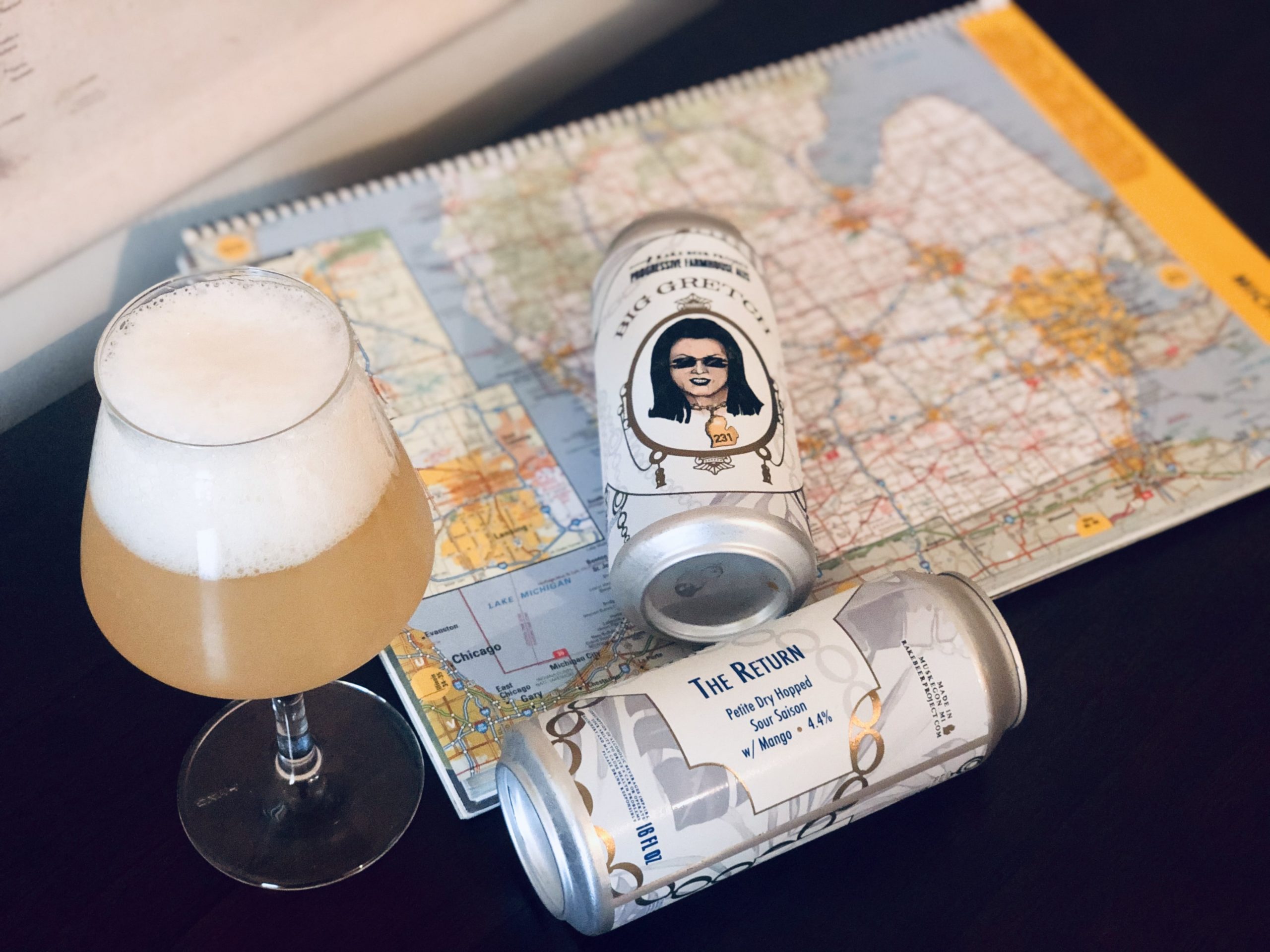 ---