No Comments
BrewDog | Hazy AF Nearly Alcohol Free IPA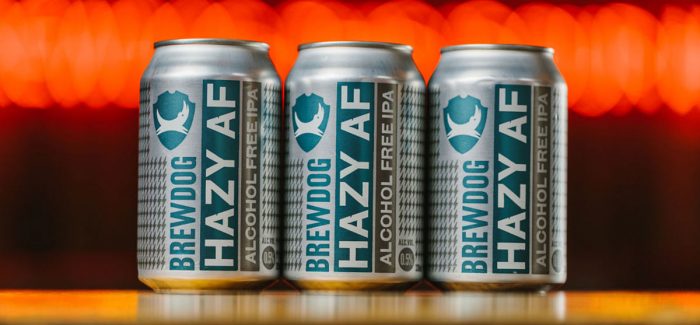 Across the globe, the market for non-alcoholic/low alcohol beer exceeded $9.5 billion in 2019, with an estimated compound annual growth rate of approximately 7-8% over the course of the next six years (Global Market Insights). By 2027, global sales in this segment are projected to surpass a valuation of $28 billion (Fact.MR). That's some serious change in more than one sense of the word.

Economics aside, if you're one that enjoys a frequent, lazy perusal of a liquor/beer store's coolers, you've no doubt noticed an increase in non-alcoholic/near beer options. You may have even seen them showing up at your favorite brewery, much in the same way hard seltzer crept onto tap lists. Sifting through the newbies without getting stuck with a sixer you don't like can be discouraging, and rough on the wallet. That's where PorchDrinking's series featuring these trendsetters comes in handy. And if you're a hophead who feels left out of the fray because Lagers and Ambers are not your jam, never fear: BrewDog's Hazy AF is here.
Built as NE-style IPA (emphasis on style), Hazy AF marries copious hops with flaked oats, torrified wheat and a touch of lactose to deliver a near-beer that raises the eyebrows of skeptical IPA purists. At 0.49% ABV, it doesn't (can't) hold up to those juice rockets that occupy an inordinate amount of shelf space these days, but on a warm day working in the yard or for as a picnic pounder, Hazy AF is a worthwhile option.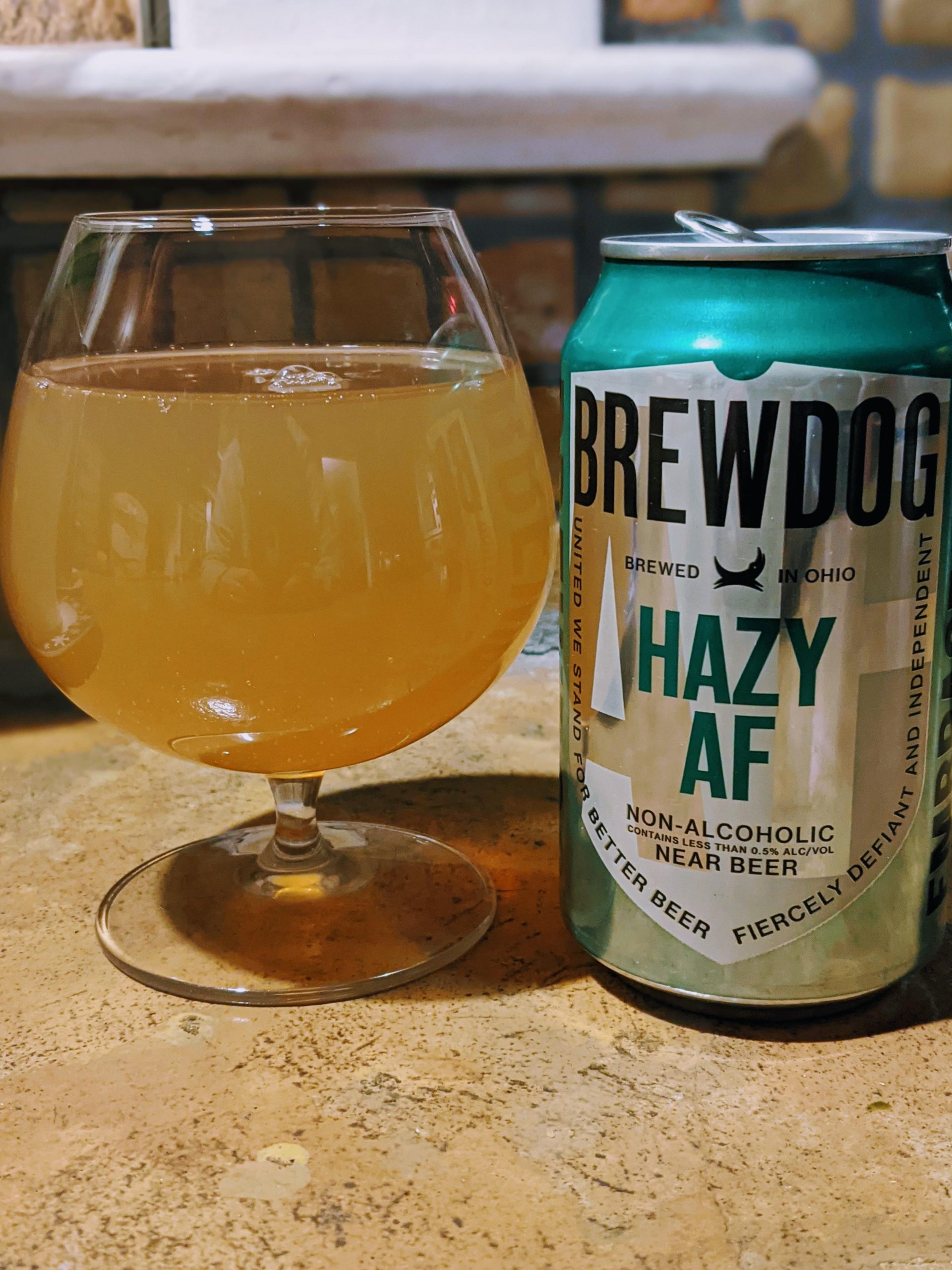 The beer pours somewhat opaque but not nearly as thicc as its higher ABV, heavier (second/third?) cousin. Despite the attempt at head retention with the oats and wheat additions, there wasn't much of a head. What little there was dissipated fast. Nevertheless, the carbonation is dialed; tight bubbles and a just enough body contribute to a surprisingly soft mouthfeel. Best of all is that telltale hop aroma that jumps from the can as soon as you crack it: Classic dank-forward C hops — Cascade and Chinook — hanging with ever-present (or so it seems) Citra and complex Simcoe to create a gang of four that's at once earthy then fruity, citrus berry smash meets white pine floor. The latter tends to emerge more as the beer warms a skosh.
Hazy AF delivers enough hop character to satisfy that person in your life for whom the presence of immense amounts of lupulin is a prerequisite for all beer. Added bonus: Each 12-ounce can of BrewDog's Hazy AF clocks in at 37 calories and 6.5 carbs. When you consider that a Heady Topper from Alchemist, the OG of haze, is 320 calories per 16-ounce, Hazy AF is a welcome alternative for the calorie-conscious among us.
BrewDog has a whole series of lower-ABV beers that can be purchased directly from their website. Six in total now! Also worth exploring is a new near-beer collaboration with venerated metal band Lamb of God called Ghostwalker. From the description on the website, it sounds like another big hop banger. For fans of darker beer, there's even a low-alcohol espresso Stout available, Wake Up Call.
All of these beers can be shipped; check the the website for state-by-state restrictions. A delivery to Denver from BrewDog's Columbus, Ohio-based operation took 10 shipping days, but shipping times may vary.
If there is anything 2020 taught us, it's to roll with the changes as much a humanly possible. (Cue REO Speedwagon.) Making the decision to check out lower ABV, lower calorie beers may be a change you seek this year, and it's one you have a bit more control over. These beers from the modern day revolutionaries at BrewDog are an excellent place to start.
Feature photo credit: BrewDog
---